How To Keep Your Crawl Space Moisture Free?
One of the biggest issues that we see in Virginia Beach and Hampton Roads is wet and damp crawl spaces. Many times, homeowners do not even realize that they have crawl space moisture issues in need of repair. Some common household problems that you might regard as normal are actually indicators that your crawl space is in need of repair. Have you experienced any of the issues below?
Signs That You Need Crawl Space Repair
Cold floors and cold feet
Stinky, wet smells
Hardwood floors cupping at the edges
Moldy, musty smells
Drafty rooms
Mold around baseboards
Wet carpet
If you have a crawl space foundation, it is important to realize that your crawl space is a very important part of your home that must be properly maintained. Since your crawl space is part of your home's structural integrity, it is vital that you keep it healthy and strong. Crawl spaces are susceptible to moisture and mold, which can cause serious illnesses to affect your family. If you have noticed any strange smells, excess moisture, or are experiencing draftiness in your home, you will want to get your crawl space inspected as soon as possible. Chances are, you might be in need of crawl space repair, encapsulation, and/or insulation.
Detecting Moisture Levels in Your Crawl Space
If there is no obvious leaking or water pooling in your crawl space, you may still have high humidity levels which can be dangerous to your home. AMC911 Crawl Space & Foundation Repair uses a moisture meter to find the humidity levels in your crawl space. According to the EPA, a healthy crawl space humidity level is around 40-50RH. We can determine how much moisture is in your crawl space and make a plan of action to get rid of it if necessary.
Solutions for Crawl Space Problems
AMC911 Crawl Space & Foundation Repair has been repairing wet and damp crawl spaces for over 30 years in the Virginia Beach and Hampton Roads area. It's safe to say that we have seen it all: from structural damage to musty dirt crawl spaces to high humidification situations, and beyond. Whatever crawl space issue you are facing, we have the knowledge and experience to provide you with the perfect solution. Our goal is not only to properly repair your crawl space but make it so that future moisture problems will not affect your home. We are your experts when it comes to creating clean, safe, and dry crawl spaces for Virginia homes.
We have developed a series of proven solutions for wet and damaged crawl spaces. We will implement whatever repairs are necessary depending on your current situation. Our repair solutions include:
Crawl Space Encapsulation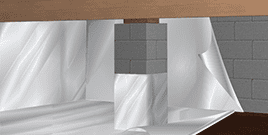 Crawl space encapsulation is becoming increasingly popular throughout Virginia and the rest of the country. Some states have even added it to their building code requirements. Water vapor from below your crawl space (or in your crawl space floor, if it is dirt) will naturally rise and become liquid water in your crawl space. The plastic encapsulation barrier prevents this moisture from creeping into your home.
Crawl Space Dehumidification
Crawl space dehumidification goes hand and hand with encapsulation. It is very important to keep your humidity at a safe level after encapsulation is installed.
Crawl Space Insulation
Want to get rid of those cold floors? Crawl space insulation is your answer. We install proper level insulation that prevents draftiness in your home. We can also insulate the backside of your foundation walls around the perimeter of your home with a 2" or 4" rigid insulation board. We use Atlas Energy Shield, a top-of-the-line product with a foil-facing reflective coating to improve insulation performance.