Foundation Repair in Ashburn
It is common for Ashburn, VA homes and businesses to experience foundation problems, whether it be in their slab, basement, or crawl space. There are various signs and symptoms that every Ashburn home or business owner should look out for, such as wall cracks, floor cracks, sticky doors and windows, leaning or bowing walls and chimneys, and foundation cracks and settlements. These can all be indicators that you are in need of foundation repair.
At AMC911 Crawl Space & Foundation Repair, we have foundation repair professionals that can solve any foundation issue you may have. All of our underpinning equipment is manufactured by the leading company in the industry, Earth Contact Products. Our products include wall anchors, helical piers, and steel push piers. Our foundation repair solutions are proven to be long-lasting and highly efficient. For more information about what we can do for your foundation, call AMC911 Crawl Space & Foundation Repair today.
Concrete Leveling for Ashburn
Do you have cracked and damaged concrete on your Ashburn, VA property? Our repair methods include slab piers and polyurethane slab lifting. Let us treat your concrete and make it as good as new! There's no need to spend a fortune to replace concrete. Our repair methods are fast, simple, and affordable while giving you the lasting quality that your concrete needs.
Flood Vents & Waterproofing in Ashburn
AMC911 Crawl Space & Foundation Repair highly recommends Smart Vent flood vents to all of our Ashburn, Virginia homeowners that live on a flood plain. They are highly effective in keeping water away from your home and preventing flooding.
At AMC911 Crawl Space & Foundation Repair, we have a great selection of waterproofing solutions and will help you to discover which one best suits your needs. The waterproofing systems that we provide include: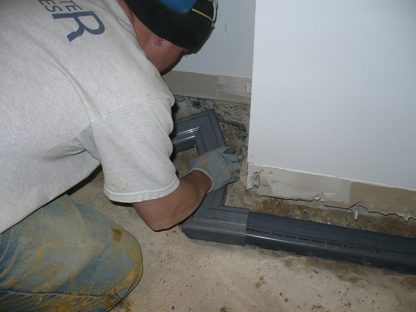 Exterior Drainage Systems
Interior Drainage Systems
Mold and Mildew Removal
Polyurethane Crack Injections
Surface Water Drainage
Certain issues like wall cracks and window well leaks may be beyond your control, and that's where AMC911 Crawl Space & Foundation Repair comes in. We can help you with any waterproofing needs you may have, including gutter installation and repair. With our top-quality foundation repair and waterproofing services, let us keep your home safe and dry.
Masonry Services & More for Ashburn
At AMC911 Crawl Space & Foundation Repair, we not only offer you full-service repair solutions but also incredible masonry work! We pride ourselves in building beautiful custom chimneys, brick steps, porches, stone fireplaces, and more. We also specialize in the design and installation of outdoor kitchens. AMC911 Crawl Space & Foundation Repair also offers spray foam insulation services for your Ashburn, VA home or business.