Foundation Repair in Burke
It is not uncommon for homeowners in Burke to experience problems with their foundation, whether it be in their slab, crawl space, or basement. If you have noticed cracks in your walls and floors, leaning or bowing walls, or sloping floors, don't hesitate to call AMC911 Crawl Space & Foundation Repair immediately. Signs like these can indicate serious issues that need to be taken care of as soon as possible.
AMC911 Crawl Space & Foundation Repair has a fantastic team of foundation repair professionals that can solve any foundation problems you may have. All of our underpinning equipment is manufactured by the leading company in the industry, Earth Contact Products. The products that we use for repair include wall anchors, helical piers, and steel push piers.
Concrete Leveling in Burke
Do you have cracked or sunken concrete anywhere on your Burke property? It is very common to see wear and tear on concrete sidewalks, parking lots, decks, porches, garage floors, driveways, etc. due to age, soil expansion, or improper settlement.
At AMC911 Crawl Space & Foundation Repair, we have a team of highly-trained and experienced professionals that can lift your concrete back to its original level. Our repair methods include polyurethane slab lifting and installing slab piers.
Waterproofing for Burke
At AMC911 Crawl Space & Foundation Repair, we highly recommend Smart Vent flood vents to all of our Burke customers living on a flood plain. These products are highly effective in keeping water away from your home and preventing flooding.
Our company has a great selection of waterproofing solutions. We would be happy to help you to discover which one of them best suits your needs and situation. The waterproofing systems that we provide include: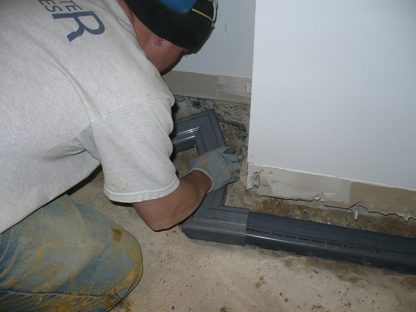 Exterior Drainage Systems
Interior Drainage Systems
Surface Water Drainage
Mold and Mildew Removal
Polyurethane Crack Injections
Sometimes, water problems may be beyond your control and you will need to seek professional help. Call AMC911 Crawl Space & Foundation Repair today, we can solve any water seepage issues you may be experiencing. We offer free quotes to our clients in Burke, Virginia.
Masonry, Insulation, and More in Burke
Our company not only offers you full-service repair solutions but also fantastic masonry work! At AMC911 Crawl Space & Foundation Repair, we pride ourselves in building beautiful custom chimneys, porches, brick steps, stone fireplaces, and more. We also specialize in designing and installing outdoor kitchens. Call us today to discover more about how we can benefit your home with our masonry services.