Foundation Repair for Fairfax Station
Foundation issues in Fairfax Station homes or businesses can be quickly and easily discovered by looking for some of the following indicators in your home:
Sloped or Uneven Floors
Wet Basement
Sticking Doors and Windows
Wall Cracks
Bowing or Leaning Walls
Foundation Cracks
If you see these signs in your home, let us know right away. The team at AMC911 Crawl Space & Foundation Repair has several different solutions that we can provide for your home. Our underpinning solutions come from ECP (Earth Contact Products), the leading supplier in the business.
ECP plate anchors and soil nails are perfect for straightening out bowing or leaning basement walls. These are just a few of the foundation repair options that we offer.
Waterproofing in Fairfax Station
You may have also noticed water problems if you are experiencing foundation issues in your Fairfax Station home. Cracks in your walls and floors can allow water to seep through into your basement, whether from rain, snow, or plumbing leaks. When water is present in your home, it can cause a variety of issues including mold and mildew growth, rotting wood, and flooding. These issues can eventually lead to structural failure in your home, so it is important to have them taken care of right away. AMC911 Crawl Space & Foundation Repair offers residents of Fairfax Station, Virginia several options for basement waterproofing. These include:
Exterior Drainage
Interior Drainage
Sump Pump System
Crawl Space Vapor Barrier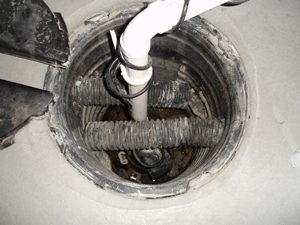 Concrete Leveling for Fairfax Station
Along with our incredible foundation repair and waterproofing services, AMC911 Crawl Space & Foundation Repair also offers a variety of concrete leveling services to keep your foundation stable and secure. Contact us today if you have noticed uneven or shifted concrete in your home, garage, driveway, or another concrete slab. We use a polyurethane foam injection, which is a process known as poly jacking, to fill spaces beneath the concrete and raise it back to level ground. Once the foam is injected, it expands to fill holes and lifts the slab hydraulically. Polyjacking strengthens the concrete to prevent future settlement.
Contact us today to learn more about all of the services that we offer in the Fairfax Station, Virginia area. AMC911 Crawl Space & Foundation Repair is always here for you!