Have you noticed certain foundation problems in your Merrifield, VA home? It is not uncommon for Virginia homeowners to experience problems with their foundation, whether it be in their basement, crawl space, or slab. A major cause of foundation failure can be from excess rain and other sources of moisture. When large amounts of water are present, it can pool up around your foundation walls, creating hydraulic pressure. Pressure against your walls can cause leaning, bowing, and crack formation.
AMC911 Crawl Space & Foundation Repair has a fantastic team of foundation repair professionals that can solve any foundation problems you may have. We receive all of our underpinning equipment from Earth Contact Products (ECP): the number one manufacturing company for underpinning products in the industry. Our solutions for foundation repair have proven themselves efficient and long-lasting over our many years of experience.
Concrete Leveling Solutions for Merrifield, Virginia
Have you noticed any concrete on your property that has become cracked or uneven? Whether you have a leaning porch or a settling walkway, AMC911 Crawl Space & Foundation Repair can make it as good as new. Damaged concrete can become a serious tripping hazard for you and your guests, and it can also be an eyesore on your property. It is very common for concrete sidewalks, parking lots, decks, porches, garage floors, driveways, etc. to be damaged by age and improper settlement. Fortunately, AMC911 Crawl Space & Foundation Repair has a team of highly trained and experienced experts that can help restore your concrete. We use polyurethane slab lifting and slab piers to raise and level your concrete. You don't need to spend a fortune to replace your concrete. Call us to repair it for you for less than half the cost!
Flood Vents & Waterproofing in Merrifield, Virginia
Our company suggests that Merrifield residents who live near a flood plain should invest in Smart Vent flood vents. These flood vents are highly effective in preventing flooding by efficiently draining water away from your home.
AMC911 Crawl Space & Foundation Repair has a great selection of waterproofing solutions for residents of Merrifield, VA. We would be happy to give you a free inspection to determine which solution would be best for your needs and budget.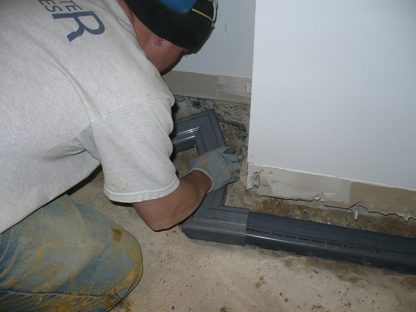 Sometimes, water issues can be beyond your control, in which case you should seek professional help. AMC911 Crawl Space & Foundation Repair can take care of all your water problems in Merrifield, VA.
Masonry Services in Merrifield, Virginia
Not only does AMC911 Crawl Space & Foundation Repair offer full-service repair solutions for your Merrifield home, but we also have a talented team of masonry specialists. We are experts in building beautiful custom chimneys, porches, stone fireplaces, brick steps, and more. Call us today to find out more about how your home can benefit from our masonry services.