One thing that homeowners in Gainesville should be aware of is soil expansion around their foundation, which can lead to foundation failure. If you live on a floodplain in Gainesville, it is important for you to install a waterproofing system to keep your home safe and dry year-round. Also, it is a good idea to have your foundation regularly inspected for common problems and have them taken care of to prevent further damage. AMC911 Crawl Space & Foundation Repair offers residents of Gainesville, VA, and surrounding areas high-quality basement waterproofing and foundation repair services.
There are many common foundation issues that Gainesville homeowners face. As a homeowner, you should be aware of the signs of failure which include:
Visible mold and mildew
Wall, floor & ceiling cracks
Foundation cracks and settlement
Shifting foundation
Sticky doors with gaps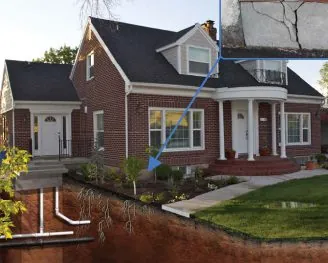 If you can identify any of these problems in your home or workplace, don't hesitate to call AMC911 Crawl Space & Foundation Repair today. If repairs don't take place immediately, the damage will increase, and so will your costs. We understand that you have made a big investment in your home, and we want to help you keep it safe and secure. Being aware of the causes of foundation failure will help you to know how to protect your home in Gainesville, VA. Some of these causes include:
Evaporation 
Poor Drainage
Plumbing Leaks
Landscaping 
Poor Site Building
Over-watering
Swimming Pools Poorly Installed
Foundation Repair Solutions in Gainesville, VA
At AMC911 Crawl Space & Foundation Repair, we offer the best quality foundation repair solutions for Gainesville homeowners and business owners. We have several different repair methods to choose from, depending on the present foundation issues you have in your home or workplace. For leaning and bowing walls, we install plate anchors as well as wall anchors. For sinking porches or stoops, we use helical piers to lift and stabilize them. For cracked or settled foundations, we utilize steel push piers.
At AMC911 Crawl Space & Foundation Repair, we only use the very best materials and equipment to guarantee you with a job well done. All of our products come from the leading manufacturer in the underpinning industry, Earth Contact Products. Call AMC911 Crawl Space & Foundation Repair today and let us solve your foundation problems by giving you a long-lasting solution.
Basement Waterproofing in Gainesville, VA
The experts at AMC911 Crawl Space & Foundation Repair can protect your home or workspace environment from bug infestations, mold and mildew, and many more water damage problems by installing one of our waterproofing systems. Our waterproofing solutions include:
Exterior and Interior Drainage Systems
Crawl Space Vapor Barriers
Polyurethane Crack Injections
Flood Vents, Concrete Repair, and Masonry in Gainesville, VA
For residents of Gainesville living in flood zones, our company highly recommends Smart Vent flood vents. These systems are designed to detect rising water. Once water is discovered, the system's internal floats will lift and the vents will unlatch, releasing the excess water.
At AMC911 Crawl Space & Foundation Repair, we pride ourselves not only in our expert repair services but also in our skilled craftsmanship. As a full-service contracting company, we offer masonry services that include fireplace and chimney repair and remodeling. We offer beautiful custom stonework for any area in your home. Also, we offer concrete leveling for any residential or commercial property in Gainesville, VA. Call us today and receive your free estimate! We look forward to hearing from you.