Foundation Repair in Centreville
Many homeowners in Centreville, Virginia experience foundation problems at one point or another. Due to soil erosion and other natural causes, foundations can settle over time and cause structural damage to your home.
To be aware of the common issues that many Centreville homeowners face with their foundation, look for signs of foundation failure such as: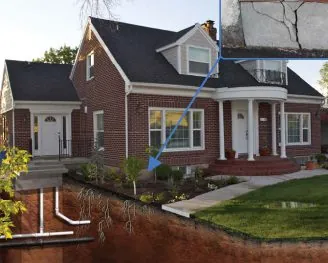 Cracks in the drywall
Misaligned windows
Sticky doors with gaps
Wall, floor, & ceiling cracks
Foundation cracks and settlement
Shifting foundation
Buckling hardwood floors
Torn & wrinkled wallpaper
Visible mold and mildew
These issues indicate that your home is in need of foundation repair. If you can identify any of these problems in your home or workplace, call us today for a free estimate and inspection. Prolonging repairs can lead to further, more costly damage. AMC911 Crawl Space & Foundation Repair is the most trusted foundation repair company in Virginia. We give your home the personalized care that it needs and offer our services at an honest and affordable rate.
Basement Waterproofing for Centreville
We can protect your Centreville home or workplace from bug infestations, mold and mildew, and many more water seepage issues by installing a waterproofing system. Our waterproofing solutions include:
Indoor Drainage Systems
Outdoor Drainage Systems
Crawl Space Vapor Barriers
Polyurethane Crack Injections
Surface Drainage
Mold and Mildew Removal
Flood Vents, Concrete Repair, and Masonry in Centreville
For residents of Centreville living in flood zones, our company highly recommends Smart Vent flood vents. These systems are able to detect rising water. Once it detects the water, the internal floats are lifted and the vents unlatch, releasing the excess water. Flood vents are designed to equalize the pressure on either side of the foundation wall, protecting it from water buildup.
At AMC911 Crawl Space & Foundation Repair, we pride ourselves not only in our repair expertise but also in our craftsmanship. We offer masonry services such as fireplace and chimney repair and remodeling as a full-service contracting company. We can do beautiful custom stonework in any area of your home. In addition to this, we offer concrete leveling for any residential or commercial property in Centreville, VA. Don't hesitate to call AMC911 Crawl Space & Foundation Repair today and receive a free estimate!