The homes in Manassas, VA our vulnerable to foundation problems. This is due to the soil surrounding your Manassas home. When the soil becomes overly saturated, it will heave and when it becomes too dry, it will shrink. This constant changing of the soil surrounding your foundation will cause the foundation to also shift and move. Knowing some of the signs of foundation issues is important.  Some of these signs are: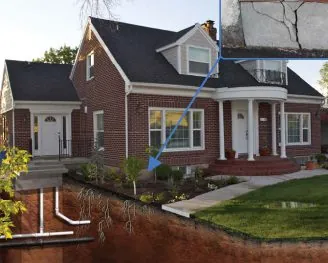 Sticking doors and windows
Ceiling cracks
Foundation settlement
Sloping floors
Cracks in slabs, porches, patios
It is important to contact AMC911 Crawl Space & Foundation Repair for a free inspection if you come across any of these signs. We will offer the best solution for your foundation repair needs.
Manassas has many conditions and many weather conditions that can cause foundation problems. The conditions include:
Evaporation
Over-watering
Landscaping
Improper drainage
Improper site-building
Poorly installed swimming pools
Foundation Repair Solutions in Manassas
AMC911 Crawl Space & Foundation Repair uses foundation repair products such as steel piers, helical piers, wall anchors and plate anchors to get your foundation back to its original level and structurally sound again. Wall anchors and plate anchors are used to pull bowing or leaning wall back to their original level. These wall and plate anchors also strengthen the wall so that they won't bow or lean in the future.
All of the products we use for foundation repair are manufactured by Earth Contact Products (ECP), the very best foundation repair product in the industry today. You can be assured that you are getting the best with these products and AMC911 Crawl Space & Foundation Repair' professionals.
Waterproofing in Manassas, VA
Manassas sees many rainy days, storms, and flooding. Having the right waterproofing system is important. AMC911 Crawl Space & Foundation Repair offers both interior and exterior waterproofing. The products we use include sump pumps, sump pits, battery backup pumps, drainage systems, vapor barriers, and water collection. All of these waterproofing products are manufactured by ECP.
We also offer crawl space encapsulation. We use a vapor barrier that will encapsulate the entire crawl space to keep water and moisture out. We use a thick vapor barrier that is puncture-resistant. You can be assured your crawl space will stay dry.
Masonry, Concrete Repair & Flood Vents for Manassas, VA
AMC911 Crawl Space & Foundation Repair offers Smart Vent flood vents for residents of Manassas. This Smart Vent flood vent system has a built-in sensor that will sense when there is rising water.
We also offer concrete leveling and concrete repair in Manassas. We use a technique known as polyfoam jacking to lift and level your concrete. We also use ECP concrete slab push piers to repair sinking concrete slabs. We are also your local masonry experts in Manassas.
If you are in need of foundation repair, waterproofing, concrete lifting, or need an expert in masonry, contact us today. We have the products and expertise to help you with all of these repair needs. We will give you a free estimate and offer you the best solution for your repair needs.