Vienna, VA has many beautiful homes and the team of professionals at AMC911 Crawl Space & Foundation Repair wants to help you keep your home structurally sound and safe for years to come. Foundation failure can happen even to new homes, so homeowners need to keep an eye out for any of the following indications of uneven foundation settlement: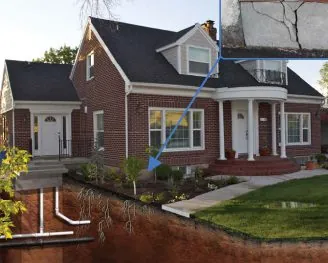 Foundation damage can be caused by a variety of situations. The most common is soil erosion, due to heavy rains or flooding. When the ground becomes saturated, the soil may put extreme pressure on your foundation, causing the walls to move or crack. If the ground isn't compacted correctly, voids under the structure may shift or expand, causing your foundation to settle unequally.
Other causes in Vienna, VA may be tree roots. A growing tree can push against your foundation, moving it out of alignment. Also, if a tree dies, or you use root killer, when the plant dies, the roots will decompose and, if they were large, may cause voids to occur, causing the soil around it to shift unevenly.
The experts at AMC911 Crawl Space & Foundation Repair will provide a free inspection and estimate. When it is time for the work to be completed, we will use products from Earth Contact Products, the leading manufacturer of foundation repair equipment.
Waterproofing in Vienna, VA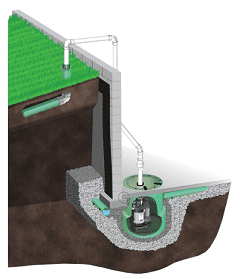 Water damage in Vienna can be more than unsightly, it can be costly and dangerous. All it takes is a hairline fracture in your foundation or basement floor to allow water into your home. Inside your home, a faulty sump pump or a leaking pipe can cause water to collect. Our professionals will inspect your home at no cost to you and determine the cause of your wet basement and the best solution to fix the problem.
Exterior waterproofing systems keep water from even getting near your structure. Drainage pipes and pumps will protect your foundation from any water damage.
Interior systems are popular and easily installed. This system uses a drainage pipe laid around your footing, leading to a sump pump, keeping your basement dry.
Other waterproofing options we offer are crawlspace encapsulation and Smart Vent flood vents. Contact us today for more information on all of our waterproofing services.
AMC911 Crawl Space & Foundation Repair is proud of our reputation for outstanding customer service and quality workmanship. We offer many services in the Vienna, VA area including concrete repair and leveling, and masonry work to keep your home stable and dry, giving you the peace of mind you deserve.