The area of Hampton Roads is the 7th largest metropolitan area in the SouthEast. Some people call it Tidewater, and others, Coastal Virginia. Regardless of what you decide to call it, if you live in the area, you call it home.
Like any area in the United States, Hampton Roads provides some unique challenges for homeowners. The soil, the change of seasons, and a considerable amount of rain can cause issues that could undermine your home's foundation.
Many homeowners begin noticing the early symptoms of foundation problems, such as cracked foundation walls or moisture problems in the basement or crawlspace. If you see those problems, the time to act is now.
AMC911 is your go-to resource for crawl space and foundation repair. We can provide you with the solutions you need, regardless of whether it is waterproofing or stabilizing your foundation. Your home is your castle. We do what is necessary to keep it that way.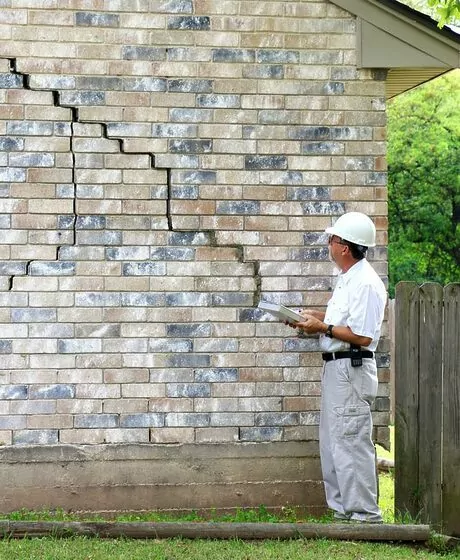 Common signs of foundation problems in Hampton Roads, VA
It can be concerning when you notice problems with your home. That is especially true if they point to a possible issue with your foundation.
The following are some symptoms that your house may require foundation repair. If you notice one symptom, it may not be a big issue, but multiple symptoms indicate that something needs to be done.
When cracks appear, they are an early sign that foundation problems are occurring. In many cases, these cracks will grow in size. If you try to cover them, they will eventually reappear.
As the foundation shifts, it doesn't do so all at the same time. Cracks in the concrete floors may begin to show up as a result. These cracks tend to be most noticeable in the garage and other exposed areas. They are not as easy to see under the tile, but they may show up as the tile cracks due to the issue.
Do you have a moisture problem in your basement or crawl space? You might have a foundation problem. Call AMC911 when you have moisture or mold issues to see if the foundation may be behind them.
Cracks may form in the chimney when the foundation moves. It is especially evident where the chimney meets the home. If your chimney has cracks or is leaning away from the house, it is a sign that foundation problems are occurring.
The windows and doors are among the most common areas that display foundation problems. They will usually start sticking when you open and close them, and things will get worse. As the foundation problems progress, the frame around the windows and doors may separate, and cracks may start extending from a corner outward into the surrounding walls.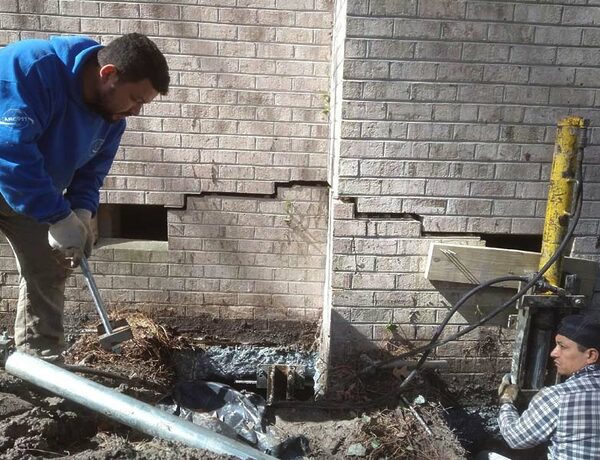 Common Methods for Foundation Repair
There is no one-size-fits-all solution to foundation repair. Each situation is unique, so AMC911 will consider all factors before choosing the best foundation repair method for your home or commercial building.
Often, foundation repair in Hampton Roads will include underpinning using helical or push piers. Once we have stabilized the foundation, we can fix any cosmetic issues that may have occurred due to the foundation problem.
Read on to learn more about the various foundation repair services offered by AMC911.
Foundation Repair Services in Hampton Roads, VA
Below are some foundation repair services offered to our Hampton Roads, VA, clients. We may use one or more of these options, depending on the circumstances surrounding your foundation problems.
When a foundation settles, it doesn't always do so uniformly. When part of the foundation settles more than another, it is known as differential settling. In most cases, foundation leveling is accomplished by means of helical or push piers. Slabs can also be leveled by means of polyurethane foam injections.
Cracks in the foundation are one of the most common symptoms of foundation problems. Once the foundation is stabilized and leveled, we can fix any cracks that are left behind. This process can include epoxy injections and carbon fiber straps.
When your foundation settles, it will likely continue dropping. One method of stopping the movement and even raising the foundation is through the use of push piers. These steel push pier sections are stacked and driven into the earth hydraulically until they reach bedrock. The top section is then capped and attached to the foundation to stabilize it. Push piers can also be adjusted to raise the foundation to an acceptable height.
These steel piers are similar to push piers, but they have a helix that gives them more grip and essentially screws the pins into the ground. Helical piers are used on lighter homes or if the soil is not favorable to push piers.
Structural Engineer Foundation Inspection
It is generally recommended that a professional inspect your foundation every year. A foundation inspection is more than a building inspection you might have done before buying or selling a home. This type of foundation inspection looks below the surface for any issues.
Free Foundation Repair Inspection and Estimate in Hampton Roads, VA
AMC911 offers free foundation inspections. You can request an inspection every year.
Follow this link to fill out our online form or see other convenient ways to contact us.