Does Your Hampton Roads Home Have One Or More Foundation Cracks? If So, AMC911 Has The Right Repair Solution.
What Are
Foundation Cracks?
Foundation cracks are cracks in a foundation wall. They come in various sizes and shapes. Some are horizontal, others diagonal. Horizontal and diagonal foundation cracks are almost always a sign of structural damage. Vertical cracks in a foundation wall are the least serious and usually caused by shrinkage during the concrete curing process. Whatever the type of foundation crack, we have a solution for you to include crawl space piers, underpinning with push, helical & slab piers, concrete lifting, and carbon fiber repair. Contact us today for a free assessment.
All of the above have one thing in common: They create movement in the soil under the foundation and this is what leads to differential settlement. The silver lining is help is available to you. Call our team of experts today to receive a free inspection to uncover the root of your foundation problem.
AMC911 Foundation Crack
Repair Services In Hampton

Roads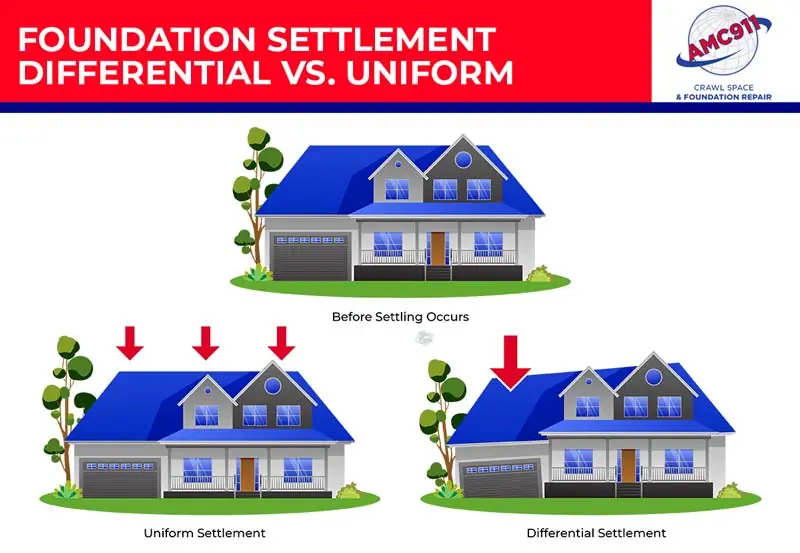 The chosen foundation crack repair solution depends on what caused the crack. Was it differential settlement? Hydrostatic pressure? Shrinkage during the concrete curing process?
AMC911's foundation crack repair services include:
If the foundation crack was caused by differential settlement, the most common repair solution is underpinning using push piers, slab piers, or helical piers. Underpinning essentially extends the structure's foundation down to soil that's able to support it. This solution permanently stabilizes and strengthens the foundation.
Once the piers are in place, the foundation is raised to maximum practical level. That's a fancy term that just means we raise the foundation as much as we can without causing damage to the structure. Most of the time, this causes the foundation cracks to close.
If the foundation crack was caused by hydrostatic pressure pushing against a foundation wall, carbon fiber straps are a common repair solution. Carbon fiber is extremely strong, just about impossible to tear or break, and stabilizes the wall to prevent it from moving inward.
Installation is quick and minimally-invasive. Carbon fiber straps can be painted or covered with drywall. Nobody will know they're there.
If the cracks were caused by shrinkage during the concrete curing process, epoxy crack injection is probably the best solution. Epoxy crack injection seals the crack and prevents moisture from seeping through the foundation wall. The procedure can be completed in no time flat.