If you have a wet or leaking basement, we can install an interior waterproofing system to drain water out of your home and keep your basement clean and dry. Interior waterproofing is typically a more simple and affordable solution for basement drainage. Many homeowners in Virginia choose to install an interior waterproofing system because it is less labor-intensive and does not require the removal of landscaping like exterior waterproofing does. It can also be installed all year round and is not affected by the outside weather or elements.
How Interior Waterproofing Works
Our interior waterproofing systems consist of:
ECP Water Channel
ECP SDS
ECP 4″ Drain Pipe
ECP Sump Pit with Lid
ECP Sump Pumps
ECP Vapor Barrier
System Clean-out
The perforated drain pipe, which is installed inside the perimeter of the footing, is the most effective part of the system. It is designed to drain the area to the sump basin. Because sump basins are made out of polyethylene, they are strong and impact resistant. This increases the life expectancy of the sump pump, preventing it from crushing or deteriorating. Also, the sump basin has a unique bell-shaped design that makes it more efficient. As groundwater fills the pit to a certain level, a switching device turns the pump on and water is diverted outside of the home.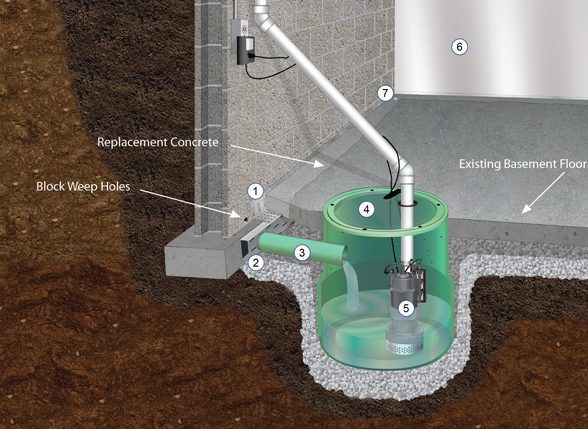 The water channel is a lightweight system consisting of interlocking joints to make fast and easy connections. Its modular design makes it flexible. There is no need to grade a deck surface with a channel drain. Channel drains can be applied to parking lots, driveways, patios, and much more.
Crack Injection Repair
Another interior waterproofing method that we use is crack injection repair. If you have smaller cracks that allow water into your home and are not causing serious structural damage, we can seal them with an epoxy or polyurethane injection.
Our crack injection materials are commercial grade and extremely reliable, manufactured by Earth Contact Products. These waterproofing resins are designed to seal cracks and voids in your foundation, preventing water and air leakage.
Give us a call today to see if crack injection repair would be a good solution for your waterproofing needs in your Virginia home or business. We would be happy to provide you with a free consultation and quote!
Free Estimates for Interior Waterproofing Systems
Guard your home against water damage and protect your possessions by installing an interior waterproofing system in your home. This will save you time and money while maintaining the value of your home. AMC911 Crawl Space & Foundation Repair offers this interior drainage system for the residents of the Hampton Roads area. We serve the cities of Virginia Beach, Chesapeake, Norfolk, Hampton, Williamsburg, Newport News, and the surrounding areas.
Contact us today and schedule a free interior waterproofing estimate.