It is common in Suffolk, VA for homes and businesses to experience problems with their foundation, whether it be slab, basement, or crawl space. Due to our hot and humid summers where we see quite a bit of rain, pressure can build up around foundation walls and cause all sorts of problems for the structure. There are many signs and symptoms you can watch for as a Suffolk home or business owner: Cracks in walls, cracks in floors, doors and windows that stick, trim or molding that is misaligned, foundation cracks, brick cracks, leaning chimneys, bowing walls, or foundation settlement. These can all be signs you need foundation repair.
The foundation repair professionals at AMC911 Crawl Space & Foundation Repair can provide you with a personalized foundation solution. We use underpinning products from Earth Contact Products including steel push piers and helical piers, as well as wall anchors. Each of these solutions is proven and long-lasting and can give you peace of mind that your home or business is protected for years to come. Call us to learn more about all of our foundation repair solutions for Suffolk, Virginia.
Concrete Leveling Solutions for Suffolk, VA
Over time, concrete can settle, crack, and become a serious eyesore or even a dangerous tripping hazard. It is common for sidewalks, driveways, porches, pool decks, parking lots, and other concrete surfaces to show wear and tear over time. Depending on your specific concrete problem we can provide a quote to fix it. Concrete leveling is a much less expensive solution and takes a lot less time than concrete replacement.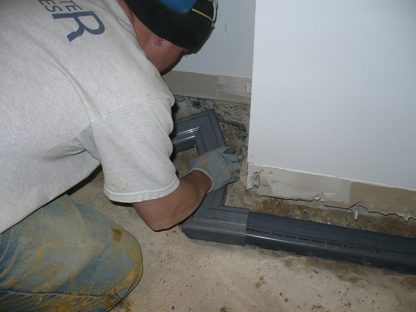 AMC911 Crawl Space & Foundation Repair is a proud installer of Smart Vents. If you are living in a floodplain, these can be lifesaving for your home. You can prevent flooding and protect your home's foundation with flood vents from AMC911 Crawl Space & Foundation Repair. Call us to learn more!
We have a large selection of waterproofing services to meet your needs in Suffolk, VA. We offer a wide range of solutions including interior & exterior waterproofing, crawl space vapor barriers, crack injection, drainage & water collection, and sump pump installations. Each situation is different and we are happy to provide a free quote for your Suffolk home or business. Call us today to get started.