Have You Noticed Signs of Foundation Issues in Your Home?
As a homeowner in the Hampton Roads area, it can be unsettling to notice issues with your home's foundation. Seeing cracks in your foundation, gaps around windows and doors, or cracks in brickwork can rob you of your peace of mind. If left untreated, foundation issues will get worse, resulting in decreased home value and compromised structural integrity.
Don't Worry. Most Foundation Problems Can Be Repaired
The good news is that AMC911 can address the root causes of most foundation problems and even fix badly damaged foundations. Your home deserves a secure foundation that will last. Contact us today and we will come out to your home, determine whether you have a foundation issue, and if you do, we will provide you with your free repair plan and estimate.
Common Signs Your Home Might Have a Foundation Problem
AMC911's Guaranteed Foundation Repair Solutions
Foundation problems are almost always repairable. However, they require highly technical and specialized equipment and experience that few companies have. But we do.
Using piers to permanently stabilize your home's foundation requires pushing them deep in to the ground until they hit stable soil, sometimes hundreds of feet below the structure.
Push piers and helical piers are the two most common methods for repairing settled foundations. Both are minimally-invasive repair solutions than can quickly stabilize and strengthen a failing foundation. 
Foundation Leveling
Foundation leveling corrects structural problems related to differential foundation settlement, stabilizing and strengthening the foundation (See the graphic below). The two most common foundation leveling methods are push piers and helical piers.
Push piers are driven into load-bearing soil using the building's weight and hydraulic pressure. Once they're firmly in place, a synchronized hydraulic lifting system raises the building.
Helical piers are used for new construction projects requiring a deep foundation system and for stabilizing existing foundation experiencing settlement.  A geotechnical engineer determines the torque necessary to achieve the required load-bearing capacity.

Foundation Crack Repair
Foundation cracks come in various sizes and shapes. Some are horizontal, others diagonal. Vertical foundation cracks are the least serious and usually caused by shrinkage during the concrete curing process. Whatever the type of foundation crack, we have the right repair solution including epoxy crack injection and carbon fiber repair.
Engineered Solutions Tailored to Meet Your Specific Needs
If you suspect your home's foundation might have an issue, a foundation inspection by a structural engineer can uncover the problem and then suggest an appropriate repair solution.
At AMC911, we have an engineer on staff, David Williams. David studied Engineering at Old Dominion and obtained his Professional Engineer's certification from the Commonwealth of Virginia. He has worked closely together with engineers and architects on restoration and remodeling projects, both big and small alike.
Foundation Waterproofing
Believe it or not, water is one of the leading causes of foundation problems. AMC911 offers a variety of proven waterproofing solutions for your home's foundation, including interior and exterior waterproofing, crawl space encapsulation, and drain tile systems.
Signs of Foundation Failure Are Often Subtle
Many of the above signs of foundation failure can be subtle and may not seem like a big deal at first. However, even tiny drywall cracks and small door and window misalignments can signify a bigger problem. Cracks in brickwork or a concrete foundation are almost always a sign of trouble. If you see any of the above or anything else that seems suspicious, contact AMC911 today and schedule a foundation evaluation. If there's a problem, we'll give you a repair estimate as well.
What Causes Foundation Failure?
Most Foundation Problems Are Caused by Water
Believe it or not, most foundation problems are caused by water. When there's either too much or too little water in the soil around a foundation, there will be trouble.
For example, when there isn't enough moisture in the ground, clay-rich soil underneath your home will shrink and pull away from your foundation. This could cause cracks in your foundation slab. On the other hand, too much moisture in clay-rich soil will cause it to expand and push against your foundation walls.
This back-and-forth shrinking and swelling of the soil can, over time, cause a phenomenon called the differential settlement, or when a foundation settles into the ground unevenly. Differential settlement causes everything to be out of plumb. You'll start to see problems like uneven floors, wall cracks, and windows and doors that don't open and close properly.
Read more about the causes of foundation failure.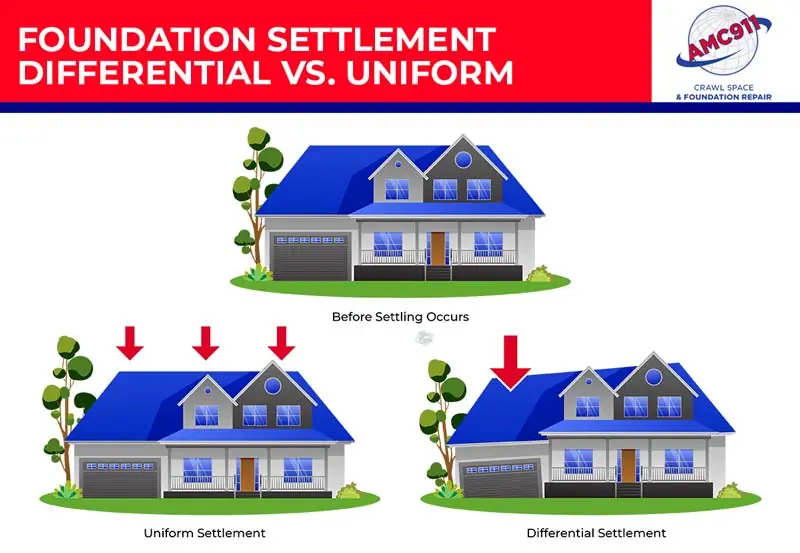 So, Where Is All That Excess Moisture in the Soil Coming From?
Problems leading to water-saturated soil around a foundation include poor drainage, plumbing leaks, and swimming pool leaks.
But, Other Things Can Also Cause Foundation Failure
Imbalanced soil conditions are not the only thing that can cause foundation issues. A foundation can settle and become uneven from any of the following:
Soil that wasn't adequately prepared before construction began

– Before beginning any construction project, the soil needs to be adequately tamped down. If this isn't done, the structure will settle unevenly into the soil after it's built.

Overgrown tree roots

– Large tree roots can invade the ground under a foundation and wreak havoc.

Extensive excavation next to the foundation

– If someone digs a big hole too close to a foundation, it can destabilize the soil under the foundation leading to serious problems.

Earthquakes and other natural disasters

– When the ground moves, so does your foundation.
How To Prevent Foundation Problems
Because most foundation problems are caused by water, you can go a long way toward preventing trouble by simply controlling groundwater around a foundation. There are various ways to do this, including,
Make sure your gutters aren't clogged with dead leaves and other debris.

This can cause water to overflow the gutters and soak the soil around the foundation.

Ensure your downspouts carry water at least four feet away from the foundation before releasing it.

Downspout extensions are inexpensive and easy to install.

Make sure the yard around your home slopes away from the foundation

. You don't want water draining toward the foundation.

Avoid planting flowers and other types of vegetation next to the foundation.

These may look attractive next to your house, but when you water them, you'll add water to the soil around the foundation.

Install an underground downspout and pop-up emitter.

Runoff flows into the underground downspout toward the pop-up emitter in your yard, around 10 feet from the foundation. When the emitter fills with water, it pops up and releases the water away from the foundation.

Install either an exterior or interior drain tile system.

Any excess moisture in the soil around the foundation will be channeled to a sump pit and then released away from the foundation via a sump pump.
Read more about our foundation waterproofing solutions.
AMC911 Serves the Entire Hampton Roads Area
AMC911 Crawl Space and Foundation Repair are Class A contractors and Better Business Bureau Torch Award Winners (with an A+ rating). We have over 25 years of experience, are fully insured, and all our work is done with our highly trained in-house crews.  
Our solutions come with parts and labor warranties to give you added peace of mind.
Let AMC911 Crawl Space and Foundation Repair restore the structural integrity of your home today. Contact us for your free foundation evaluation and estimate.