Smithfield is a town located in Virginia, known for being the ham capital of the world. It is also an area where residents enjoy small-town living with plenty of things to do. This includes plenty to do on the water, with Cyprus Creek to the east and the Pagan River to the north.
The close proximity to water puts many areas in Smithfield near or in the floodplain. This can be a problem, as water is one of the primary issues leading to foundation failure and other homeowner problems. Without the proper care, you could even be facing issues with mold.
Fortunately, AMC911 is nearby to assist with preventative measures or with corrective solutions, when the foundation shifts or sinks. Once the problem is identified by means of our free foundation inspection, we can get busy saving your home and repairing the damage.
Preventative measures are also a big part of owning a home in Smithfield. This can include both interior and exterior waterproofing. We also install sump pumps, french drains, and other forms of water control or redirection.
Look down through the list of possible signs of foundation problems, as well as the solutions we provide. There are sure to be options that will assist you and your home when problems arise.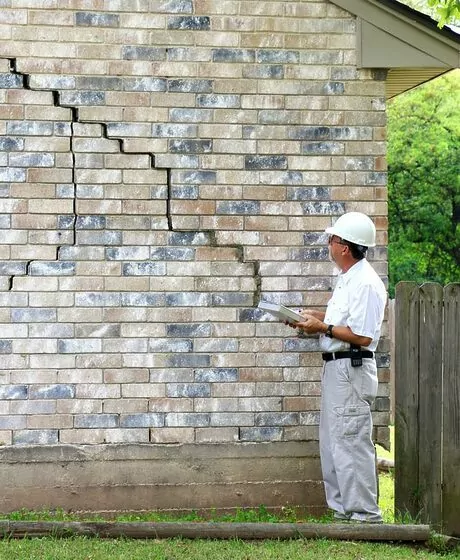 Common signs of foundation problems in Smithfield, VA
Your home will often let you know when foundation problems occur. The signs that show will also get progressively worse if you don't have the problem corrected. Here are a few to It's always good to know the possible signs of foundation problems when you live in Smithfield, VA. Even if you aren't currently having any issues, knowing how to recognize them allows you to get the help you need in a timely fashion.
Here are the most common signs you might be having an issue with your home's foundation:
consider.
One of the most common signs of foundation problems is water. This could be standing water or moisture seeping through cracks. When you see these problems, it's important to understand why they are occurring.
Out of all of the issues that a homeowner may face, mold is one of the most frightening. It isn't just the health concerns associated with mold, it is also the bigger issues that may be occurring in the background and allowing the mold to form. This includes water getting inside through the foundation.
When the foundation sinks, it often leaves behind cracks in the concrete. These are more than the hairline cracks you might have as the concrete cures. They are large and often expanding cracks. AMC911 knows how to handle floor cracks to fix the issue permanently.
As the foundation shifts and settles, it leaves behind cracks in the walls. These cracks often run horizontally or they may resemble a stair-step. If you have bowed walls, it can also create cracks that could eventually collapse.
Gaps Around Windows and Doors
The door and window frames have a fixed shape but as the foundation shifts, it can cause the frames to shift. You might start noticing gaps around the doors and windows. They can also stick when you are opening and closing them.
It is not common for a chimney to sink but if the foundation on the main structure shifts or sinks, it could cause the chimney to lean. You might also see the chimney separating from the house. These are clear signs of foundation problems.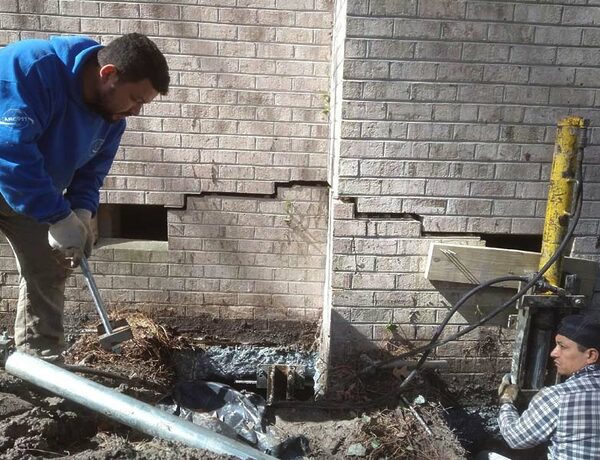 Common Methods for Foundation Repair
Foundation problems can be stressful but AMC911 knows how to handle the problem. We offer foundation solutions to get your home back in shape and keep it that way for many years. Just know that foundation problems will not go away on their own. Unless action is taken, they will get worse.
Foundation Repair Services in Smithfield, VA
AMC911 is your home foundation repair specialist. We have helped many people in Smithfield and the surrounding areas since we got our start, some 4 decades ago. We offer the foundation repair services you need to stabilize, level, and fix your ailing foundation.
When a foundation sinks, it has to be stabilized and leveled. In many cases, this can be accomplished with underpinning but it may also involve injecting polyurethane foam under a slab to raise it.
When we level a foundation, the large cracks typically go away but there may still be a need for crack repair. This could include an epoxy injection or a mesh that covers and strengthens a wall.
If the soil under your home is not capable of holding the foundation without movement, underpinning by means of push piers may be used. These steel rods are pushed into the ground until they rest on the bedrock. They provide vertical stabilization once they are attached to the foundation
These piers take things a step further because they have a helix attached. Helical piers are twisted into the ground and provide a stable footing for any foundation.
Free Foundation Repair Inspection and Estimate in Smithfield, VA
When was the last time you had your foundation inspected? This is more than a simple building inspection, a foundation inspection closely looks for issues under your home. They are performed by someone experienced in the trade, who knows the signs of foundation problems intimately.
It is recommended that residents of Smithfield have a foundation inspection every year. You can request your free foundation repair inspection and estimate today using the form on the AMC911 website.
Don't delay in having your foundation inspected. These problems don't get better, they get progressively worse. We can help.