Owner of AMC911, Brian McClung is a master mason with over 30 years of experience working in residential and commercial masonry.
After completing a four year masonry apprenticeship in 1988 with Chesapeake Masonry, the largest commercial masonry company in Virginia Beach, VA, Brian became a Foreman running restoration and expansion projects such as the Jamestown Visitors Center, the Williamsburg Lodge, the Williamsburg Inn, and The College of William & Mary.
After ten years working in Virginia Beach and Hampton Roads, Brian moved to upstate New York for college for four years. During that time, he led 13 fellow college students while learning additional trade secrets with a partner company, The Chimney Doctor. Understanding the techniques and products of the chimney repair industry coupled with a strong masonry background makes Brian's expertise unmatched to others in Hampton Roads.
Unlike your typical chimney sweep companies on the road, AMC911 employs full-time master masons. Our masons commonly build full masonry fireplaces from the ground up so we are well suited to complete the complicated repairs that other contractors with less experience are not typically suited for.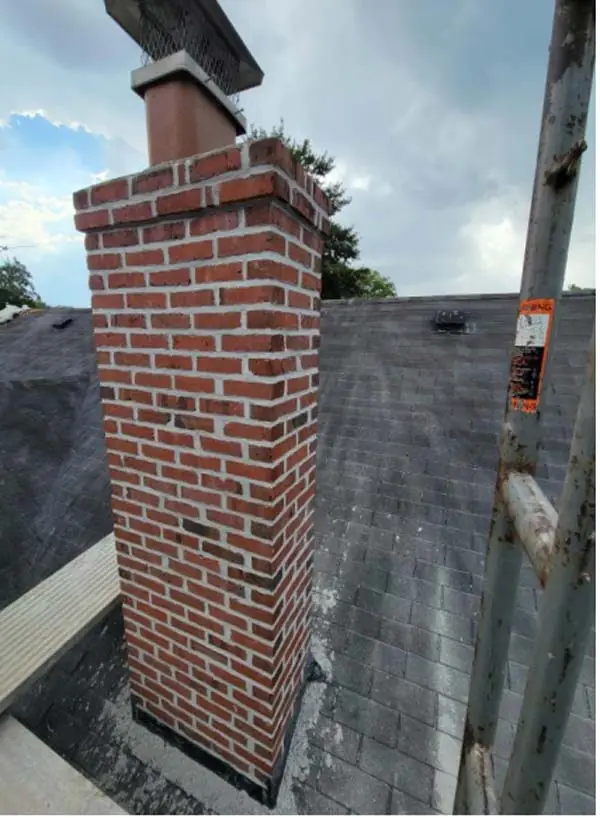 We are able to provide a detailed fireplace inspection from inside as well as the outside in order to assess any damage that may be at the foundation firebox, damper, smoke chamber, or flue liner. We will also check for masonry issues that may not have been addressed throughout the years related to changing soils or original design of your chimney.
We will assess the condition of the damper, crown, and chimney caps as well as any "growths" that may have developed over time such as overhanging trees and branches that may prevent your chimney from functioning properly.
Lastly, we'll inspect the flashing and other building materials and determine what, if anything, needs to be altered to bring the structure up to current construction code. This includes any clearance to combustion issues, as well as making sure there is a flue system that is up to code standards.
What is a Masonry Chimney?
A masonry chimney is a fire burning structure made out of brick, block, and mortar. A masonry chimney goes up with the original construction of a home versus a prefabricated chimney that is made in a factory and then added onto a home after initial construction. Masonry chimneys have been a popular part of house design since the 16th century and if built and maintained properly, can last on the upwards of 100 years.
It's not a surprise that fireplaces and chimneys built with brick and mortar stand up to more intense heat than prefabricated chimneys which are made of metal that will warp if temperatures get too high. On the downside, masonry chimneys will require slightly more upkeep over time than prefabricated chimneys simply because brick and mortar exposed to the elements over time will need to be repointed.
In this article, we will dive deeper into the signs and causes of most needed chimney repairs that we've seen and handled for 30+ years in Hampton Roads. If your chimney or fireplace has been neglected, it might be in need of some serious repair… and we take it as such!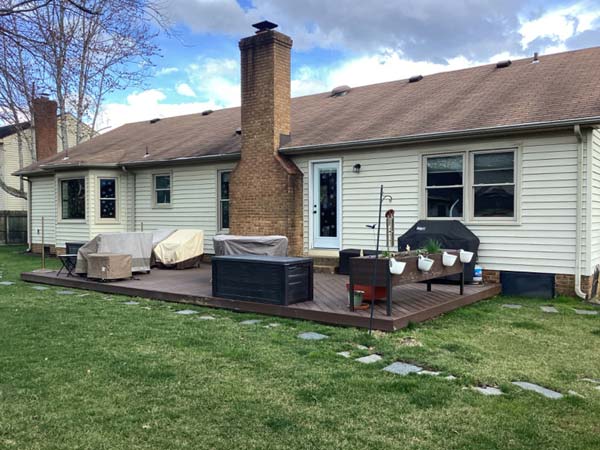 Signs You Need Masonry Chimney Repair
One of the largest tell-tale signs of chimney failure is a chimney that's leaning away from the house. We know masonry and we know the soils of Virginia Beach, VA like the back of our hand. If you notice cracks or separation in the bricks anywhere along the side wall or at the top of your chimney, your chimney needs to be assessed by a professional.
Another sign you might need to seek professional advice is if you see cracks in a stair-step pattern running anywhere through the bricks of your chimney. Cracks in bricks and mortar are signs that your chimney needs attention. Chimney cracking can lead to loss of heat through the chimney… Cracks can also mean your chimney is unsafe.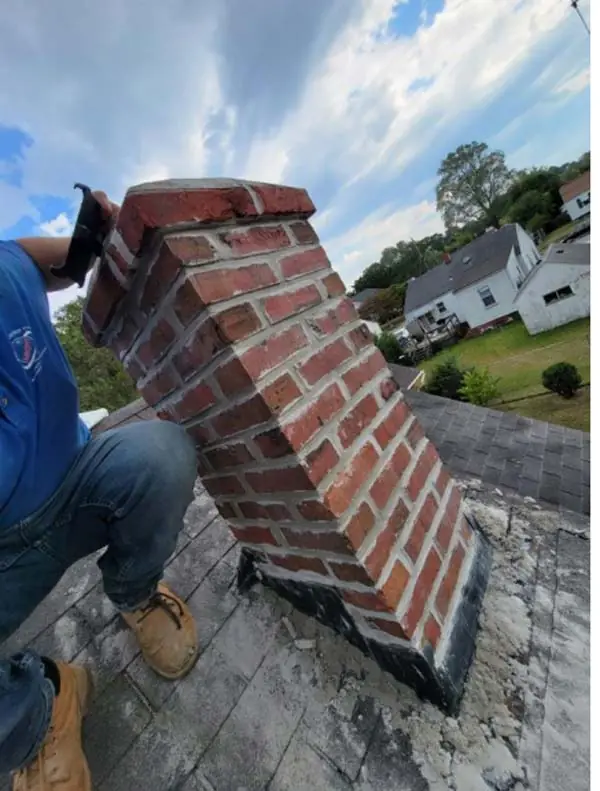 How Masonry Chimney Gets Damaged?
The most common reason for chimney damage from what we've seen in Hampton Roads is water. Moisture rich air and soil make our homes and chimneys more susceptible to damage. We highly recommend having your chimney inspected once a year for safety. If there is a buildup of creosote in your chimney, your home will be highly susceptible to fire damage.
Furthermore, if your chimney flue has a crack or blockage, or if you have cracks on the exterior of your chimney in the mortar, you could have a slew of problems on your hands. Chimney flue cracks and blockages are typically caused by debris, storms, birds… things of that nature. Cracks in your brick mortar usually form over time due to shrinkage or expansion. As temperatures fluctuate as they are known to do in Hampton Roads, cracks can appear allowing the loss of energy through your chimney. Water is also likely to make its way into the chimney through cracks in the mortar, which in turn causes mold growth and rust.
Most Common Masonry Chimney Repairs
If your home has a chimney, you've most likely had to have it serviced a time or two. You also probably know that chimneys stand up to a lot of critical weather elements prone to Hampton Roads. A yearly chimney inspection can be critical to ensuring the proper safety, functionability, and long term structural stability of your chimney.
An annual chimney inspection by AMC911 will give you a thorough understanding of the health of your chimney and fireplace. Many chimneys need to be cleaned once creosote buildup reaches a certain point. An annual chimney sweep is recommended.
Chimney brick repointing, cap replacement, crown repair, cracked flues, and general masonry repairs are those we tackle frequently. All of these repairs are necessary to ensure a long, healthy life for your chimney. Chimneys are exposed to harsh elements… Natural masonry chimneys need proper maintenance. On average, most brick and mortar will need touch up about every 25-30 years from what we've seen. Cracks in the brick and mortar on the outside or inside of your chimney can be an indicator that you need some brick repointing… Or it can be a more serious indicator that you have something structural going on.
Check out our blog post – How to Repair a Brick Chimney
We find the major reason chimneys separate from a home are because of weak soils supporting the structure. In Virginia Beach, VA it goes without saying that the soils we walk and build on are made of high water content. If the soil supporting your home's chimney moves over time due to erosion and water wash out, the chimney will start to tilt away from the home. Essentially, the chimney's footing has rotated and is causing the chimney to lean away.
Some engineers in our industry recommend helical piers in chimney repair. Helical piers are essentially large looking screws that are driven down to firm soil at the base of the chimney footing. Once driven, the helical bracket head is attached to the chimney footer and pressure is used to slowly and delicately lift the chimney back to a plumb state.
Similar to helical piers, deep-driven eccentric push piers are also used to stabilize a run-away chimney. Push piers are driven using hydraulics to firm soil, typically deeper than average to support the structure. Once the push piers hit that deep earth, resistance occurs and typically the chimney is lifted back to a more level state. The piers drive the rotating chimney footer back towards the home, and most often the result is the reconnection of a rogue chimney back to the home. And that makes everyone happy!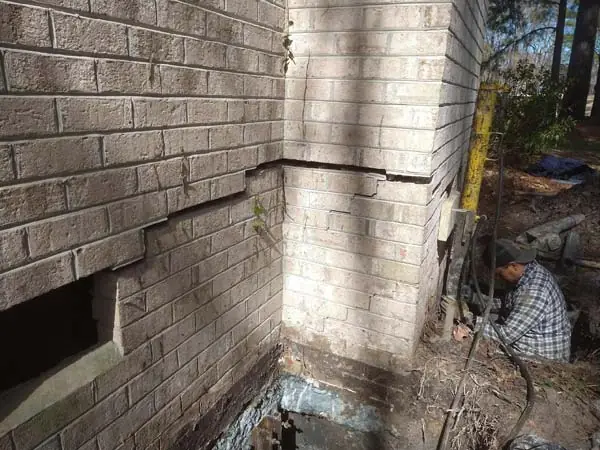 At AMC911, we offer serious solutions to your feeble fireplace needs that are unique to your home.
We don't offer a "one size fits all" solution to the work we do because we don't look at every job the same. We look at every job under a lens that is coated with years and years of foundation repair and masonry experience.
When it comes to chimney crack repair, we offer a "world is your oyster" style approach to repair.
We do everything from brick repointing to piering to address cracks in bricks. Cracks in chimneys are seen in the brick mortar in various sizes over time.
Regardless of the size of your chimney crack,it's always advisable to have it looked at by a professional who handles masonry chimney repair. Even small cracks in mortar can equate to energy and heat loss from your chimney. Larger cracks might indicate a more serious problem such as lateral movement of the chimney away from the structure.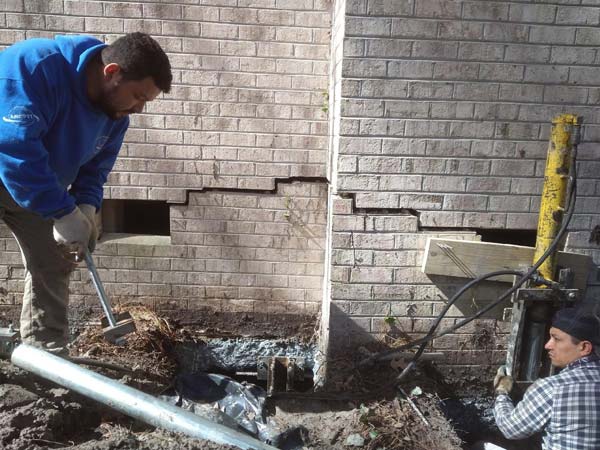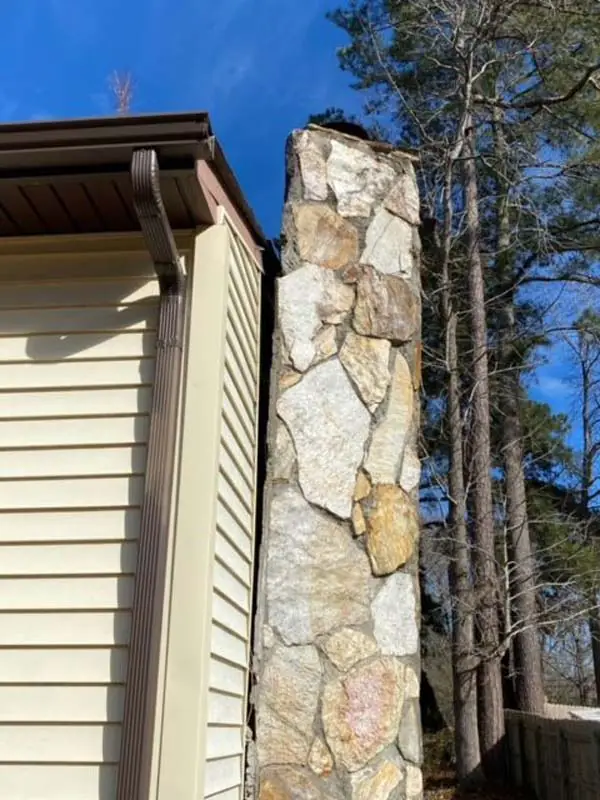 More often than not, we find the major reason chimneys separate from a home are because of weak soils supporting the structure. In Hampton Roads & Virginia Beach, VA the soils we walk and build on are made of high water content. If the soil supporting your home's chimney moves over time due to erosion and water wash out, the chimney will start to tilt away from the home. Essentially, the chimney's footing has rotated and is causing the chimney to lean away.
Chimney Crown Failure & Cracks Repair Subtle
Sometimes we find cracks in chimneys where the flues meet the outside chimney walls.
When cracks form in this area, the potential for heat loss is extreme. This also creates a way for rain water to enter the home and cause damage to the chimney structure and your home. Rain coming into your chimney will cause rust to form and mold to grow. Your chimney cap and rain cover should be in proper working condition yearly if you live in Virginia Beach, VA or Hampton Roads where the moisture content in the air and the soil is high.
The best advice we can give is to have a yearly checkup on your chimney by a licensed professional who will assess the structural integrity of your chimney from the inside out.
Damaged bricks and mortar Repair
Damaged bricks and mortar are common for chimneys. Spalling brick refers to a condition where the face of a brick starts to flake or peel off due to moisture penetration and freeze-thaw cycles. This can happen when water enters the brick and then expands as it freezes, causing the surface to crack and break apart. Over time, spalling brick can lead to serious structural damage to a building if left untreated as it weakens the integrity of the brick and can cause it to crumble.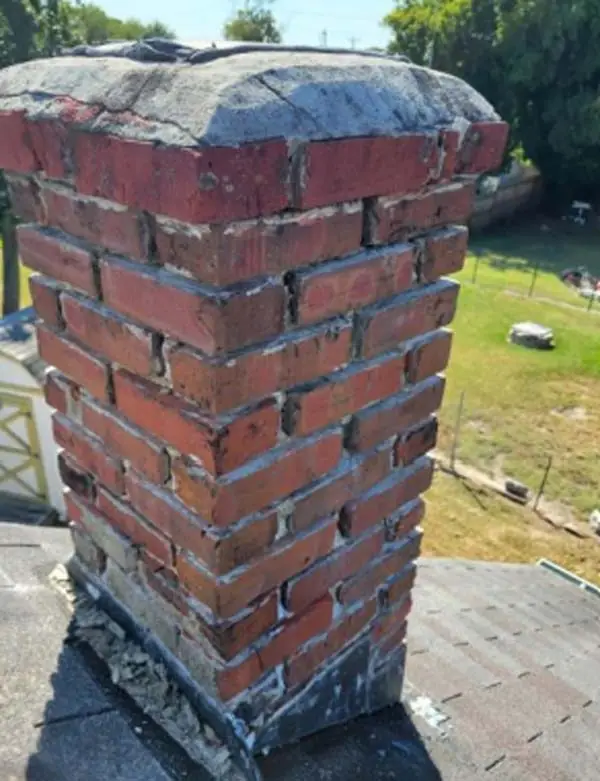 Mortar damage is also caused from moisture, and other environmental factors. Mortar is porous which means it can absorb water, eventually leading to erosion, cracking, and damage. Freeze-thaw cycles likewise cause damage to mortar by expanding and contracting as the temperature changes.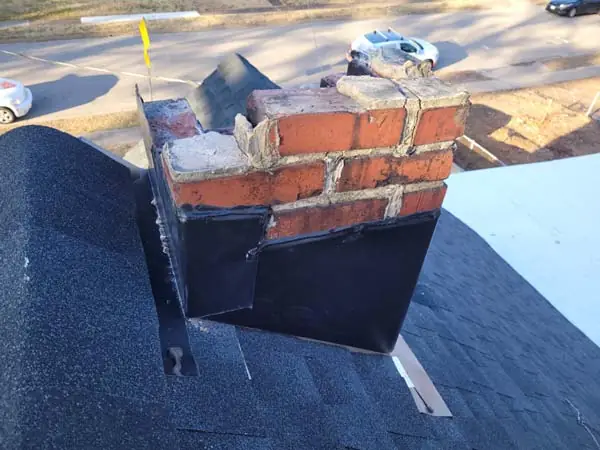 Faulty Chimney Design Repair
Faulty chimney design could be due to improperly cast footings, or faulty wood design. We have found many homes in the Hampton Roads area were built with wood and vinyl wrapping that allows for too much moisture to enter the chimney. If the verdict's out on whether or not you have rotting wood contained in your chimney, call in a professional for a yearly inspection.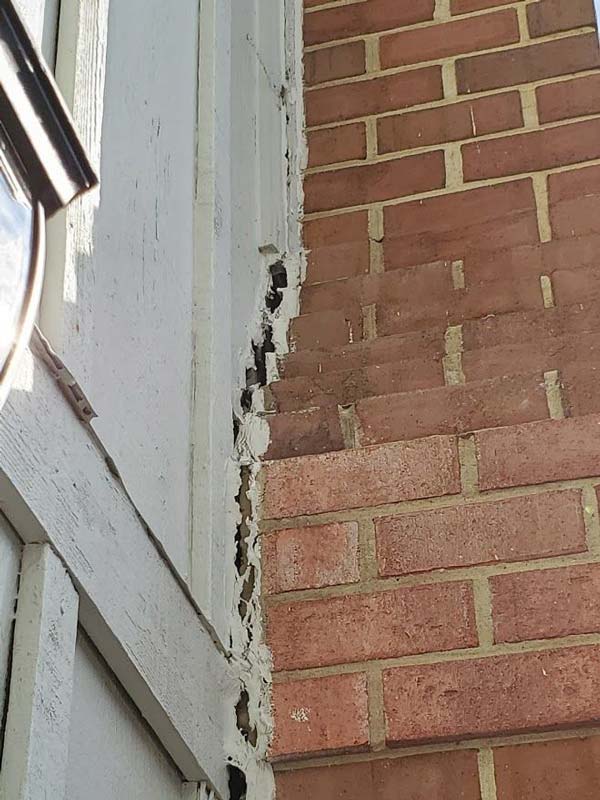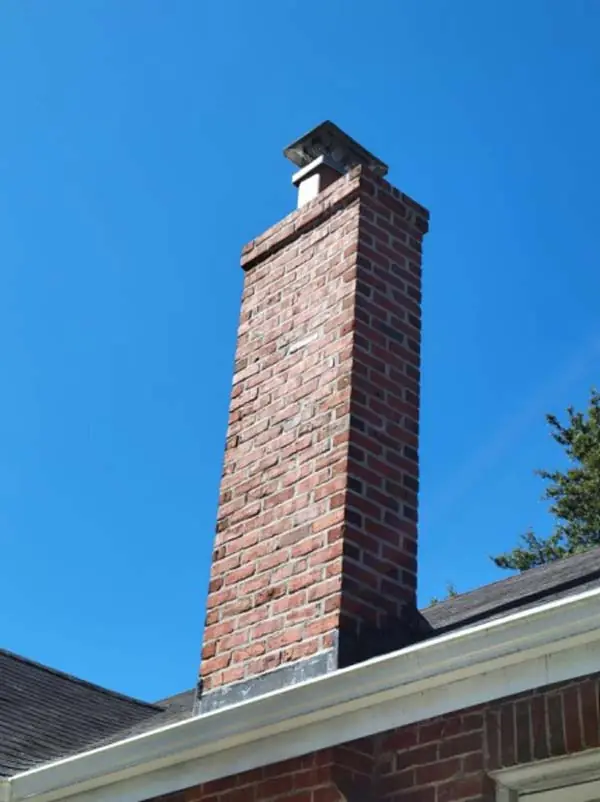 How much does the average chimney repair cost?
The average chimney repair can run anywhere from a few hundred bucks to thousands of dollars if and when structural damage is involved. If your chimney has been neglected, is non-functioning, or is cracking or leaning, you need the advice of a licensed professional that has both masonry and foundation repair expertise.
Our Masonry Repair Services
At AMC911, we will come out to lend a yearly chimney inspection to assess the health of your chimney from the inside out.
We will inspect the flue for cracks. We will inspect the fireplace, firebox, chimney cap, crown, and flashing. We will inspect exterior cracks running in the mortar from the base of the chimney to the cap. If a repair is needed, our in house Structural Engineer will assist in designing a plan that fits your specific needs. Chimney repair is a serious matter and we treat it as such. If your chimney is making a 911 call, contact your experts in foundation and masonry repair.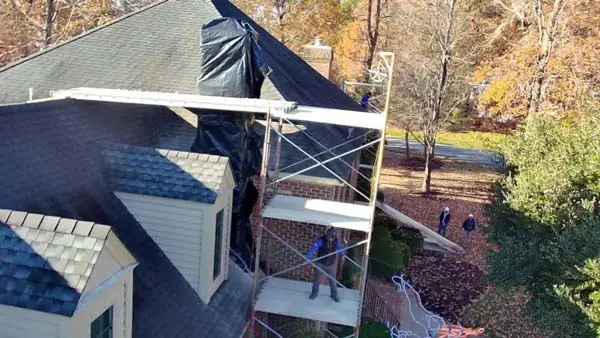 We are Class A contractors and Better Business Bureau Torch Award Winners (with an A+ rating). We have over 30 years of experience, are fully insured, and all of our work is done with our highly trained in-house crews. Our solutions come with parts and labor warranties to give you added peace of mind. Let AMC911 Crawl Space and Foundation Repair restore the structural integrity of your home today.