Professional Crawl Space Repair Solutions in Virginia Beach & Hampton Roads
Is your home's crawl space wet and soggy? If so, it's important to have it taken care of by a professional right away. Moisture in a crawl space can promote mold growth and wood rot, leading to structural damage and unhealthy air for the home's residents.
Contact AMC911 Today For a Free Crawl Space Evaluation
AMC911 Crawl Space & Foundation Repair offers crawl space drainage solutions that will turn your soggy crawl space into a clean, dry, and safe area that can be used to store things like tools and holiday decorations.  We serve Hampton Roads and the surrounding areas in Virginia. Contact us today.
Why You Don't Want A Wet Crawl Space
Crawl space moisture can negatively affect the home's structural integrity and cause health problems for anyone living in the home.
How moisture in a crawl space can impact the health of the home's residents
Moisture in a crawl space will cause mold to form. A percentage of air from the crawl space flows up into the home's living area via the stack effect (see the illustration below). If the crawl space is full of mold, the air inside your home's living area may be as well. This may cause allergies or other respiratory problems for anyone living in the home.
How crawl space moisture can affect a house's structural integrity
Dark, damp crawl spaces are the perfect petri dish for things like mold, wood-eating pests, wood rot, etc. These things eat away at the wooden structures in a crawl space and this could eventually affect the foundation's structural integrity. Also, wet, soggy soil can cause the support piers to settle into the ground and become non-vertical. If that happens, the floor above the crawl space will not have adequate support.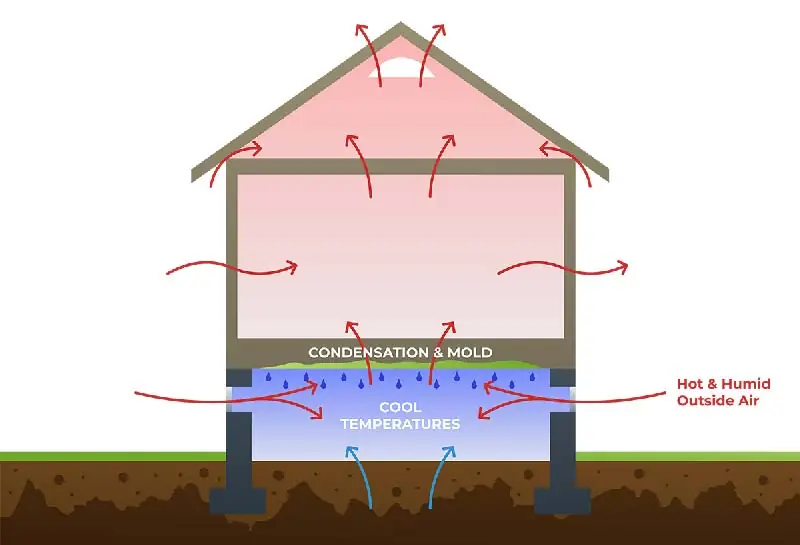 Crawl Space Drainage – Interior Drainage Systems
Standing water or serious leaks can cause major problems in your crawl space. The first step is to install a system that will drain water out of your home. This can include an interior drainage system such as a sump pump and sump pit. AMC911 Crawl Space & Foundation Repair offers professional drainage installations for your crawl space so that you can efficiently keep water out of your home.
Crawl Space Encapsulation – Vapor Barriers
Because vapor barriers decrease the moisture level in your crawl space, they improve the air quality of your entire home and make it more energy-efficient.
A vapor barrier is designed to reduce the evaporation of ground moisture into the crawl space air. Since 40% of the air we breathe comes from the crawl space, it is extremely important to keep it clean! At AMC911 Crawl Space & Foundation Repair, we offer top-quality vapor barriers to protect your Virginia crawl space from moisture. 
These vapor barriers offer the following benefits:
Warning Signs Of A Damaged Crawl Space
Since most crawl spaces are out of sight and mind, many homeowners tend to ignore them. However, the healthiness of your crawl space will affect the entire structure of your home. Look inside your crawl space for other warning signs such as:
Mold growth and musty odors
Insect and rodent infestation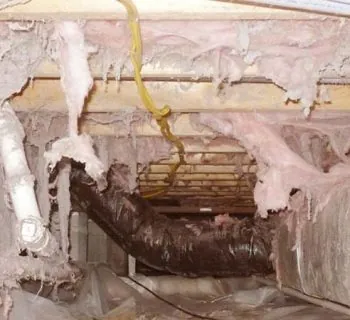 Water condensation on pipes
Cold upper-level floors in winter
Efflorescence on crawl space wall
Peeling paint on the home's exterior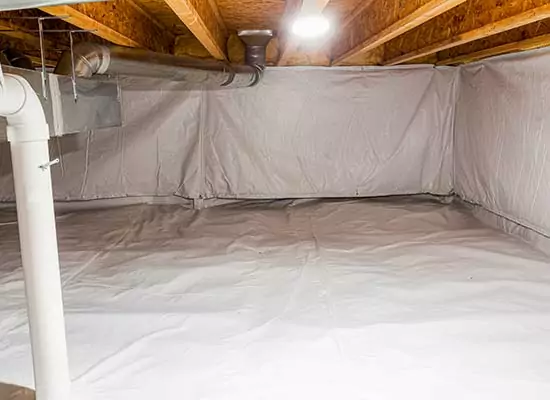 Other Things You Can Do To Prevent Problems With Your Crawl Space
Since most foundation problems are caused by excess moisture in the soil around the foundation, you can go a long way toward preventing trouble by simply getting groundwater under control. Here are a few ways to do that:
AMC911 Serves the Entire Hampton Roads Area
AMC911 Crawl Space & Foundation Repair is proud to offer free quotes to residents of Virginia Beach, Norfolk, Chesapeake, and surrounding areas. If you are interested in learning more about crawl space repair, give us a call today!