York County, VA is a great place to visit. People come from all over for the attractions, including the Great Wolf Lodge. There are also plenty of people who call York County home, including many who own their own homes.
If you are a homeowner, one thing you are undoubtedly interested in is protecting your investment. You also want to be comfortable and safe in your home. Much of this can be accomplished by just caring for the crawl space.
Did you know that air exchanges from the crawl space to the rest of the home regularly? If you take advantage of the crawl space repair and encapsulation service from AMC911, you can rest comfortably, knowing that you are protecting your home and your family.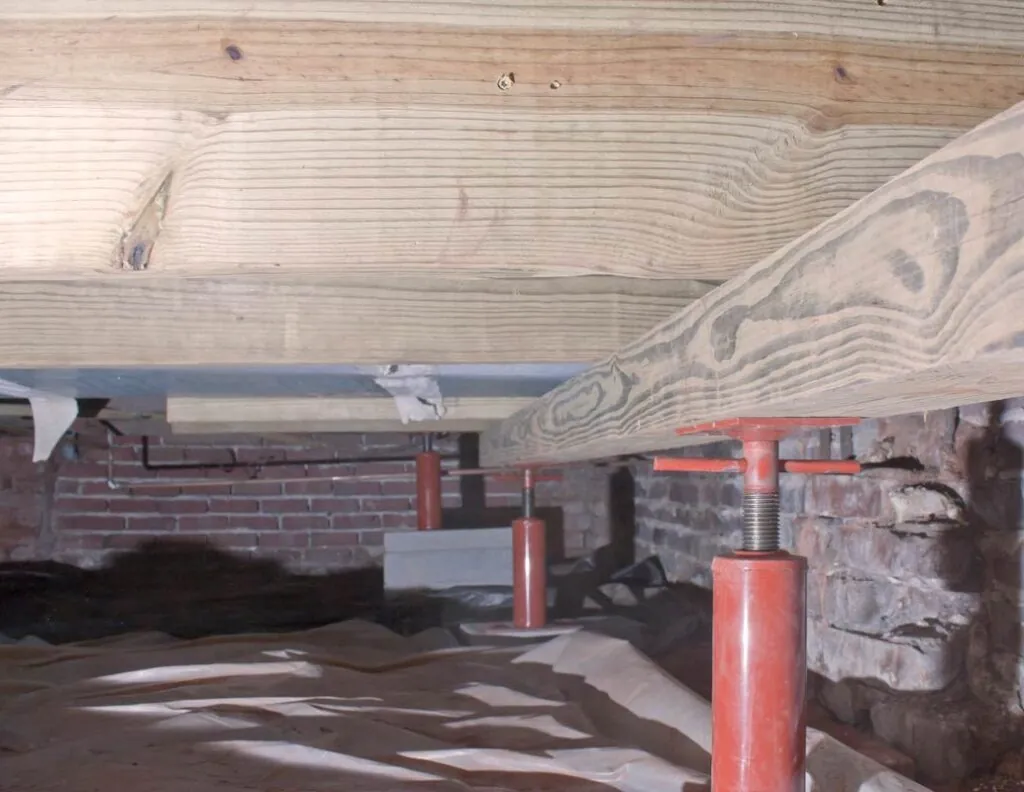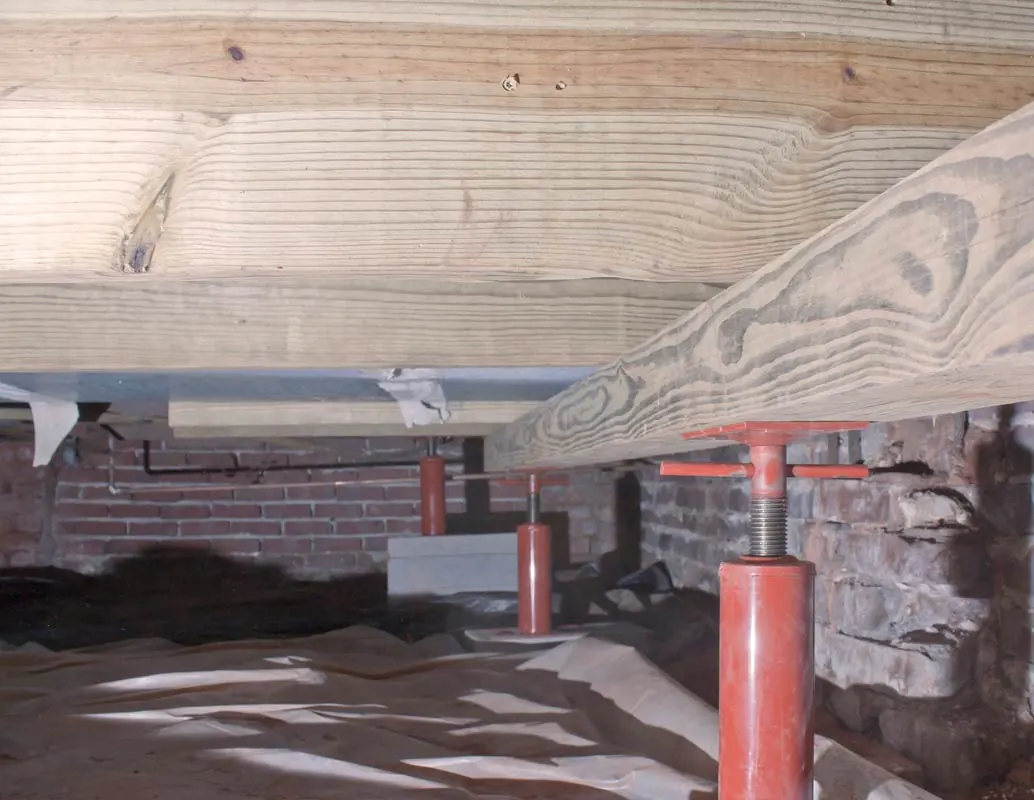 Common Signs Of Crawl Space Problems In York, VA
Most homes would benefit from a crawl space encapsulation but there are some that could use it for specific reasons. If you are seeing any of these signs of crawl space problems, you should call AMC911 without delay.
Sticking Windows and Doors
Crawl space problems can easily lead to foundation problems. When the foundation begins to shift or sink, it can put torque on the entire home. This could cause the window and door frames to twist, resulting in sticking windows and doors.
The floors on the first floor of your home can be an indicator of issues with the crawl space. With the proper insulation and an encapsulated crawl space, this issue will go away. That's great news for those of us who go barefoot at home.
If you are in the crawlspace and notice that the concrete or masonry walls are wet, this can be a very serious issue. The moisture can undermine the foundation and will cause higher humidity throughout the home.
Visible Mold in the Crawl Space
Mold is something that none of us want to deal with. It is more than an inconvenience, it can harm the health of your family as well. In addition, mold is an indicator that the crawl space needs some attention, ASAP.
Allergies and Respiratory Problems
Higher humidity, mold spores, and stale air come from unencapsulated crawl spaces and invade the home. As a result, it can affect your health. An increase in allergies and respiratory problems is a common complaint among those who need to have their crawl space repaired.
Most people would consider damp and musty smells to be normal in the crawl space. Although it is common, it should not be considered as acceptable. The smells that are in the crawl space today will be in the rest of the house tomorrow.
Why Your Crawl Space Problems Shouldn't Be Ignored
Early detection and quick action can go a long way to helping any crawl space problems to be kept to a minimum. Those issues will not get better and they won't go away on their own. In fact, procrastinating on having your
crawl space repaired
can result in the following problems, and more:
Moisture in the crawl space can eat away at the boards below the floors, resulting in damage from underneath. In addition, the conditions of the crawl space can attract termites and other pests that can cause additional damage.
Unencapsulated crawl spaces are damp, cold, and dreary areas in many homes. Due to the stack effect, the air in the crawl space is constantly entering the home. As a result, it can be difficult to keep the living space comfortable, resulting in higher energy bills.
The foundation is the root of any home and when problems occur, it can impact the entire house. In a worst-case scenario, a failed foundation can make a house unlivable. With the crawl space repair and encapsulation service from AMC911, we can fix the issue and keep it from occurring again.
One of the signs of crawl space problems is respiratory issues. This happens from the damp, stale air that enters the living area from the crawl space. It also can be from mold and mildew, which we will discuss next.
Mold and mildew, both in the crawl space and elsewhere in the home can stem from a crawl space with moisture problems. An unencapsulated crawl space provides the perfect growing environment for mold and mildew, which can result in strong smells, wood and wall damage, and health problems.
Have you been having problems keeping the home at a comfortable temperature? It could be due to high humidity. The damp air from unencapsulated crawl spaces is pulled into the home via the stack effect, resulting in this issue.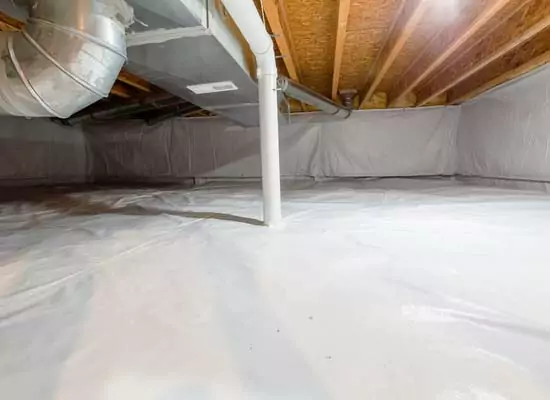 Common Methods For Crawl Space Repair
AMC911 has been helping people in Virginia with their crawl spaces and other foundation issues for decades. During that time, we have seen every imaginable problem and have repaired them. The following are some of the most common methods we have used during the crawl space repair process.
One of the most important tasks in any crawl space repair is to care for the immediate need of removing existing water. This could be standing water in the area or water around the foundation.
If the insulation is wet or if it has been damaged with mold or by rodents and insects, it must be replaced. This is an important step that occurs prior to the encapsulation.
A drain tile is a perforated pipe that is surrounded by stone, which is covered with a filtering cover to keep silt from entering the pipe. It allows any existing water in the crawl space or around the foundation to flow away from the area, either to a lower area or a sump pit.
Crawl Space Encapsulation
Crawl space encapsulation is the process of wrapping the walls and covering the floors with a thick vapor barrier. In doing so, it keeps moisture out of the crawl space and provides you with a dry area that can even be used for storage.
Another part of the crawl space encapsulation process is the installation of a dehumidifier. Even though your crawl space will be dryer, it is still important to control any moisture that could potentially build up in the area.
It may sound simple, but that is because we have been doing this for years. We can do it at your home too with a minimal impact on your regular daily routine.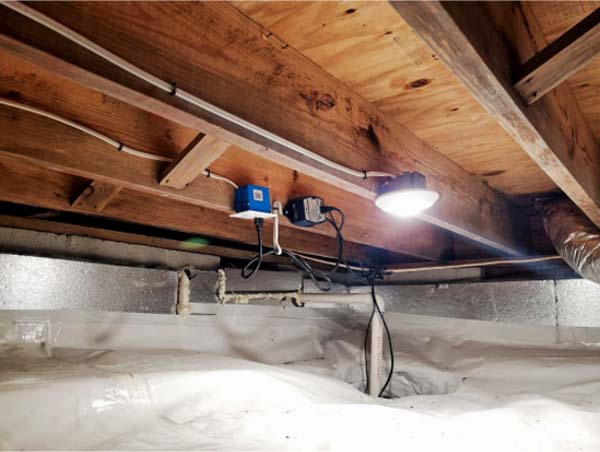 Free Crawl space Inspection and Estimate in York, VA
We offer a free crawl space inspection and estimate to all of our neighbors in York, VA. It is the first step in determining what you need and how we can assist you in getting things cared for in a timely fashion. Contact us by filling out the convenient form on our website and one of our friendly foundation experts will be back in touch with you promptly.