Carrollton, VA, is like many other small towns in the state. It is a nice place to settle and raise a family, and it is close enough to larger metropolitan areas that you don't feel isolated.
At the same time, some significant problems that sometimes need to be addressed can happen to homeowners. Foundation repair is one of the issues, and AMC911 knows what to do when this issue arises.
Foundation failure can result in various problems, from cracked floors and walls to mold. In extreme cases, foundation failure can make your home unlivable.
Regardless of the level of damage, AMC911 is your go-to resource for foundation repair. We also offer many waterproofing options to those who require that service.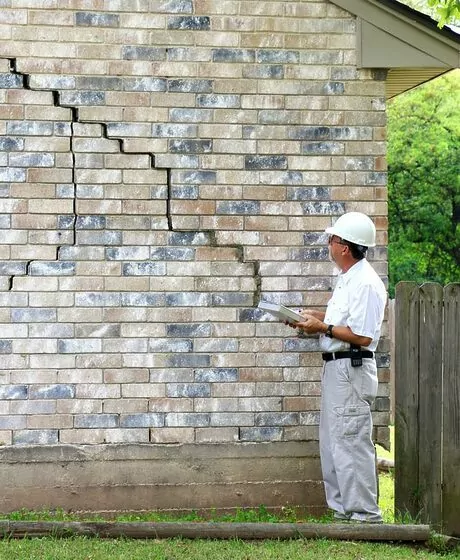 Common signs of foundation problems in Carrollton, VA
Part of the process of dealing with foundation failure is identifying the signs that let you know of the problem. Unless you can identify the symptoms, you might ignore them as ordinary until it is too late.
At the same time, it is not necessary to panic when you see one of these issues. These symptoms are not always indicative of foundation failure. Then again, when these symptoms appear, they should prompt you to get a free foundation inspection:
One of the big signs of foundation failure is for cracks to appear. These cracks can show in the floor or walls and often continue growing.
Not all cracks are bad. As an example, hairline cracks are to be expected when concrete cures. In addition, vertical cracks are less of a problem than horizontal, diagonal, or stairstep cracks.
Water is at the root of most foundation repair cases in Virginia. The soil soaks in moisture, typically from rain or a leaking pipe. The soil then expands and puts pressure on the foundation walls as the moisture level increases.
As the soil dries, it contracts, affecting the foundation. Gaps may be left behind that fill with water, or the earth may no longer stabilize the foundation, leading to settling and other problems.
In addition, the excessive moisture may make its way into your home as the foundation shifts and cracks. As a result, you may notice that your basement appliances are rusting quickly, or mold may develop.
You may give the chimney little thought, but it will often show signs of foundation failure before the rest of the home. The chimney may slowly separate from the home, or you might notice cracks in the brick or block. Don't ignore these issues. Call AMC911 for assistance.
When the foundation shifts and sinks, it will often do so at different rates. This is known as differential settlement. The windows and door frames will also change shape as the foundation changes shape.
You may notice that the doors and windows are sticking. This issue will continue to get worse. There may also be cracks coming from the door and window frames.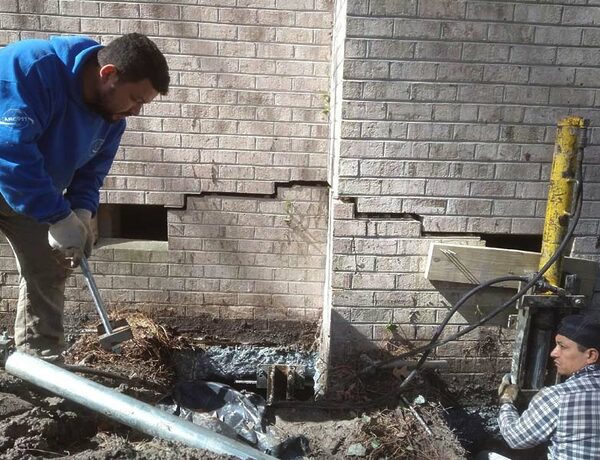 Common Methods for Foundation Repair
Foundation failure will not correct itself. It will only continue to get worse. That is why it is important to act when the problem is identified.
At AMC911, we know how to care for the problem with the best foundation repair methods. We have been helping people in Carrollton and throughout Virginia for decades, and we know what is needed to get the job done.
Foundation Repair Services in Carrollton, VA
Foundation failure is a complex issue that requires professional attention. Every case of foundation failure is unique and needs the proper repair service to fix and stabilize the problem.
There are quite a few different methods of foundation repair that are offered to those who live in Carrollton. One or more of these options may need to be applied to fix the issue fully.
When the foundation sinks, it often does so at different rates. This is due to differences in soil type, compaction, or moisture level from one part of the foundation to another.
Leveling the foundation usually requires some form of underpinning, typically push or helical piers. These steel pins are driven into the ground until they reach suitable soil or bedrock.
Once the piers are capped and attached to the home, they provide vertical stabilization. They can also be used to lift the house to an acceptable level gently.
Not all cracks are the same. Some cracks will need to be filled to keep water from seeping into the home, and others need to be filled after the foundation is adjusted.
In either case, we use a particular type of strong epoxy to hold the crack together and keep it from expanding. In addition, we may use carbon fiber straps to stabilize the wall and any gaps so problems in the future are minimized.
Structural Engineer Foundation Inspection
It is recommended that homeowners in Virginia get a foundation inspection every year. This is more than a standard building inspection. It takes a close look at the foundation for any problems.
These inspections can be ordered for free from AMC911, as discussed below. It's a great way to put your mind at ease and to catch any foundation problems before they become more significant problems.
Free Foundation Repair Inspection and Estimate in Carrollton, VA
Many homeowners tend to ignore the signs of foundation failure. They may cover over the problem or just hope it goes away. The problem with doing so is that foundation failure is a one-way street. It only gets worse, not better.
If you live in Carrollton or the surrounding area, you can access a free foundation repair inspection and estimate every year. All you need to do is fill out our online form, and one of our professionals will reach out to you to get things started.