Foundation Repair in Carrollton, VA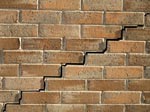 Residents in Carrollton, VA should not have to worry about foundation problems in their homes. However, due to the heavy clay soil in the area and the large amount of rain that often blows in from the coast, your Carrollton, VA home may be vulnerable to foundation problems. It is important to be aware of some of the signs of foundation settlement and failure.
Some of the things to look for in and around your home are:
Sloped or Uneven Floors
Sticking Doors and Windows
Leaning Chimney
If you see any of these sign in your home, it is important to contact a professional to come and inspect your home and foundation. Atlas Master Companies has the experience in the Carrollton, VA area to give you a free inspection and offer you the best foundation repair solutions for your needs.
Waterproofing in Carrollton, Virginia
Don't let water problems in your Carrollton, VA home cause you to lose living space, ruin personal possessions, or cause your home to have mold and mildew. Atlas Master Companies offers several waterproofing solutions for your Carrollton, VA home. These options include:
Atlas Master Companies also installs Smart Vent flood vents for their customers located in the floodplain of Carrollton, VA. The door on the vent is latched until flood waters enter. If the vent senses flood water, it lifts the internal floats. By doing this, the vent unlatches and opens the door. This will allow water and debris to escape. This will equalize the pressure on either side of the wall, effectively protecting your foundation and home.
Concrete Leveling, Masonry Solutions in Carrollton, VA
Atlas Master Companies also offers concrete leveling services to keep your foundation at the proper level. Contact us if you notice sinking concrete in your home, garage, driveway, or other concrete slabs. We use polyfoam slab jacking to get your concrete level again. This method involved injecting polyurethane foam into the affected concrete. This foam expands to fill all of the voids beneath the concrete to lift and level it. It also strengthens the concrete to prevent future sinking and settlement.
If you are in need of foundation repair, waterproofing, concrete leveling or more, contact the professionals at Atlas Master Companies. We have the products and experience to get your repair done in the Carrollton, VA area.