AMC911 Push Piers
Deep driven push piers are installed inside or outside of the home's foundation wall.  AMC911 Push Piers are installed into the earth until they hit bedrock, which is the most stable soil, using specialized hydraulic equipment. Push piers provide a permanent solution to your home's settlement problem.  Push piers not only stabilize your home, but they offer your home its best chance of being raised back to its original level.
Once the piers are in place, the foundation is raised to a maximum practical level.  That's a fancy term that just means we raise the foundation as much as we can without causing damage to the structure.  Most of the time, this causes the foundation cracks to close.  All the pier pressure readings and drive logs are approved by our in-house Professional Engineer, David Williams.
The Push Pier Installation Process
Driving steel push piers deep into the earth requires highly specialized hydraulic equipment as well as a highly experienced team of certified installers and engineers.  Few companies in the Hampton Roads area have the skillset and expertise offered by AMC911.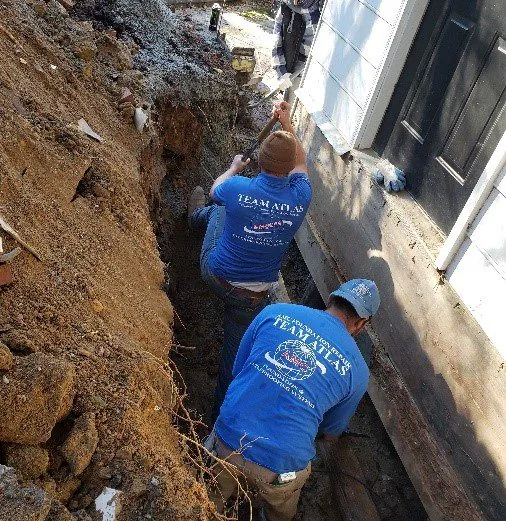 Driving Steel Pipe into Bedrock
Benefits of Steel Push Piers by AMC911
Engineered solutions tailored to meet your home's specific needs

A permanent stop to foundation settlement

A quick and minimally invasive installation that most people are pleasantly surprised by

Application can be done from the inside or outside of the foundation

Positive results are immediately noticeable

All parts are American made steel, hot-dipped galvanized for additional corrosion protection and extended life expectancy

25-year transferable limited warranty
Contact Us Today!
Save money and time by calling the professionals at AMC911 Crawl Space & Foundation Repair today!  We are here to serve Virginia Beach, VA.