Those are certainly not the first words you want coming out of anyone entering your home. Worst yet after you clean and cleaned to make your home is ready for visitors, and for your own family. Unfortunately, no amount of Clorox and incense will be able to mask or get rid of that smell. If our houses could talk…is this what they would be saying to each other (See below)
Even if we get used to the smell, or think a good cleaning will do the trick the truth is that we cannot pretend it is gone. Most homeowners fear the word 'mold'. However, if we understand how mold can impact our home, we would fear more not addressing 'mold'. It is true that mold is hard to get rid of once it is in your home, and that it can lead to structural damage, expensive remediation repairs, and serious health effects. However, under the hands of experts (not a DIY project, not a buddy of mine once did this), that smell you smell and mold can be handled and remediated.
If your home has a musty or moldy smell, it is indicative of moisture coming into the home from your crawl space, basement, or walls/windows. Here are some steps to help prevent/correct this issue:
Look for sources of moisture under your crawl space (around HVAC lines, plumbing, puddled water seeping in from the ground).
Check for standing water near the outside perimeter of your home after rain. It is normal for water to take a couple of hours to dissipate after a good strong rain, but then it should dissipate.
Check to make sure all gutters and downspouts are directed away from the home and extend out well beyond a few inches beyond the home. When water flows toward the base of your home's foundation there are or will be issued with moisture and structural damage. While you are looking, check your gutters and make sure they are cleaned and again, extending out and away from the home.
Check to make sure your home is well insulated. We know you cannot see behind walls, but you certainly can take a peek at your crawl space and see if the insulation there looks good, dry, and not sagging or dirty/wet looking.
If your home has a musty smell, and the steps above creep you out (very few like tight, musty, spaces full of critters they can't see), just call the experts and they will gladly come to inspect your home for free. Even if there is no moisture, you could be losing a lot of heat by saggy poorly hanging old insulation. So, you may as well call the expert anyway.
So what can be done if any of the above 4 are in disarray, or they look good but the home still smells musty or feels moist or you cannot keep it warm in the colder days? Call an expert so they can take 1 or more of the below steps to help you get rid of that smell!
Set up a moisture barrier in your crawl space. Even if you have an existing liner, if it is not the proper thickness or is not neatly tacked to the foundation walls, moisture is coming into the home.
Install a dehumidifier along with the moisture/vapor barrier. This is a must when they seal vents and if moisture is present. This apparatus will help draw any moisture out of the air and push it away from the home. This will also help prevent mold and the musty smell and keep your insulation dry.
Replace old insulation with properly installed insulation that is dry and tacked well into the subfloor.
Install underground pipe to extend your downspouts further into daylight and pull any water that collects from rain away from the home.
Install a full drainage system around the perimeter of your foundation. By keeping the foundation walls dry, you can prevent that moisture from seeping into your home from the foundation walls. In the long run, this step also protects your foundation from water damage.
What's that smell? It's Moisture! And it's time to call the Experts. AMC911!
High water can come from the sky in the form of rain or from flooded bodies of water. The water can cause damage by rushing rapidly, knocking down trees, buildings, and more. The flowing debris can cause even more damage, destroying roads, eroding soils, and demolishing structures. Commercial and residential properties can both be ruined by high water. Even if the building is structurally sound after the flood, the water can pollute the area and promote the growth of mold and pest infestations.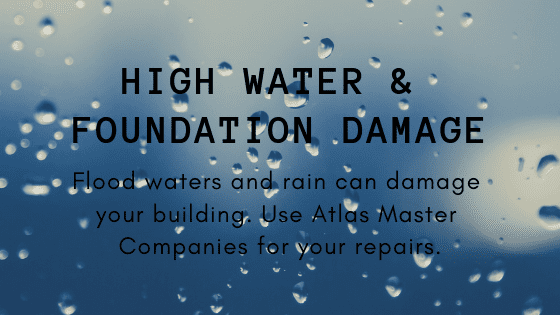 How Can High Water Affect Your Home's foundation?
When floodwaters enter the interior of your building, it quickly works on destroying the wood and metal that is exposed to the moisture. Even when the water recedes, wood, carpeting, and furniture can be waterlogged a long time after the basement appears to be dry. You will most likely need commercial-grade heaters, fans, and dehumidifiers to completely dry the environment.
Even if the water doesn't enter your home or business, it can cause damage to your foundation. The pressure of the water and oversaturated soil can put a tremendous strain on the foundation walls. The hydrostatic pressure can cause the walls to crack, bow, or even collapse entirely.
Signs Of Water Seepage
You need to check your home or business when it is safe. Don't put yourself in danger to check the property. You should keep an eye out for downed power lines and structural damage. If it's not safe, just wait until it is. The water is full of pollutants, bacteria, sewage, and debris. You can be injured or made ill due to things left by floodwaters.
If the area around your property is safe, you can look around for damage and warning signs. Make note of the building materials that are waterlogged, especially if they are load-bearing. Check for new cracks, gaps, and joints that are out of alignment. Look for bulging walls and sagging floors or ceilings. These are all signs of foundation damage and a professional will need to be called in to do the repairs.
It's usually good to have a professional check your property if floodwaters have infiltrated it. They will be able to determine if the property can be repaired or if it has to be demolished. Many city governments have rules mandating the course of action depending on the amount of damage. It is important that buildings are safe for occupants to be in. Hopefully, there is insurance to cover the costs or at least help.
If the structure can be repaired, you will also need to have it professionally cleaned. There's no sense in performing repairs if the building is contaminated with bacteria from sewage water, dead animals, and other pollutants.
Foundation Repair Contractors
If you do decide that you need to have foundation repairs done on your property, be wary of fly-by-night contractors. A lot of shady operators will pop up, trying to make a buck off of victims of floods and other natural disasters. Atlas Master Companies has been in the area for decades and we make Virginia our home and many of you are our neighbors. We have a reputation for honesty and quality work. It may be tempting to go with the lowest cost, but you get what you pay for: shoddy materials, poor workmanship, inexperienced workers, worthless warranties, and more. There's no sense in having work done on your home or business, if it's just going to allow more problems, perhaps even worse than the original issue, to occur.
Don't be pressured into making a decision on the spot. An honest contractor is going to give you an estimate in writing and allow you some time to go over it and think about it. the easiest way to avoid high-pressure salespeople is to not even invite them on to the property. Look for a contractor that has been in business for a while with authentic references and free estimates. Foundation repairs are important and the decision shouldn't be made lightly, quickly, or under pressure. Contact Atlas Master Companies to learn more about choosing a reliable contractor.
How To Prevent Mold From Entering Your Home
Finding mold in your home is any homeowner's worst nightmare. Not only does it give off an awful, musky smell, but it can be dangerous to the health of your family. Mold growth is known for causing various respiratory issues and diseases, and destroying personal belongings and damaging the structure of your home.
Whether you have found mold in your basement, bathroom, crawl space, walls, baseboards, or roof – it is important to take measures to prevent mold from growing, and to deal with it right away if it has already started to become a problem.
Older homes have a bad reputation of having dark, damp areas covered in basement mold. However, no matter how old your home is, you can prevent basement and bathroom mold and create a clean and livable space with a few simple steps. The first step in getting rid of basement mold is to figure out what could have caused it.
Cause of Mold In Your Crawl Space or Basement

In order to grow, mold needs an atmosphere with oxygen, moisture, and organic material. That being said, basements and crawl spaces can often be the perfect place for mold growth. Common sources for excess water in your basement or crawl space can include the following:
Plumbing leaks, leaky pipes, poor drainage
Leaking footer drains in the basement
Cracked or overflowing gutters
Flooded sump pump, damaged sump pump
High water tables, groundwater rising
Condensation on ductwork and appliances
Sump pump failure
Water heater failure
Basement flooding, crawl space flooding
Types of Mold
There are several types of mold that can grow in your basement. It is important to be able to detect different types of mold so that you can recognize the dangerous ones and take action immediately. In general, there are two different categories of mold: Allergenic mold and mycotoxin mold. Allergenic molds are a danger for residents with asthma or severe allergies, but are not as dangerous as mycotoxin molds. These molds should be taken care of with high caution as they are extremely toxic to both humans and animals.
Listed below are different types of mold you can find in your home. If you are unsure about which type of mold you have, call a professional from AMC911 today for a free inspection.
1.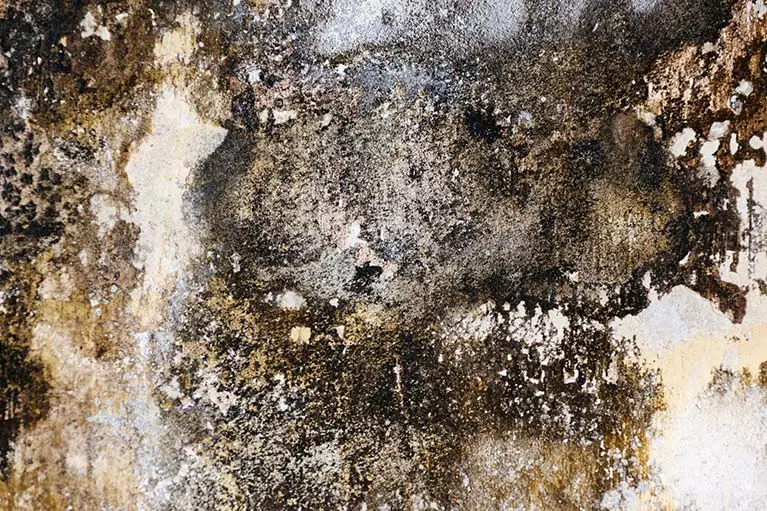 Stachybotrys: The most deadly mold of all, Stachybotrys (also known as black mold) is tied to a wide range of illnesses and diseases including hay fever, liver damage, pulmonary edema, brain damage, nerve damage, and even death. People with weak immune systems such as small children and the elderly are especially prone to disease when these toxins are present. You can detect this mold by its strong odor and find it in consistently wet areas such as bathroom tile.
2. Fusarium: This white or yellow mold grows extremely quickly in wet conditions. You will mostly find it on wet carpets, wet drywall, in standing water, air vents, or humidifiers. Fusarium is a very harmful mycotoxin mold that should be removed immediately.
3. Cladosporium: Unlike many other molds, Cladosporium does not require warm, humid conditions and can often be found in cooler environments with high condensation. If you have seen black-colored mold on your window sills, shower curtains, or AC units, Cladosporium is most likely. This toxic mold has been connected to illnesses such as nail fungus, asthma, as well as kidney and liver infections. They can even cause illnesses that affect the female reproductive system.
4. Aspergillus: A common household mold, Aspergillus thrives in warm and damp indoor environments and is usually allergenic. However, some types of Aspergillus have been found to cause cancer. You will typically find this type of mold in dark green patches on ceilings, walls, and even furniture.
Get Rid of Basement Mold Once And For All With This #1 Mold Remediation Method
You may have heard of several ways to quickly get rid of mold in your home – including using toxic chemicals like bleach. Using bleach and other toxic chemicals to get rid of mold will provide its own dangers – especially if you have young children and pets. As much as you don't want to expose your family to mold, you don't want to expose them to high volumes of bleach either.

Atlas Master Companies has an alternative mold remediation solution that has proved to be effective and much safer than bleach: called Concrobium.
Concrobium is an environmentally friendly, non-toxic, pet safe, and installer safe application that treats mold. As your expert mold remediation company in Virginia Beach and Hampton Roads – we know the best solutions to your mold problems.
Once the mold is treated with Concrobium, we can restore the damage done to your basement, crawl space, or other areas of your home. In many cases, mold has caused structural damage to crawl space supports or beams, and may even have eaten away at your drywall or ceilings. Our expert team can replace any damaged parts of your home with the highest products on the market today.
Choose Atlas Master Companies for Mold Remediation in Virginia Beach, Hampton Roads, Norfolk & Chesapeake
At Atlas Master Companies, we believe that every Virginia homeowner deserves quality repair solutions at an affordable rate. We truly care about our customers, their homes, and their lifestyle. While working with us, you will discover a whole new meaning to customer service and satisfaction. Our team wants to provide you with the best mold remediation and crawl space repair solution in Virginia – and we are ready to serve you in the Hampton Roads and Virginia Beach area. Give us a call today to get started with your free inspection and estimate.