Is Your Home's Floor Sagging Or Uneven? Does Your Floor Creak Or Feel Bouncy When You Walk On It?
If so, you might have a problem in the crawl space under your home. Taking advantage of a free inspection from AMC911 can get you the personalized information you need to be informed of your home's health. Contact us today to schedule a free evaluation. If we find a problem, we'll give you a written estimate for the repair.
We've been helping homeowners in Hampton Roads with their sagging floors for 30 years. Rest assured. You'll be in good hands!
What Causes Sagging Floors?
If you've noticed an unlevel floor, chances are you don't even know how or when it happened. This is because sagging floors don't just magically appear overnight. If you are dealing with one or more of the following, the uneven floors are just a symptom of a deeper problem:
The house is settling – When the soil beneath your home starts to move and shift, you will run into settling problems. Soils expand, shrink, and move creating pockets in the ground that can lead to uneven floors.
The house has waterproofing issues – If your foundation, basement, or crawl space doesn't have proper waterproofing and drainage, you will experience foundation issues sooner than later. Moisture will cause mold growth, wood rot, and infestation of wood eating pests. A lot of times the effects of poor waterproofing and drainage start with sagging floors.
The crawl space support piers have settled into the ground and are no longer vertical – This can happen when the foundation sits atop clay-rich soil that expands when it gets wet and then shrinks when it dries out. This creates movement in the soil and can cause crawl space support piers to settle into the ground unevenly.
The crawl space support piers are improperly spaced – If the original construction team that built your home constructed a poor design of the home's support system, then you will feel it through the lifespan of your home. If the support columns in your crawl space were spaced too far apart, you'll experience sagging, squeaky floors and gaps between the floor and the wall.
Not enough support piers
The support piers, joists, or girders have been damaged by wood rot or wood-eating pests – When this happens, they are no longer able to support the floor above them. In extreme cases, the floor could even collapse.
All of the above can cause a sagging floor above a crawl space. The good news is we can fix it. If you have a sagging floor in your Hampton Roads home, contact us today for a free evaluation.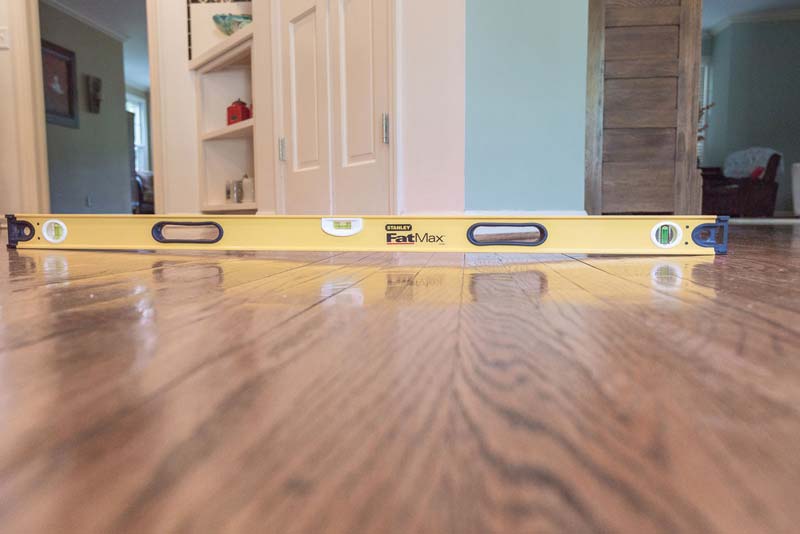 How To Repair A Sagging Floor
When a sagging floor is caused by settlement
The most common reason for a sagging floor above a crawl space is a problem with the support piers caused by settlement. The support piers have settled into the ground and are no longer vertical. In this case, the support piers can be removed and replaced with new wooden support piers or steel screw jacks, which can be adjusted later if necessary.
However, if the problem is related to settlement, removing and replacing the support piers will only temporarily solve the problem. If the root problem of why the support piers are sinking into the ground isn't fixed, the new support piers will sink as well.
Usually, support piers settle because there's poor drainage around the foundation which has led to excess moisture in the soil. Therefore, the first step in repairing a sagging floor may be to install a drainage system to control groundwater around the foundation so the new support piers won't suffer the same fate.
How Much Does It Cost To Repair A Sagging Floor?
The cost to repair a sagging floor depends on why the floor is sagging and the chosen repair solution. If the floor is sagging because poor drainage around the foundation has caused the support piers to settle, the repair will be more expensive than replacing a few deteriorated screw jacks because it will necessitate installing a drainage system.
The only way to know how much it will cost to repair a sagging floor is to contact us today and schedule a crawl space evaluation. We'll enter your home's crawl space, find out what's going on, and then give you a written repair estimate.
AMC911 Foundation Repair Services – Hampton Roads
Our foundation repair services include:
Foundation leveling using push piers, slab piers, or helical piers to fix problems caused by differential settlement
Foundation crack repair
Foundation waterproofing
Crawl space waterproofing
Crawl space encapsulation
Crawl space carpentry
AMC911 Service Area
We serve the following cities and surrounding areas in Virginia:
Virginia Beach
Chesapeake
Poquoson
Franklin
Smithfield
Norfolk
Hampton
Newport News
Gloucester
Isle of Wight
Southampton
Suffolk
Portsmouth
Carrollton
Surry
York
Yorktown