There are many things for homeowners in Portsmouth, VA, to consider, but one that you should not overlook is the possibility of foundation problems. When they take place, they must be cared for immediately.
Water is one of the primary problems that can lead to foundation failure in Portsmouth. It could be due to the weather, plumbing leaks, overwatering the lawn, nearby trees, or many other issues.
Of course, all you have to do is look at Portsmouth on the map, and you will see it is surrounded by water. The soil in the area is also problematic, but some methods can secure and stabilize your home, even when it is sinking.
At AMC911, we understand how to spot foundation issues and have the skill and tools necessary to repair them. Call us today for a free foundation repair inspection.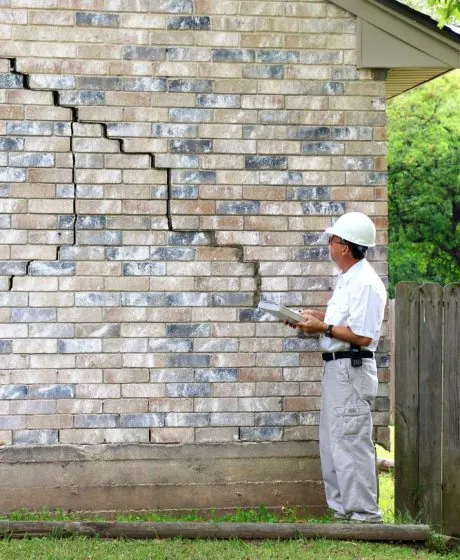 Common signs of foundation problems in Portsmouth, VA
When you own a home, you can expect some problems occasionally. Some are minor, but others, such as foundation failure, can be catastrophic.
As with any problem you experience, early recognition and care are paramount. Here are some indications that your home is experiencing foundation problems.
There are different types of cracks, and each may tell a story. Hairline cracks in the concrete are typical for curing concrete. Vertical cracks are not typically a cause for concern.
On the other hand, horizontal or diagonal cracks are usually an indication that the foundation is failing. If you see a stair-step crack in the block or brick, it is also a potential problem.
Water is behind many foundation failures because the soil expands and contracts as the water level changes. Soil movement can put pressure on the foundation walls.
As water continues to be a problem, it can seep into the home. You may notice standing water, moisture on the walls, or mold. This is a problem that you should address right away.
The chimney often rests on its foundation, so if your home's foundation sinks, it may separate from the main structure. Cracks may also become evident in the chimney as it shifts.
Both the doorway and windows have fixed shapes. The shape may shift when the foundation starts sinking, leading to gaps and possibly sticking when opening or closing them.
A sinking foundation will sometimes show itself with apparent sinking. Perhaps you may notice that the ground level is higher along the foundation or there may be some separation between the home and the walkway.
Common Methods for Foundation Repair
When you see these problems, the time to act is now. A free foundation inspection will identify the exact problem, and then we can use one of the methods for foundation repair that would be right for you.
Foundation Repair Services in Portsmouth, VA
Since most of Portsmouth's foundation issues involve water, the most common ways of repairing foundation failure will include foundation leveling or crack injection and repair.
Here are the most often uses foundation repair services in Portsmouth:
In most cases, a foundation will not settle at the same rate. Different soil types under the foundation will cause part of it to sink more quickly. This is known as differential settlement.
The foundation must be leveled and stabilized. This is typically done using one of the methods listed below.
Push piers are the most common type of underpinning. It involves hydraulically pushing steel pins into the ground and stacking them until they reach bedrock.
Another type of underpinning uses a similar method, but there are corkscrew sections attached to the pins, and they are screwed into the ground. These are known as Helical piers.
When cracks appear, they need to be sealed. Epoxy injections can close the gap and make the area stronger. They are sometimes used with carbon fiber straps to stabilize the area and keep the cracks from growing.
When a concrete slab sinks, it can get out of level, or it may crack. We can lift the slab with a polyurethane injection. Polyurethane foam is injected into a void below the slab, and as it expands, it pushes the slab up and into position.
Free Foundation Repair Inspection and Estimate in Portsmouth, VA
Do you see some signs of possible foundation problems? AMC911 offers a free foundation repair inspection to any that ask for it.
Portsmouth residents can request a free foundation inspection every year. Don't allow your foundation to sink under you. Contact AMC911 using our convenient online form and get things started.