Poquoson is a small city in Virginia with about 13,000 residents. It was formerly known as Bull Island because farmers would allow their herds to roam throughout the salt marshes in the area. Even today, residents still refer to themselves as 'Bull Islanders.'
The city of Poquoson is also surrounded by water on three sides. The Northwest Branch Black River to the south, the Poquoson River to the North, and the Chesapeake Bay to the East.
Much of the industry and recreation in the area involves the water. It also shapes the area in other ways, including what is under our homes. The soil in the area tends to soak in the water and when it does, it expands and puts pressure on the foundation walls.
That problem, along with other possible issues in the Poquoson area can cause foundations to fail. To deal with the issue, you can call on AMC911 to protect your foundation as well as to repair it when problems arise.
We have been helping people in Poquoson and throughout Virginia with these issues for decades. If you want your foundation to be strong and you want the job done right, call AMC911 today.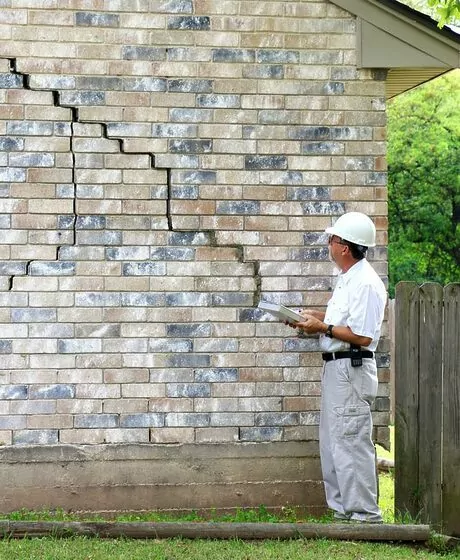 Common signs of foundation problems in Poquoson, VA
When you notice problems with your home, it is almost like your home is trying to tell you something. These signs are often just an indicator that there is something bigger going on in the background.
If you see any of the following issues in your home, it could be a sign of foundation failure. Don't ignore these issues. Contact AMC911 for a free home foundation evaluation and inspection.
You've probably heard the expression; "If these walls could talk." If you are seeing cracks in the walls, they are talking to you.
Small cracks in the concrete are not always an issue but larger cracks, especially if they are expanding, are an indication of a larger issue. Some of the worst types of cracks include horizontal and stairstep cracks.
The floor can also move under your feet when the foundation shifts and sinks. You may notice growing cracks in the slab or it could be cracks showing in the grout or tile of a finished floor.
Water is a big problem that often spells trouble for your foundation. You may begin noticing excessive moisture or standing water in the basement or crawlspace. In some cases, it could allow mold to grow.
Are the foundation walls in your home bowing? It is likely a problem with expansive soil soaking in water and pushing against the wall. This may also cause the wall to crack in extreme cases.
Sometimes, the first sign of a sinking foundation is a sinking foundation. If you notice that the ground is now higher on the foundation wall or if walkways no longer line up vertically, call AMC911 for a foundation inspection.
Cracks can begin to appear near the window and door frames as the foundation settles. You might also notice that the windows and doors are sticking when you try to open and close them.
In some cases, you might see gaps around the window and door frame. These gaps can leave in the weather and unwanted pests.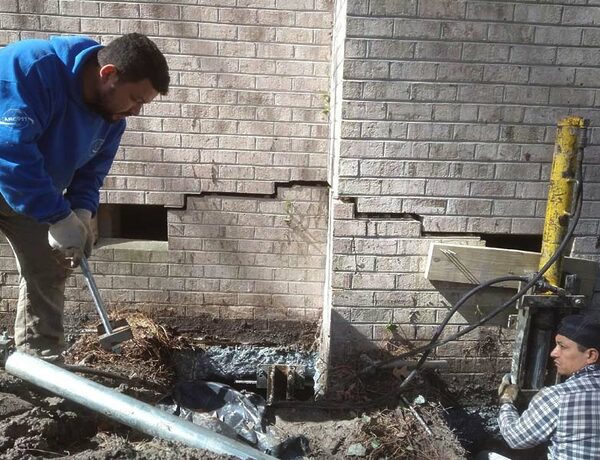 Common Methods for Foundation Repair
Foundation problems will not fix themselves. Don't wait for the problem to get better or it might get far worse. At AMC911, we know how to take care of these problems and do so using the most updated and reliable techniques. Call us today for more information.
Foundation Repair Services in Poquoson, VA
Once a problem with the foundation has been established, it is time to have the problem fixed. AMC911 knows how to get the job done, but they will use different methods, depending on the situation. Here are some of the methods they can use:
This method of foundation repair may use different means to raise the foundation to an acceptable level. This could be with the use of helical or push piers or with polyurethane foam injection.
There are different types of cracks that may occur in the foundation. Hairline cracks do not typically need repairing but if the cracks are large or expanding, they may require additional attention. Some cracks may close during foundation leveling but they will still need to be sealed.
Epoxy Injection Crack Repair
If you have cracks in the foundation walls or in the slab that are stable, they can be repaired using epoxy injection. The epoxy is strong enough when it cures that it is stronger than the original concrete. The epoxy injection may take place after the foundation has been stabilized.
This is a common method of underpinning a foundation. The 'screwpiles' are stacked on top of each other until they reach stable soil or bedrock. After being attached to the foundation, they stabilize it from future movement and can also be used to raise the foundation to its former level.
These are similar to helical piers but they do not contain a helix. They are pushed into the earth hydraulically and stacked so as to provide strength and stability to the foundation.
Structural Engineer Foundation Inspection
This type of foundation inspection is more than a pest control or building inspection. A professional comes to your home and looks for the signs and symptoms of current or future foundation problems.
Free Foundation Repair Inspection and Estimate in Poquoson, VA
Don't wait until your foundation problem is so severe that it puts your home at risk. Fill out the form on our website and a professional will get back to you soon.
We offer free foundation repair inspection and estimates to residents of Poquoson and throughout Virginia. By having your foundation inspected yearly, you can have the problem fixed before it is out of control.