As the peak of the hurricane season approaches, residents of Virginia Beach should waterproof their homes to avoid major flood damage. At AMC911 Crawl Space & Foundation Repair, we offer professional waterproofing and foundation services for our Virginia Beach residents.
AMC911 Crawl Space & Foundation Repair is a family-owned business in Virginia. Our team of professionals offers foundation repair solutions, waterproofing, and masonry work for residential and commercial buildings.
Foundation Repair in Virginia Beach
If you notice any signs of foundation damage, repair your foundation immediately to avoid further problems. We offer quality foundation repair products made by Earth Contact Products (ECP), the leading manufacturer in today's industry. Our products include helical anchors, steel piers, soil nails, light pole support anchors, and plate anchors.
Waterproofing Services in Virginia Beach
At AMC911 Crawl Space & Foundation Repair, not only do we offer foundation repair services, we provide professional waterproofing solutions for wet basements. Having an adequate waterproofing system will protect your home's foundation and structure in the long run. It will also reduce high levels of moisture and humidity. Our company uses the latest waterproofing solutions produced by Earth Contact Products on the market. We offer interior and exterior drainage systems such as sump pumps, sump pits, and sump basins. Other waterproofing solutions include crawl space encapsulation, crack injection repair, and drainage/water collection systems. Let us be your number one contact for basement waterproofing in Virginia Beach.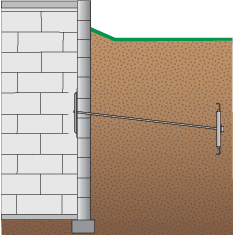 Additional Services We Offer
Concrete and Masonry
For your concrete and masonry needs, we can help you. Do you have a cracked porch or sidewalk? This could be a trip hazard for visitors and your family. At AMC911 Crawl Space & Foundation Repair, we provide residential and commercial sunken concrete solutions. If you have a sinking concrete porch or a sinking sidewalk, we can level your concrete with polyfoam slab jacking. We repair sidewalks, porches, driveways, and concrete basements. We also install new chimneys, custom fireplaces, block/brick walls, porches, and custom stone masonry.
Flood Vents
In Virginia Beach, hurricanes can have a major impact on homes. Water damage can occur in your basement destroying your carpet, electrical appliances, home furnishings, and more. Be prepared this season by investing in a flood vent. Our quality flood vents will protect your crawl space and foundation from water and debris. As soon as the vent detects water, it lifts the internal float. This unlatches the vent, then opens the door to release water.
For all of your foundation and waterproofing needs, call AMC911 Crawl Space & Foundation Repair today. We provide quality service in the Virginia Beach area. We will safeguard your home from floods with an adequate waterproofing system. Call us today for a free estimate and inspection.