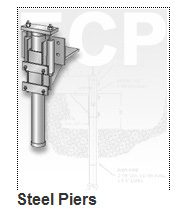 ECP Steel Piers
Model 166
Model 250
Model 300
Model 350
Model 400
Pier Sections
Inertia Sleeve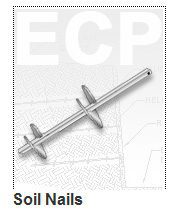 ECP Soil Nails
Introduction to Soil Nails
Mechanics of Soil Nails
Configurations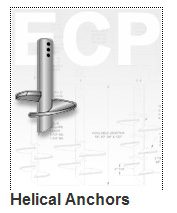 ECP Helical Anchors
1 1/2″ Square
2 7/8″ Round
2 7/8″ LW Round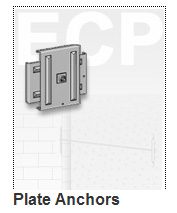 ECP Plate Anchors
ECP Steel Piers
The ECP Steel Pier belongs to a family of foundation repair products that are sometimes referred to as micro piles, push piers, or resistance piers. These foundation repair products are driven hydraulically into the soil using the structural weight of the building as a reaction force.
Read More…
ECP Soil Nails
Before one can begin a discussion of soil nailing, a clear understanding of the difference between soil nails and tieback anchors is required. Often, one hears the term "Soil Nail" and "Tiebacks" used interchangeably, demonstrating a lack of understanding of the products.
Read More…
ECP Helical Anchors
Helical piers have been in use for more than 160 years. In 1838 a lighthouse was built upon helical piers designed by an Irish engineer, Alexander Mitchell. In 1863, Eugenius Birch designed the Brighton West Pier in Brighton, England. These piers are still in use 140 years later. The original helical piers were installed at 10 feet per hour using eight 20 foot long torque bars and the force of 32 to 40 men.
Read More…
ECP Utility Products
ECP Light Pole Support Anchors are an immediate foundation for at grade and above grade applications to support street, site, and parking light poles. ECP Light Pole Support Anchors are installed with hydraulic rotary equipment that turns the foundation in the ground with the assistance of a helix-shaped plate that acts as a screw for ease of installation.
Read More…
ECP Plate Anchors
The ECP Plate Anchors are designed to stabilize cracking and bowed foundation walls. The inside wall plate is fabricated from 10 gauge hot-rolled steel and measures 12″ X 26″. The wall plate has two embossed reinforcing ribs for additional stiffness, plus a 4″ square, 10-gauge square washer is included for added strength.
Read More…