Helical Piering Systems by AMC911
AMC911 Helical Piers are installed into the earth until they hit bedrock or firm bearing stratum, which is the most stable soil.  Helical piers offer a permanent solution to your home's settlement problems.
It is recommended that only a registered engineer design and oversee the application of helical piers and anchors when used in foundation repair or new construction projects.  AMC911 has the hidden advantage of having our own Structural Engineer on site that stays intimately involved every step of the design and installation process.
AMC911 Helical Piers
Not all foundation products and piering systems are created equal, but AMC911 has access to industry-leading steel products that are not only top-rated, but so is the engineered design solution and installation that comes along with them.
Helical piers are installed inside or outside of your home to support a foundation wall.  Helical piers are large steel foundation pins that look like oversized screws.  Helical piers are used a lot in commercial construction where a deep foundation system is needed.  Helical piers are also used to support more delicate structures and in situations where soil conditions are worse than typical.  Helical piers take the weight of a structure and transfer it to load-bearing soil.
Helical piers are screwed into the soil below the home and are monitored and logged by our foremen and engineers during the installation process.  Once all the piers have achieved the required depth and capacity capabilities, the brackets are installed to the foundation.  Loads are then transferred onto our pier system lending permanent stabilization.  Lift can also be achieved during this load transfer. 
Helical Pier Installation Process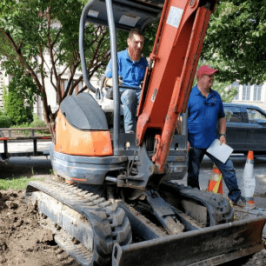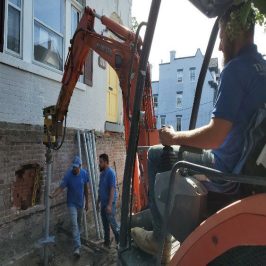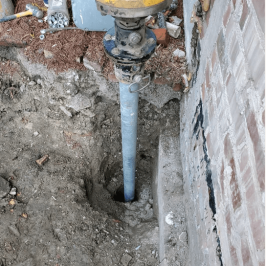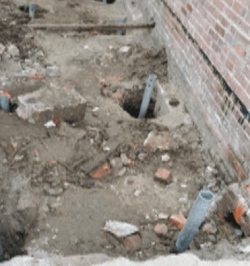 Replacing Soil & Inspection
Benefits of Helical Push Pier Systems by AMC911
Engineered solutions tailored to meet your home's specific needs
A permanent stop to foundation settlement
Application can be done from inside or outside of the foundation
Positive results are immediately noticeable
All parts are American made steel, hot-dipped galvanized for additional corrosion protection and extended life expectancy
25 year transferrable warranty
Take advantage of a free foundation inspection by AMC911's team of experts today.  Save yourself peace of mind knowing that your home may settle, but YOU don't have to…AMC911 to the rescue!