Portsmouth, VA is a city, located on the southern side of the Elizabeth River across from Norfolk. Residents live in homes that may be over 100 years old in some cases. Many of those homes have crawl spaces.
Regardless of whether your home is one or 100 years old, crawl space problems can cause serious problems for the homeowner. These issues can be anything from a musty smell to foundation failure.
Fortunately, you are not without options. AMC911 has been working in Portsmouth and the surrounding area for many years, helping residents with crawl space encapsulation and a range of other beneficial services.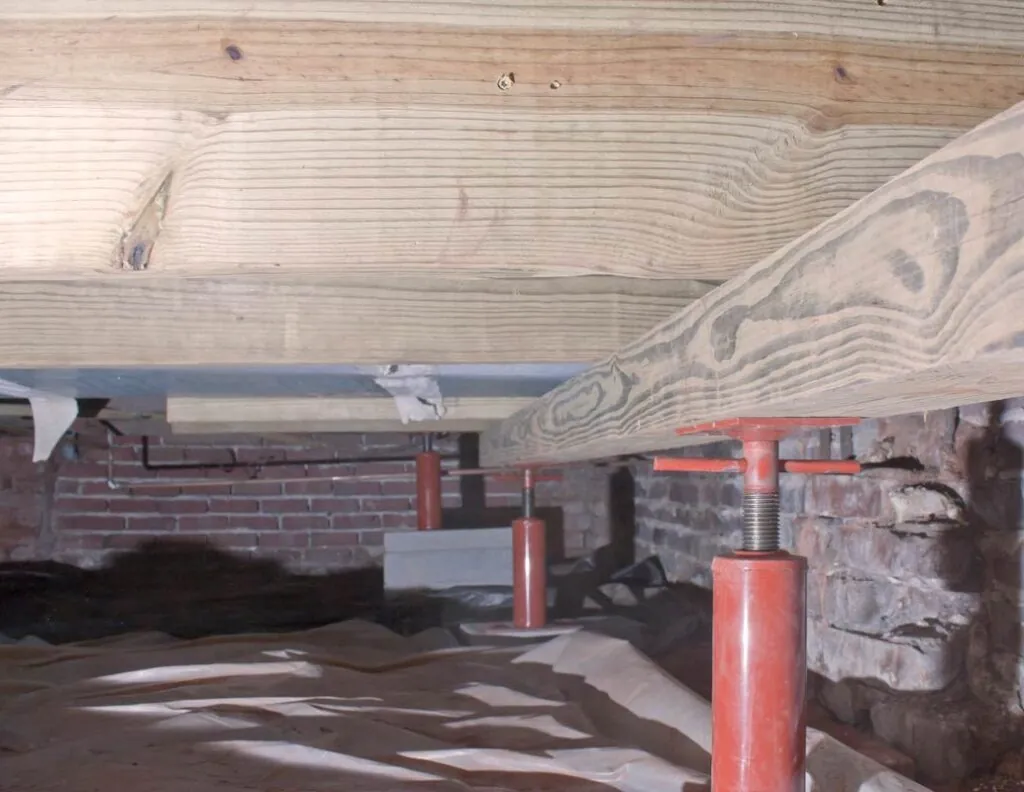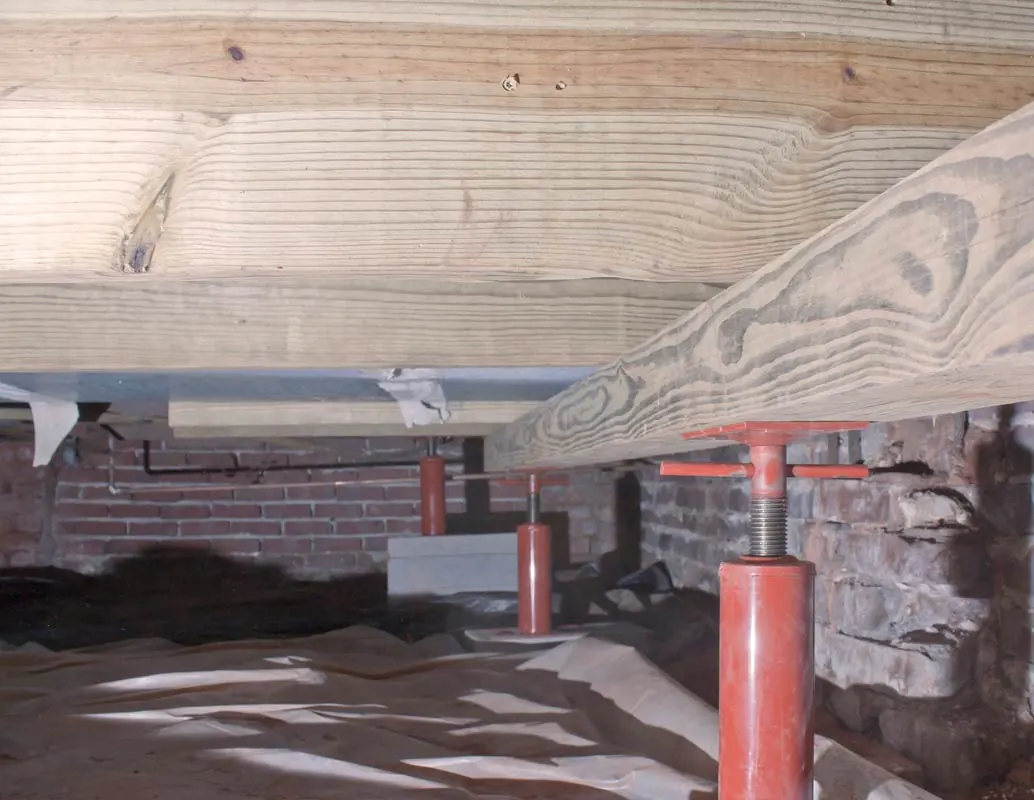 Common Signs Of Crawl Space Problems In Portsmouth, VA
Crawl space problems don't often happen without signs occurring. Some signs are easy to spot and others may require a close look. In either case, recognizing the signs gives you the chance to contact AMC911 to have the issue fixed. Here are some signs to watch for.
Water outside of the foundation walls can sometimes make the inside of the wall wet. This is a sign of more than crawl space problems. It could be a sign of foundation failure.
The last thing any of us want to deal with is mold. It is a problem that can leave your home smelling foul and could negatively affect your health. Mold grows in damp conditions, such as a damp crawl space.
A dark, damp, cold crawl space provides the ideal environment for insects. Some of those insects could enter the rest of your home. Others, such as termites, could damage the very structure of the home.
Have you been noticing a musty smell in the home? This could be coming from the crawl space. More than likely, you already have mold growth but you won't know the extent of the problem until you call AMC911 for a free inspection.
Pooled Water in the Crawl Space
Any standing water in the crawl space is a red flag. It may happen often but it is not something that should be considered normal. If you have water in the crawl space, it's time to have the problem fixed.
Efflorescence on Crawl Space Walls:
White deposits of salt on the walls of your crawl space are an indicator that you have problems in that area. High moisture levels, which are also a problem, can sometimes leave efflorescence behind due to condensation.
Why Your Crawl Space Problems Shouldn't Be Ignored
It is common for those with crawl space problems to procrastinate, but doing so could be disastrous. When crawl space problems are not corrected, they will get worse, leading to higher costs and more problems. Those problems can include the following.
This is an issue that is at the extreme end of crawl space problems, but it is possible. Water in the crawl space could compromise the foundation walls and the increased moisture could eat away at the wood posts and joists in the crawl space.
Nobody wants their home to smell bad, but it can happen when your crawl space is having problems. This is often due to high humidity and mold.
High humidity in the crawl space leads to high humidity in the living area of the home. As a result, it can be difficult to keep the home comfortable, resulting in higher energy bills.
Moisture can eat away at the floor joists in the crawl space and the damp environment is ideal for termites. As the base of the floor is damaged from underneath, the floor above can be uneven and loose.
Keeping humidity under control in the home can make you healthier and more comfortable. It gets difficult to control when the crawl space is damp, as air from under the home enters the area where we live constantly.
This is a problem that can affect your health. Rodent droppings are a sign of rodent activity and they can transmit a hantavirus, which can be deadly to humans.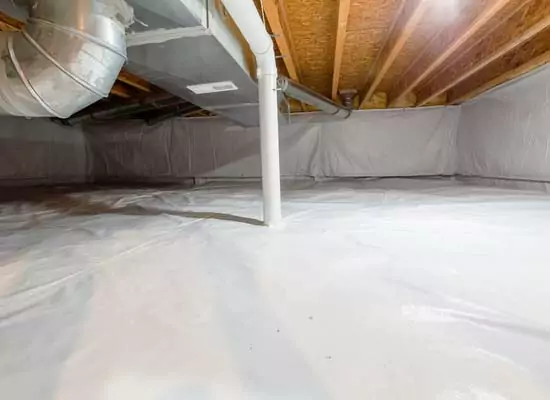 Common Methods For Crawl Space Repair
AMC911 is no stranger to crawl space repair. When we get a call for a free inspection or to answer questions about crawl space encapsulation, it sometimes surprises people to learn that repairs may be necessary. Those repairs allow us to continue without having problems occurring in the background.
Any standing water must be removed from the area. If the water is outside of the foundation walls in the soil, it must also be removed. Otherwise, the foundation could be at risk.
We will replace any wet or damaged insulation. This is often a necessary step because wet insulation often leads to mold growth.
A field tile system is put in place to keep any future water from staying in or around the crawl space. The water can be redirected to a low-lying area or into a sump pit.
Crawl Space Encapsulation
A crawl space encapsulation system is designed to protect the home from high humidity levels, pests, and mold. When it is fully in place, it provides your home with a dry and clean crawl space that can even be used as a storage location.
The primary step in crawl space encapsulation is to wrap the walls and cover the floor with a thick vapor barrier, typically poly-sheeting. All gaps and overlapping is sealed to keep moisture and pests from entering.
Once the crawl space has been wrapped, we take the additional step of adding a dehumidifier to keep the humidity at a lower level. This keeps the crawl space comfortable and it also keeps the rest of the home comfortable.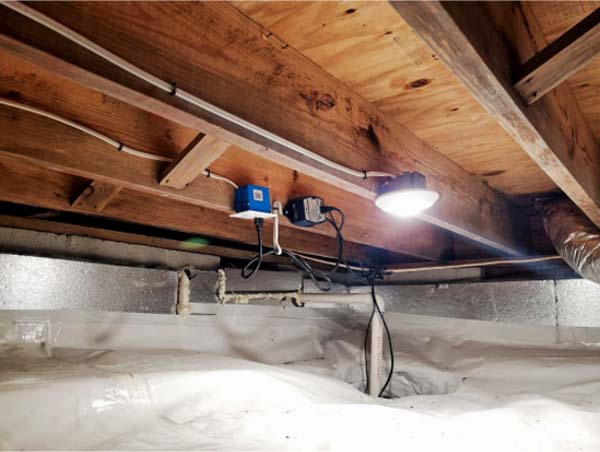 Free Crawl space Inspection and Estimate in Portsmouth, VA
AMC911 is passionate about helping people who are experiencing crawl space and foundation problems. One service we offer is a free crawl space inspection and estimate. All you have to do is request a free inspection by filling out the form on our website. Our friendly experts will handle the rest.