Gloucester is a county located in Eastern Virginia. It is surrounded on 3 sides by water, including the Mobjack Bay, and the North and York Rivers. Homeowners in the county are also aware of what water can do to their crawl spaces.
Encapsulating the crawl space is an important part of keeping the home comfortable, dry, and healthy. AMC911 can help you, starting with a free crawl space inspection and estimate. Contact us today for more information.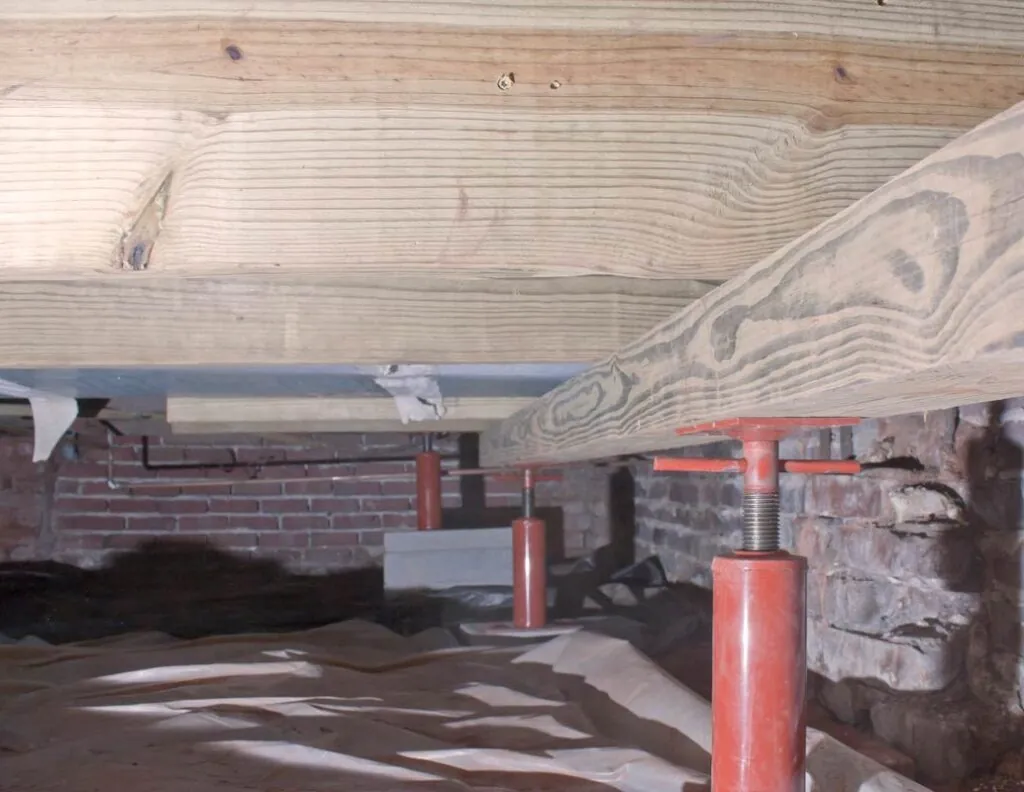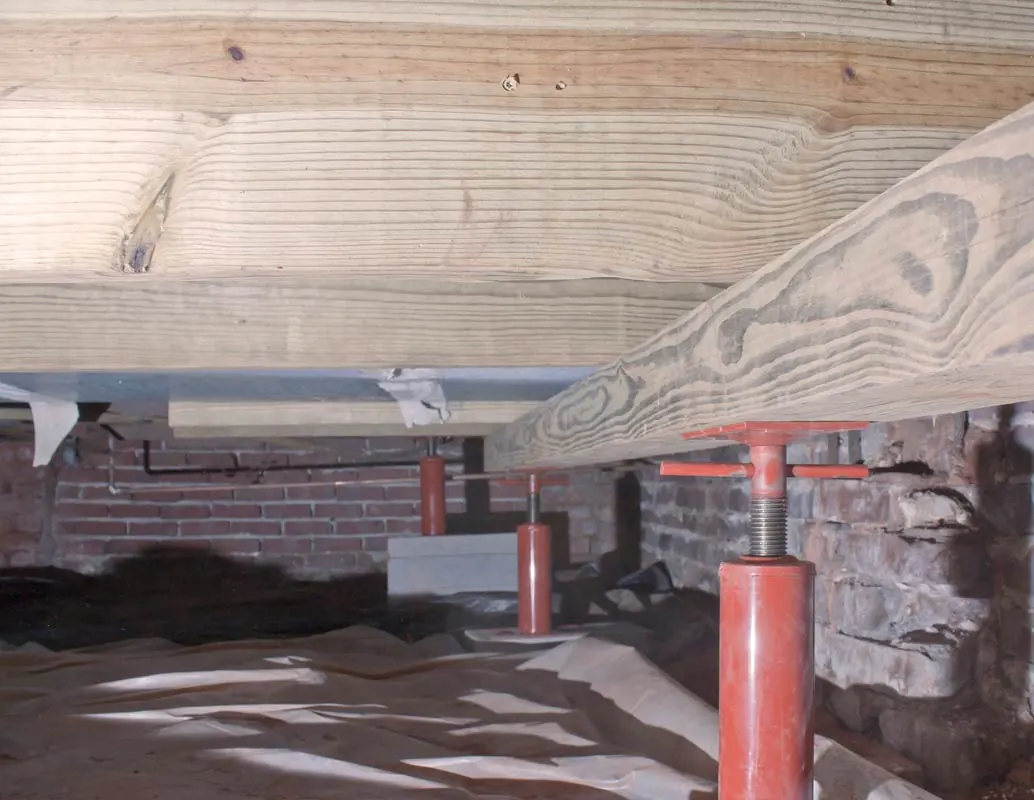 Common Signs Of Crawl Space Problems In Gloucester, VA
Recognizing a problem with your crawl space means being able to read the signs that are showing. These signs may be subtle, but they point to an issue that should be corrected as soon as possible.
Unencapsulated crawl spaces provide an ideal environment for insects. The damp, cold space could even attract termites, which is a serious problem. In many cases, these insects will not stay in the crawl space, they will also invade the living space.
When the foundation walls are wet, it is a common sign that the soil is inundated with water. Unless the water is diverted elsewhere, it could lead to foundation failure.
Evidence of Pests in the Crawl Space
Even if you don't see insects in the crawl space, you may see what they leave behind. This could include cockroach droppings or, in the case of termites, wood that sounds hollow when you knock on it.
High moisture levels and termite damage can both damage the floor joists, resulting in floors that sag or are otherwise uneven. Left unchecked, this problem will only get worse.
Visible Mold in the Crawl Space
Mold is a problem that no homeowner wants to have. When a crawl space is unencapsulated, however, the moist air provides the right conditions for mold growth.
Air can only hold onto so much water and when the humidity is high, extra water can condensate on surfaces in the area. Since it is more likely to condense on cold surfaces, you will often see it on pipes when there is too much moisture in the air.
Why Your Crawl Space Problems Shouldn't Be Ignored
When serious problems happen to your home, they deserve your immediate attention. Crawl space issues are serious. Ignoring them will not help the problem to get better and it will just get worse. Here are some more specific reasons why crawl space problems should not be ignored.
Mold can grow in an unencapsulated crawl space, as it provides the ideal environment to grow. The mold in the crawl space is a problem but it can also affect the living space, which is a bigger problem.
As the problems with the crawl space continue to progress, it can damage the structure under the floor. This could be due to wood rot or warping, as well as termite damage.
Many people with unencapsulated crawl spaces complain of increased respiratory problems. These problems are more likely to happen to those with existing health issues, such as asthma or COPD.
The stack effect pulls air from the crawl space into the home to fill the void left as hot air rises and escapes through the ceiling and attic. That is why the environment in the crawl space can affect the rest of the home.
Since crawl space problems will get progressively worse, the costs to repair the crawl space will get progressively higher. In other words, procrastination will cost you money.
We don't have to see rodents to know they are in the area. Mouse and rat droppings will be left behind and they will chew on anything from wood beams to wires.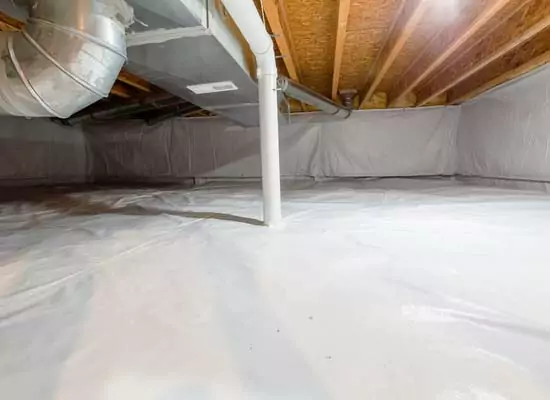 Common Methods For Crawl Space Repair
Any homeowner in Gloucester County would benefit from crawl space encapsulation. However, before it can take place, there may be some repairs that are necessary. AMC911 can care for those repairs and then move ahead with the process of encapsulation.
If there is any standing water in the crawl space, it has to be pumped out and a way to divert future water will be considered. If there is excessive water in the soil, it must also be diverted away from the foundation.
One common repair that is necessary for most crawl spaces is for the insulation to be replaced. Wet insulation can quickly grow mold, so it must be removed and new insulation installed.
When water is a problem, either in the crawl space or the surrounding soil, it must be diverted to a lower area. This is done by means of a drain tile system (French drain). Once installed, it will keep the area dry.
Crawl Space Encapsulation
The process of crawl space encapsulation can proceed once any necessary repairs are complete. Once it is finished, the crawl space will be dry and clean. It can even be used for storage.
To begin the process, we will seal the vents and wrap the walls and floor with heavy-duty poly-sheeting. All seams will be sealed so the entire crawl space will be waterproof.
One other option for crawl space encapsulation is to install a dehumidifier. Although this is an optional step, it is one that will help to keep the space dry. Remember, when the crawl space is dry, the entire house will be healthier.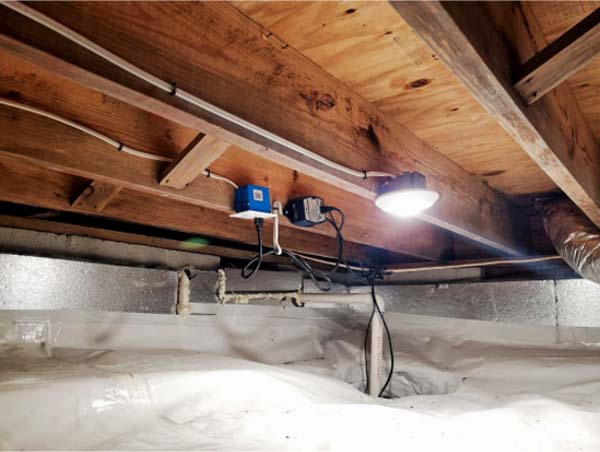 Free Crawl space Inspection and Estimate in Gloucester, VA
You don't have to guess if you have a problem with your crawl space. With AMC911's free crawl space inspection and estimate, you will know for sure. You will also know what can be done for your situation.
All you have to do is fill out the simple form on the AMC911 website to put in your request. One of our friendly foundation experts will be in touch with you soon to provide you with the information you need.