Foundation Repair in Aldie
Foundation damage is common in areas like Aldie, VA. Whether your home is old or new, the soil underneath it can erode and cause movement in your foundation. It is important to be able to detect the warning signs of a failing foundation so that you can get the proper repairs.
At AMC911 Crawl Space & Foundation Repair, we can take care of foundation repair for you. We have a team of highly-trained and experienced professionals that can properly inspect and repair your foundation. We only use the latest repair materials and products from Earth Contact Products; the leading manufacturer in the industry.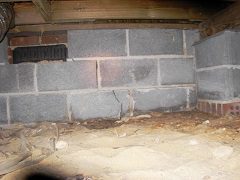 Waterproofing for Aldie
Does your basement flood during heavy rain or storms in Aldie, Virginia? You may be in need of a waterproofing system. AMC911 Crawl Space & Foundation Repair offers you the latest waterproofing technology on the market. We can help you to make your home safe and dry for years to come. Don't let a wet basement give you grief any longer. Contact AMC911 Crawl Space & Foundation Repair today and we will provide you with a free inspection and estimate for whatever waterproofing needs you may have.
Concrete Repair in Aldie
Due to the various climate changes throughout the year, the soil beneath your home will expand and contract according to how much moisture is present. Shifting soil can be a major contributing factor to concrete settlement. If you have noticed uneven sidewalks, lopsided porch steps, or a cracked foundation in your home, it is most likely due to soil-related issues.
Having your concrete completely replaced is a huge investment, and we offer you an alternative to save you money. We can repair your concrete to be as good as new so you don't have to replace it. We offer polyfoam slab jacking and steel piers for concrete repair.
Flood Vents & Gutters for Aldie
Smart Vent Flood Vents are a system that we highly recommend for all Aldie residents living on a flood plain. This vent is designed to detect high water and release it away from your house. It works very efficiently to protect your home from flooding.
AMC911 Crawl Space & Foundation Repair also offers gutter installation and repair for optimum drainage for your Aldie, VA home. If you are in need of spray foam insulation, we are expert installers of that, as well.
Southside Masonry in Aldie
AMC911 Crawl Space & Foundation Repair provides top-quality masonry services to residents and business owners in Aldie, VA.
Why Choose Our Company
AMC911 Crawl Space & Foundation Repair is the number one full-service contracting company in Aldie, Virginia, and surrounding areas. We pride ourselves on the great reputation that we have built among our clients for our fantastic service and quality workmanship. Our team of experts is professionally trained in foundation repair, waterproofing, concrete leveling, and more! We are devoted to customer satisfaction and provide our clients with free inspections and estimates. Call AMC911 Crawl Space & Foundation Repair in Aldie, VA today! We look forward to working with you.