Foundation Repair in Chantilly
If you have noticed any of these indicators of foundation failure in your Chantilly home, don't hesitate to contact AMC911 Crawl Space & Foundation Repair as soon as possible. We use equipment such as steel push piers, helical piers, and plate anchors for all of your foundation repairs.
Waterproofing for Chantilly
During the spring, Chantilly can receive a lot of heavy rainfall. Hire AMC911 Crawl Space & Foundation Repair to waterproof your home and keep it safe and dry during the spring and all year round! We offer Chantilly homeowners several types of waterproofing services, including: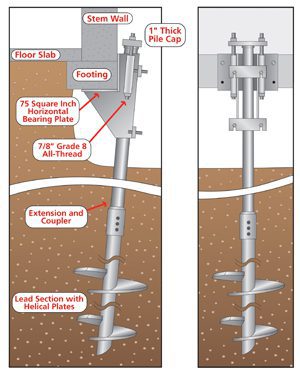 AMC911 Crawl Space & Foundation Repair also installs Smart Vent flood vents for residents that live in flooded areas. We highly recommend these products because they efficiently collect and send water away from your home. All of our waterproofing products are manufactured by Earth Contact Products, the leading manufacturer of waterproofing products in the industry. You can be sure that you are getting the best quality products and service with AMC911 Crawl Space & Foundation Repair!
Concrete Leveling, Masonry, and More in Chantilly
Are you in need of concrete leveling or repair in your Chantilly, VA home? AMC911 Crawl Space & Foundation Repair has the perfect solution for you. We use a method called slab jacking. With this method, we inject polyurethane foam into your concrete in order to raise and level it. Using slab jacking to repair concrete is much more economical than replacing your concrete as a whole. There is no heavy equipment required and the concrete is as good as new after repairs are completed!
At AMC911 Crawl Space & Foundation Repair, we are not only experts in the repair, but we also pride ourselves in our craftsmanship. We do professional masonry work that is beautiful beyond compare. From custom chimneys to beautiful stone fireplaces, we can do it all! We can also repair any masonry work you have done in the past. Whatever your needs are, whether it be foundation repair, waterproofing, concrete leveling, or masonry work, we are your contractors in the Chantilly, VA area.
We offer you a "Life of the House" warranty with all of our services. Contact us today to receive a free quote and inspection! We look forward to working with you.