As a homeowner in Occoquan, VA, it is important to be aware of the signs of foundation failure so you can get them repaired as soon as they are noticed. Your home is most likely your biggest investment, so it is important to take care of it by keeping it structurally sound. The following signs are commonly seen when a foundation is failing:
Bowing walls
Baseboard trim pulled away from the floor
Sloping floors
Foundation cracks
Sticking doors and windows
Cracks in brickwork
If you have noticed any of these issues in your Occoquan home, be sure to call AMC911 Crawl Space & Foundation Repair immediately. Our team of highly trained and experienced professionals would be glad to help. The products that we use are from the leading underpinning manufacturer Earth Contact Products (ECP) and are the best in the industry. Our equipment includes steel push piers, helical piers, plate anchors, and slab push piers.
Waterproofing in Occoquan, VA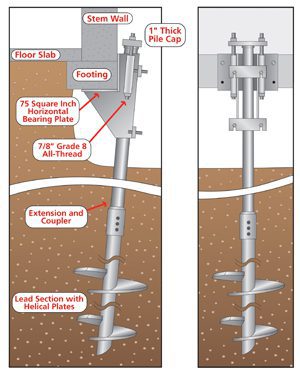 During certain times of the year, Occoquan, VA can get a lot of rain. Excess rainfall can cause serious water damage to homes that are not sufficiently protected. Eventually, the entire structure of your home can suffer because of water damage. To prevent these dangerous conditions, call AMC911 Crawl Space & Foundation Repair today. We can waterproof your home and keep it safe and dry all year round. We offer Occoquan homeowners several types of waterproofing services, including:
Interior waterproofing
Crawl space encapsulation
Our professional waterproofing team at AMC911 Crawl Space & Foundation Repair also installs Smart Vent flood vents. These vents are especially recommended for residents that live in a high-risk flood zone. Our flood vents efficiently collect and send water away from your home. With AMC911 Crawl Space & Foundation Repair, you can trust in our top-quality products and amazing service!
Concrete Leveling and Masonry in Occoquan, VA
Are you in need of concrete leveling or repair in your Occoquan, VA home? Here at AMC911 Crawl Space & Foundation Repair, we have the perfect solution for you. This method, called poly jacking, is very economical and will save you a lot of money because you won't have to replace your concrete slab. No heavy equipment is required for this process, and your concrete will be ready to use almost immediately after repair!
At AMC911 Crawl Space & Foundation Repair, not only are we experts in the repair, but we also have incredible craftsmanship skills. We offer professional masonry work that is beautiful beyond compare. From custom brick chimneys to detailed stone fireplaces, we can do it all! We can also repair any masonry work you have done in the past. For all of your contracting needs, whether it be foundation repair, waterproofing, concrete leveling, or masonry work, call AMC911 Crawl Space & Foundation Repair in Occoquan, VA. We offer you a lifetime of the house warranty with all of our services. Contact us today to receive a free quote and inspection! We look forward to working with you.