Foundation Repair in Dumfries
Knowing the signs of foundation failure is important. By becoming aware of these signs, you can get your foundation repaired before any further damage takes place. A home is a big investment, so keeping it structurally sound is important. Some of the signs of foundation failure are:
Cracks in brickwork
Sloping floors
Foundation cracks
Doors and windows with gaps or that stick
Baseboard trim pulled away from the floor
If you see any of these indicators of foundation failure in your Dumfries, VA home, don't hesitate to call the experts at AMC911 Crawl Space & Foundation Repair.
Our underpinning equipment, such as steel push piers and helical piers, are manufactured by a Earth Contact Products (ECP), the best manufacturing company in the industry. These are some of the products that we use:
ECP steel piers
ECP helical piers
ECP plate anchors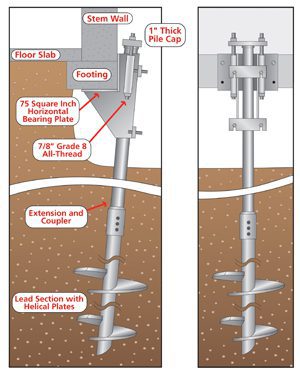 Waterproofing for Dumfries
When water gets into your basement, it destroys your personal items, but it can also cause mold and mildew to grow and be a hazard to your family's health. Water damage eventually can deteriorate the entire structure of your home. Keep your home safe and dry by taking advantage of the incredible waterproofing services that Atlas Masters offers in Dumfries, VA. We offer the following options for waterproofing:
Exterior Waterproofing
Interior Waterproofing
Sump Pumps & Sump Pits
Crawlspace Encapsulation
Crack Injection Repair
Gutters
Flood Vents
Surface Water Collection
Concrete Leveling and Repair in Dumfries
Do you need concrete leveling or repair in your Dumfries home? AMC911 Crawl Space & Foundation Repair can repair your concrete to be as good as new. If your concrete slab or driveway has cracked or sunken, or your steps are pulled away from your porch, we have a solution for you. We repair all types of concrete no matter where it is on your property.
AMC911 Crawl Space & Foundation Repair uses polyurethane foam slab jacking to lift your foundation back to its original level. To do this, we drill a hole into your concrete and inject a polyurethane foam. This foam expands 20 times its liquid volume and fills every crack and crevice in your concrete. The best part about this method is that it is quick and easy, and you can use the concrete again almost immediately after the process. There is no heavy equipment needed for the job and we won't cause any disturbance to your property.
For all of your foundation repair, waterproofing, or concrete leveling and repair needs in Dumfries, VA, AMC911 Crawl Space & Foundation Repair is here for you. You can count on us to get the job done quickly and efficiently. We offer a lifetime of the house warranty on all of our services. Don't wait any longer, contact us today and get a free estimate and inspection.