Fix Basement Leaks Immediately with Crack Injection Repair
Are you wondering how to fix a leaky basement wall with crack injection repair? If you have water leaking into your basement through cracks in your foundation, it's important to get those cracks sealed up and repaired before the damage gets worse. Water intrusion will only make your foundation cracks larger over time, and can cause major damage to the structure of your home.
How Serious Are Your Foundation Cracks?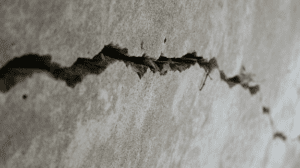 Cracks big enough to allow water in easy form. Some foundation cracks are harmless and just happen over time as your home settles. Vertical cracks are sealed with epoxy or also another type of injection. However, if you have larger, horizontal cracks in your foundation or also basement walls, these indicate serious structural issues and cannot be solved by any type of sealant. A structural engineer needs to address these types of cracks, and a more permanent solution also needs to be put in place.
Sealing Basement Cracks with Epoxy & Polyurethane
If your Virginia home is suffering from basement leaks, AMC911 Crawl Space & Foundation Repair offers ECP Epoxy and Polyurethane Injection Resins to permanently seal cracks and prevent water from entering your home. These systems fill cracks in your foundation before they widen and expand.
Epoxy injections are used to mend concrete cracks and also restore the structural integrity of the wall or slab. Polyurethane foam injections work great for larger cracks or also voids around pipe penetrations.
Benefits of Crack Injection Repair
Epoxy injections restore the integrity of the foundation by sealing cracks as small as .005″. One important feature of the ECP polyurethane resins is their flexibility which allows them to move with the wall as the soil expands and contracts.
Some of the major benefits you experience from crack injection repair include:
Totally eliminates water and air leaks
Applied from the inside
Permanent repair solution
A flexible resin that allows the soil to expand and contract
Fills voids around pipes and also other penetrations
Restores structural integrity
Meets ASTM C881 standards
Contact AMC911 Crawl Space & Foundation Repair for your Waterproofing Needs
Our crack injection repairs are durable, commercial-grade products that are reliable and also economical. It hardens in seconds after the application process to keep the seal intact. For all of your waterproofing needs, contact AMC911 Crawl Space & Foundation Repair today. We provide free estimates for crack injection repairs in Virginia Beach, Hampton Roads, Norfolk, and also surrounding areas. We'll keep water from entering your basement. Call us today to start with your free estimate.