If you live in Lanexa, Virginia it is important that you are able to recognize the signs of foundation failure. Look around your home for the signs of foundation settlement. Some of these signs include cracking drywall, bowing walls, and sloping floors.
The soil beneath your foundation in the Lanexa, VA area is prone to swell when it gets saturated and shrink when it is dry. This will cause the foundation to shift and settle. The products we use for foundation underpinning are made by Earth Contact Products (ECP), who is the leading manufacturer of foundation repair products in the industry.
If you are in need of foundation repair in Lanexa, VA, contact our team here at AMC911 Crawl Space & Foundation Repair. We will inspect your basement and help discover the best solution for you. Our products are the best and our experience with foundation repair will guarantee that the repair will be done right the first time and keep your home safe for years to come.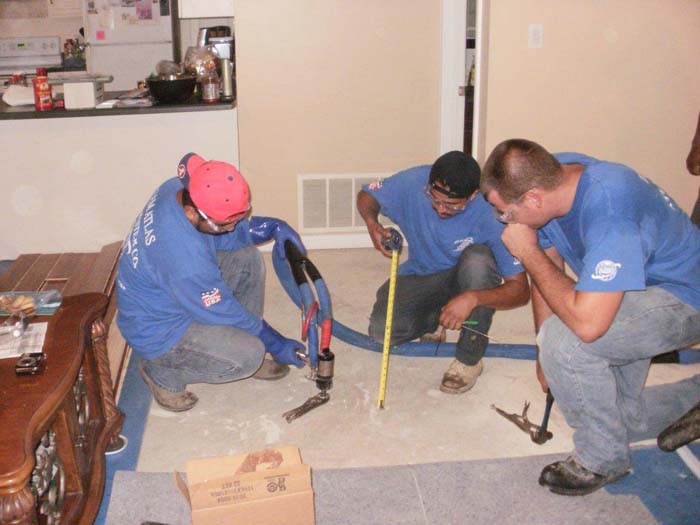 Waterproofing in Lanexa, VA
Your home in Lanexa, VA can fall victim to water damage, especially during the spring season when Lanexa receives a good amount of rain. We have a wide variety of waterproofing solutions for you to choose from in the Lanexa, VA area.
AMC911 Crawl Space & Foundation Repair also offers crawl space encapsulation for residents of Lanexa, VA. By using this method, we will line your crawl space with a moisture-resistant vapor barrier, which will stop any water entrance. Our vapor barriers are the highest quality products that you will find on the market today. They are extremely thick and puncture-resistant.
Our company is a proud installer of Smart Vent flood vents. If you live on a floodplain, these products are perfect for you. They are specially designed to capture standing water and send it away from your home.
Concrete Lifting & Repair for Lanexa, VA
Sinking concrete is caused when the soil beneath the concrete has shifted and created voids beneath it. This causes the concrete to settle into these voids. Not only is a sinking driveway or sidewalk unsightly, but can be a tripping hazard. If you need concrete leveling for your Lanexa, VA home, AMC911 Crawl Space & Foundation Repair is ready to help.
Whatever home repair project you are in need of, AMC911 Crawl Space & Foundation Repair is here for you. We are your number one full-service contractor in Lanexa, VA, and other parts of Virginia. When it comes to foundation repair, basement waterproofing, or concrete lifting, let us be the first ones you call. We offer a life-of-the-house warranty for all of our services. Don't hesitate to call us today with any questions or inquiries.