Great Falls is a wonderful place to live and a great place to call home. One thing that homeowners in the area should be looking out for is soil around their home that gets too saturated or too dehydrated. At Atlas Master Companies, we offer expert waterproofing and foundation repairs for home and business owners in Great Falls. We also specialize in installing flood vents for homes that have experienced wet basements and crawl spaces.
For homeowners, our company stresses the value of knowing the signs of foundation problems, as well as problems that arise from wet basements or crawl spaces. Look for signs of failure by inspecting the interior and exterior of your home.
Cracks in Slabs such as Porches, Patios
Sticking Doors & Windows
Foundation Settlement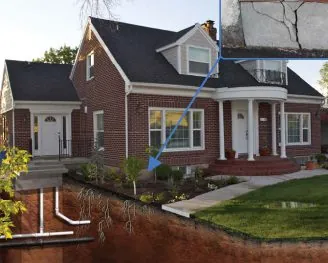 These problems can indicate that there is a problem with your foundation, basement or crawl space. Your foundation is one of the most important parts of your home, if not the most important when it comes to structural stability. Call AMC911 Crawl Space & Foundation Repair and get a free inspection to know if you have a serious foundation problem. Our team can help you determine the right foundation repair solution for your home and your budget.
Here are some conditions (mostly weather-related) that can cause foundation problems
Evaporation
Over-watering
Landscaping
Improper Drainage
Poor Site Building
Plumbing Leaks, Water Leaks
Poorly Installed Swimming Pools
Foundation Repair Solutions in Great Falls, Virginia
At AMC911 Crawl Space & Foundation Repair, we use the very best foundation repair products on the market. All of our materials are manufactured by Earth Contact Products. ECP manufactures top-quality underpinning products such as steel piers, helical piers, wall anchors, plate anchors, and more.  Call us today to get started on foundation repairs!
Waterproofing in Great Falls, VA
Living in Great Falls, Virginia, we experience many rainy days, storms, and flooding. Homeowners can prevent water seepage issues by keeping their gutters clean and free of debris. Check that your downspouts are releasing water far away from your foundation. We have a wide selection of interior and exterior waterproofing products, including sump pumps, sump pits, battery backup pumps, drainage, vapor barriers, water collection, and more. Call us to find the best waterproofing solution for your Great Falls, VA home.
Masonry, Concrete Repair & Flood Vents for Great Falls, VA
Our company installs Smart Vent flood vents for residents living on a floodplain in Great Falls, VA. Smart Vent is a flood vent system that is designed to sense rising water. AMC911 Crawl Space & Foundation Repair is a full-service foundation repair, waterproofing, and concrete repair, contractor. We also provide local masonry for Great Falls, VA. If you have any issues with your slab foundation, basement, or crawl space, AMC911 Crawl Space & Foundation Repair is here to help. Call us today to get a free inspection and estimate for your foundation, basement, or crawl space.