Looking for information about jacking up a house to level a floor? In this article, we're going to review why floors become unlevel, signs your home might have a foundation problem, the process involved in jacking up a house to level a floor, and tips on how to prevent unlevel floors.
Why Floors Become Unlevel
One of the most common reasons a floor becomes unlevel is differential settlement, or when one part of the foundation settles into the ground more than the others. The best way to describe differential settlement is via an illustration to show how it differs from uniform settlement, which happens to all structures after they're built: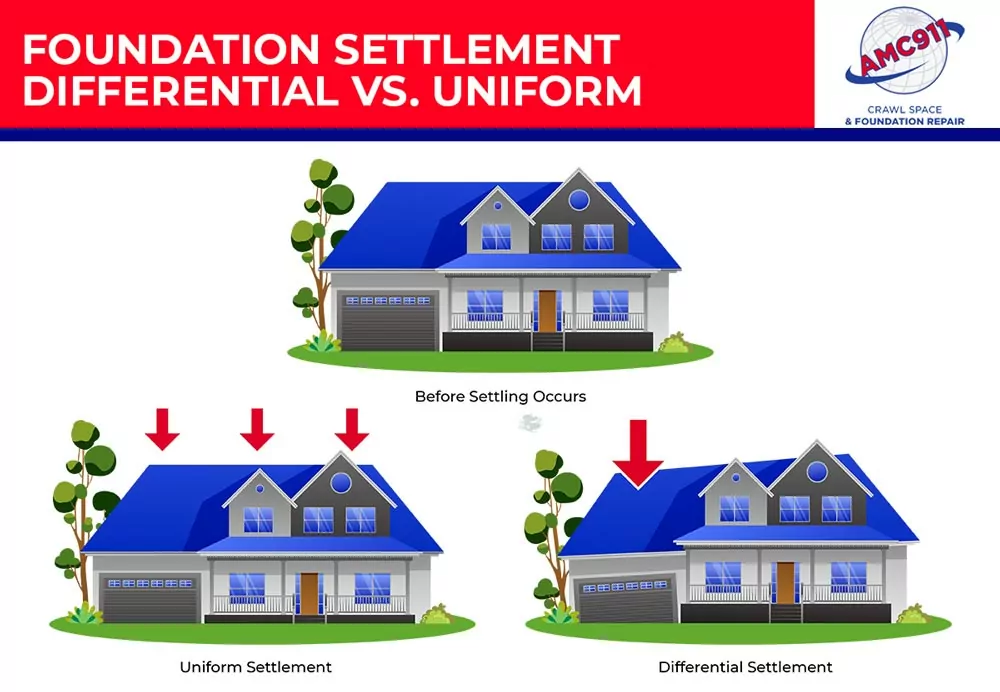 Differential settlement places tremendous stress on a foundation; if it isn't corrected, it will eventually cause severe structural damage.
So, what causes differential settlement?
Differential settlement is caused by various things, including the following:
Improper site preparation – When soil isn't adequately compacted before construction begins, the structure can settle unevenly into the ground after it's built.
Weather changes – During a drought, the soil can dry out, creating voids underneath the foundation. If the foundation sinks into these voids, then the likelihood of differential settlement increases.
Expansive soil – Expansive soil is rich in clay particles and can absorb and retain large amounts of water. As the soil's moisture content increases, the soil's volume expands, and as the moisture content decreases, the soil contracts. Over time, this swelling and shrinking can lead to differential settlement because it creates movement under the foundation.
Erosion-prone soil – Erosion-prone soil is composed of loosely packed particles, making it susceptible to being washed away by water. This can cause voids to form under the foundation, leading to differential settlement.
Seismic events – Anything that causes ground movement under the foundation can lead to differential settlement.
Signs Your Home Might Have a Foundation Problem
As a homeowner, looking for signs your house might have a foundation problem is essential. Catching issues early before they have a chance to turn into big problems that will be more expensive to fix will save you money in the long run. Here are some things to watch for:
Unlevel floors – Look for floors that slope or feel uneven when walking across them. What happens when you place a marble on the floor?
Wall, floor, and ceiling cracks – Look for horizontal cracks, cracks from the corners of windows and doors, and a crack that goes across the ceiling and down a wall. (Hairline vertical cracks in a poured concrete foundation wall were probably caused by shrinkage during the concrete curing process. While they aren't structurally significant, they can allow water to enter a basement. Therefore, they should be sealed.)
Stair step cracks in brick or masonry – This is a telltale sign the foundation has moved.
Doors and windows that no longer open and close correctly – Over time, a shifting foundation can cause the house's frame to become misaligned, preventing doors and windows from operating correctly.
Chimneys and porches that are leaning away from the house – This might be barely noticeable at first.
Walls that are no longer in contact with the floor or ceiling – As the foundation shifts, it can cause the wall to separate from the floor or ceiling, or both.
Torn wallpaper – This might mean the wall behind the wallpaper is cracked.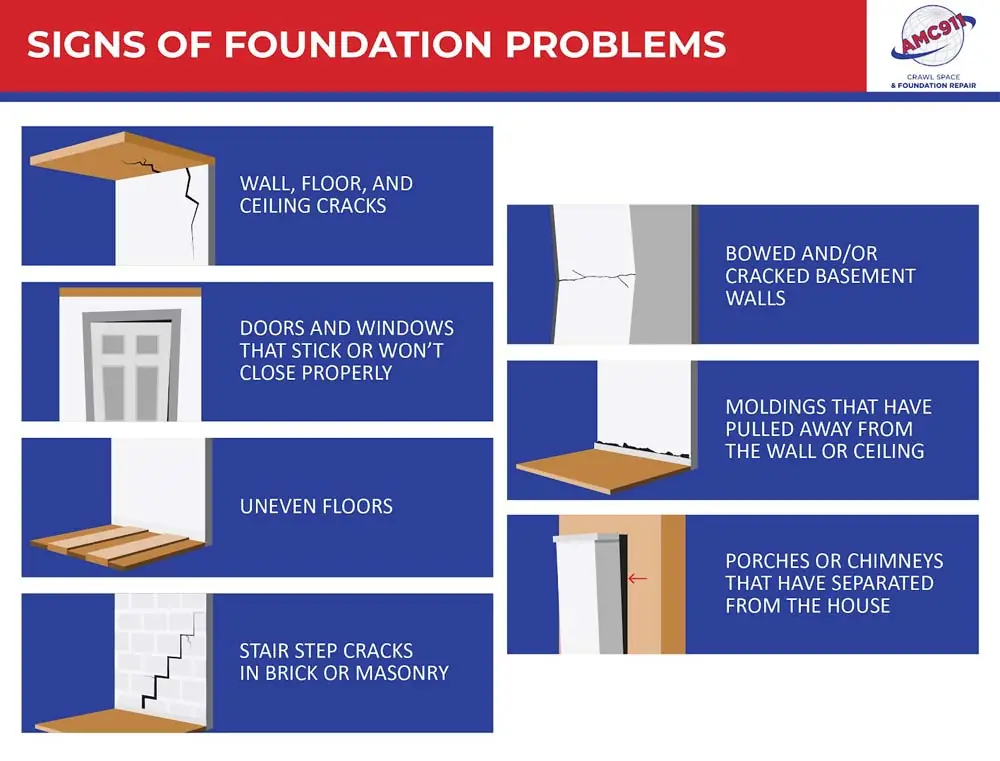 If you see any of the above or anything else that looks suspicious, immediately contact a foundation repair contractor and ask for an evaluation. If you catch a problem early, it will cost less to repair.
Jacking Up a House to Level a Floor
Jacking up a house is a common technique used to level a floor that has become uneven due to differential settlement. This repair solution is called "underpinning," and it involves strengthening a foundation by extending it down to the soil capable of supporting it.
There are a variety of approaches to underpinning, but the most common methods involve using push, helical, or slab piers:
Push piers
Push piers are steel rods driven deep into the soil beneath the foundation using the weight of the building and hydraulic pressure.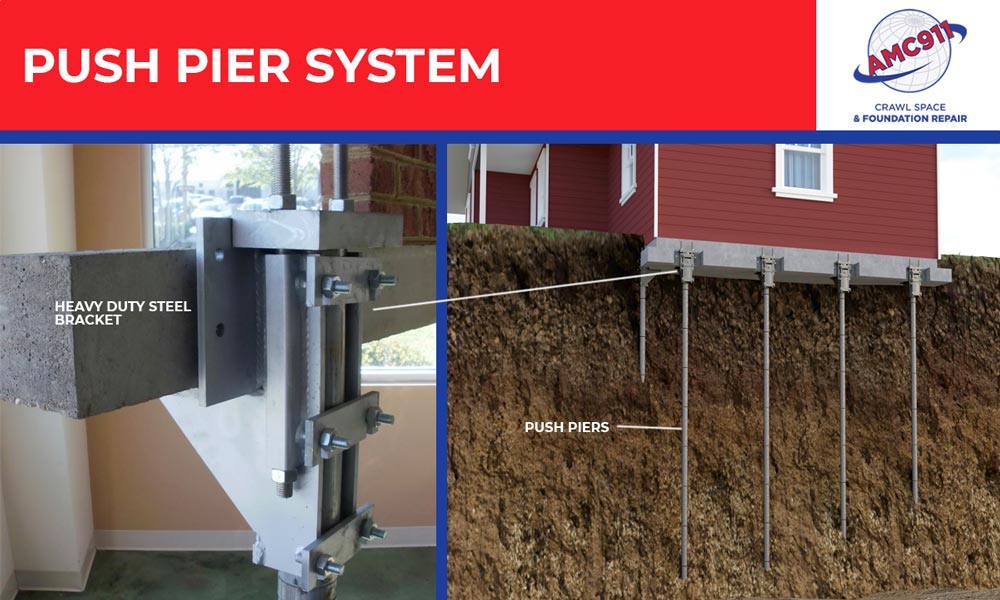 Helical piers
Helical piers look something like giant corkscrews and are turned into the soil until they reach the required depth and torque.
Slab piers
Slab piers are push or helical piers installed through holes drilled into the slab.
Tips on How to Prevent Unlevel Floors
Luckily, there are steps homeowners can take to prevent foundation problems and unlevel floors from occurring in the first place. Because the leading cause of foundation problems is water, most of these preventative measures involve controlling groundwater around the foundation:
Clean gutters regularly – Gutters clogged with leaves, sticks, and other debris can cause water to overflow and pool around the foundation. This can lead to foundation settlement and uneven floors.
Use downspout extensions – Downspout extensions are designed to direct water away from the foundation before release. This can be especially important during heavy rainstorms when water can accumulate around the foundation quickly. Downspouts should extend a minimum of 15 feet away from the home.
Regrade your yard, if necessary – If the yard isn't graded correctly, groundwater will drain toward the foundation. This can lead to foundation problems over time.
Install a drain tile system – A drain tile system is installed around the perimeter of the foundation at the footing level. It's designed to capture and direct water away from the foundation before release. This can be especially important in areas with high water tables or heavy rainfall.
Keep trees away from the foundation – Some trees have large, invasive root systems that can cause a lot of damage to a foundation.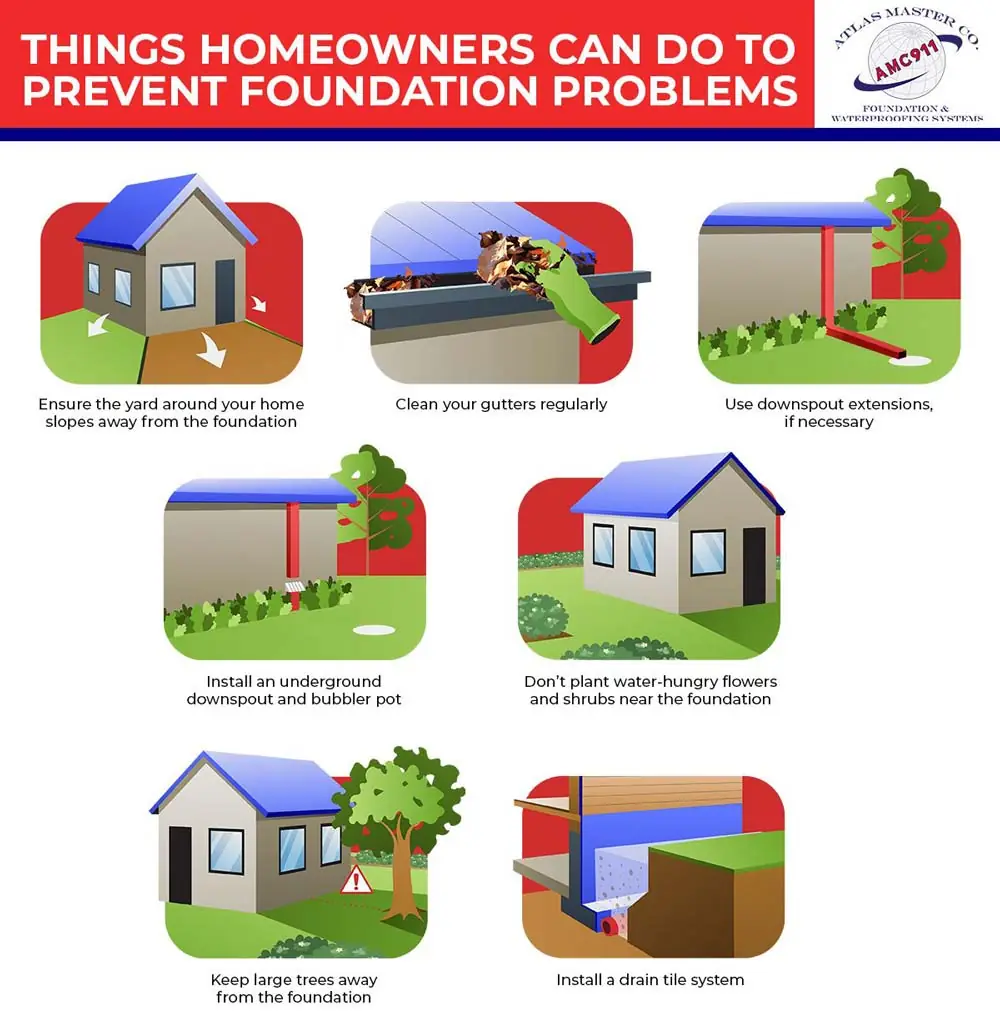 If you're concerned about unlevel floors in your home, contact us today to schedule a free foundation evaluation. If we find a problem, we'll give you a repair estimate.