Sinking Concrete Leveling & Repair Services
Sinking Concrete Leveling & Repair Services In Hampton Roads and Richmond Virginia
Sunken Concrete Sidewalk – Porch – Step – Driveway – Interior Floor – Pool Deck Leveling
Most sinking concrete slab issues arise from the under-soil being eroded away by not being properly compacted before initially installed, from the forces of water, or a shift in the surrounding landscape. Open spaces or voids under the concrete slab caused by any of these forces can cause structural, appearance, and safety hazard concerns that need to be effectively addressed in a quick, efficient manner.
Whether the concrete slab is a basement or other interior floor, porch or steps, driveway, or sidewalk, Atlas Master Companies' concrete leveling services not only repair the level and appearance of the slabs or floor but also address the underlying problem that caused the problem, as well.
Atlas Master Companies Provides Fast and Professional Concrete Leveling and Repair For: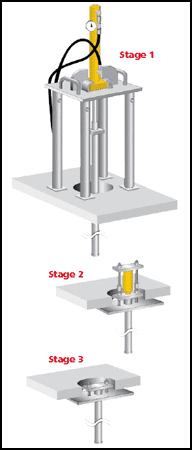 Sidewalk Concrete Leveling
Commercial, industrial, municipal, and managed community property owners – cracks appearing from sinking sidewalk concrete slabs present a hazard for a trip or fall. Atlas Master Companies has a fast and clean method for repairing and leveling your sidewalk. We can have the job done within a couple of hours in many cases avoiding any disruption to the flow of traffic or operation.
Driveway Concrete Slab Leveling
Increase the curb appeal and value of your home or business by leveling your sinking concrete driveway slabs. Most driveway sinking concrete problems result from poor soil conditions or water drainage. Our method not only addresses the sinking concrete issue but also resolves the problem from happening again.
Sinking Concrete Porch or Steps
Block cement porches and steps can especially be a hazard for injury when not level. Again, most sinking problems arise from soil erosion from water. Atlas Master Companies have extensive experience resolving this problem usually within a few short hours.
Concrete Basement & Interior Concrete Floors
Atlas Master Companies uses various methods to raise a sinking concrete floor depending on the scale of the problem, the structure itself, and the makeup of the soil underneath.
We use a new technique known as polyfoam slab jacking for leveling sinking concrete patios and porches in many cases.
Another very popular and effective means of leveling sinking concrete floor slabs are Earth Contact Product's Concrete Slab Push Pier System to effectively repair sinking and/or cracked residential and commercial basement or interior floors.
As demonstrated in the left diagram and photos to the right holes are strategically bored through the concrete; concrete slab push piers are put in place. Installation is accomplished inside the structure through an eight-inch, core drilled access hole.
After installing the piers, the slab load is transferred across the piers uniformly and evenly by activating the hydraulic rams simultaneously.
So, when do you use a resistance pier slab?
Primarily anytime you have a slab that needs to be lifted and stabilized due to failing soil conditions that are too weak to support the slab.
These piers install quickly due to their minimal set-up time making the resistance slab pier a low cost and time-efficient solution.
Concrete Basement
Concrete Basement Repair
Interior Concrete Floors
Concrete Basement Repair
Concrete Basement Repair
Interior Concrete Floors
Interior Concrete Floors