Wet Basement & Water in Basement
Water in your basement can cause thousands of dollars in damage. Not only will a wet basement cause damage to personal possessions, but it can also cause you to lose living space. One of the other concerns with water in your basement is it promotes the growth of mold and mildew which can cause an unhealthy environment throughout the entire home.
Water enters the basement in several ways.
These are some of the most common ways:
Groundwater in water-saturated soils gets pushed into the basement by hydrostatic pressure.
Surface water running down foundation walls.
Storm sewer water backed up into the home's existing foundation drain and leaked into the basement.
Sanitary sewer water from a clog in the home's sewer line.
Water will find its way into your basement through any small crack it can find. Don't let a wet basement cause you to experience all of the unpleasant consequences that it causes. If you see unwanted water in your home, this is the obvious sign of a wet basement. However, there are other indications that you may have a water problem.
Some signs of water trouble include:
Musty odors
High humidity throughout your home
Rusty appliances
Insect infestation
Condensation on pipes
If you notice standing water or any of these other signs of a wet basement or water in your basement, let the professionals at AMC911 Crawl Space & Foundation Repair come and give you a free inspection and offer you the best waterproofing repair solutions in Virginia.

Wet Basement & Water in Basement Solutions in Virginia
Wet basement & water in basement solutions by AMC911 Crawl Space & Foundation Repair include:
Interior waterproofing consists of a perforated drain pipe that is installed on the interior of the footings. Then the pipe is attached to a sump pump system which drains the water away from the basement.
Exterior waterproofing is true waterproofing as it does not allow water to get near the basement. A perforated drain pipe is placed under the foundation and drains the water away from the foundation. This perforated drain pipe has exceptional water volume capacity, is crush resistant, and can be applied to both residential and commercial structures.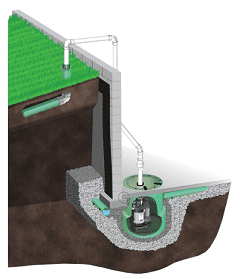 Our drainage collection system is made up of:
Drywells
Gutter downspout drains
Round and atrium grates
Drainage piping
Pop-up emitters
Channel drains
Pipe fittings
Catch basin and grates
Today, the sump pump system that AMC911 Crawl Space & Foundation Repair install is the most energy-efficient and effective sump pump.
All of the products that AMC911 Crawl Space & Foundation Repair use are manufactured by Earth Contact Products (ECP), the leader in the manufacturing of waterproofing products in the industry. Let the professionals at AMC911 Crawl Space & Foundation Repair protect your Virginia home against water damage. We have the experience and products to assure that your basement is safe from water. We are a locally owned and operated business that puts the customer first. We take pride in the outstanding reputation that we have established in the Virginia area. Contact us today!