Yorktown, VA is a small town located on the banks of the York River. Its claim to fame is being the site of the final battle of the Revolutionary War. They also enjoy easy access to the water, although water can sometimes be a problem with their crawl spaces.
When you have problems with your crawl space, the time to act is now. These issues will not get better on their own. Contact AMC911 for the top crawl space repair and encapsulation in Yourtown and throughout the surrounding area.
Common Signs Of Crawl Space Problems In Yorktown, VA
Your crawl space may be talking to you. Are you listening?
Below are some of the most commonly seen signs that your crawl space is experiencing problems. In many cases, once you see these signs, the problem may already be advanced.
Sticking Windows and Doors
Advanced issues with the crawl space can include a shifting or sinking foundation. When that occurs, it can torque the window and door frames, causing them to stick when they open and close.
Visible Mold in the Crawl Space
Have you seen any visible signs of mold in the crawl space? This can have a significant impact on your health and the health of your family.
Insects love dark, damp, dingy areas of the home, like your unencapsulated crawl space. The insects will not stay in your crawl space. It won't be long before they start exploring the rest of the home.
High Humidity Throughout Your Home
High humidity in the crawl space will quickly become high humidity throughout the home. This can negatively affect your health and comfort and could result in higher energy bills.
Efflorescence on Crawl Space Walls
This is an often overlooked sign of crawl space problems. When moisture is at high levels, it can leave behind salt deposits to let you know you have an issue.
Evidence of Pests in the Crawl Space
Sometimes, the evidence that pests leave in the crawl space is all that is needed to raise a red flag. This can include rodent or insect feces or they could be chewing on the wood pillars.
Why Your Crawl Space Problems Shouldn't Be Ignored
It is human nature to sweep problems under the carpet, especially when it seems like an insurmountable obstacle. Honestly, most homeowners don't know what is involved in crawl space repair and crawl space encapsulation, so they just tend to ignore the issue. What can happen if you ignore it?
As your crawl space becomes colder and damper, the rest of your home will do the same. You will notice that your energy bills continue to rise. This is one of the biggest complaints we hear.
Moist air in the crawl space will get into the rest of the home. Not only does it increase your energy bills, it can make you sick. High humidity also makes it easier for mold and mildew to form.
When you ignore a crawl space problem, it will just get worse. As a result, the cost to repair the issue is going to be greater. Remember, crawl space issues are a one-way street until AMC911 comes in to turn things around.
Have you ever gone into someone's home and it smelled like a musty old home? Your home will smell like that to others when you have crawl space problems. You might not notice it until a good friend breaks the bad news.
Rodent droppings are more than a disgusting problem. They might also include hantavirus, which can make you sick if you touch it or even if it is airborne and you breathe it in.
One of the worst things that can happen to a home is for it to be overrun with mold and mildew. Not only is it expensive to remediate, but it can also make you sick as you are exposed to it day after day.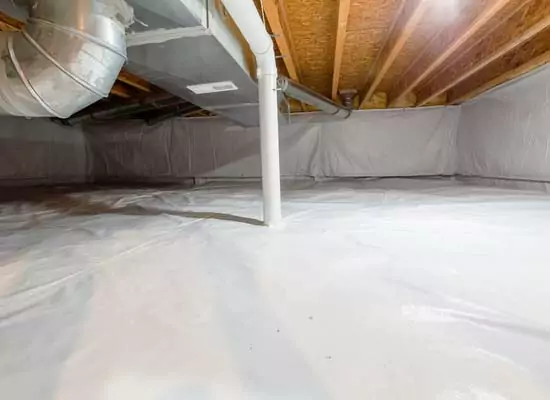 Common Methods For Crawl Space Repair
Before we encapsulate a crawl space, there are many times when we must repair it first. This can include a number of steps, depending on the extent of the damage and the specific problems that exist.
Although water in the crawl space may be common, it is not normal. It can actually be a huge problem that could undermine your foundation and eventually, make your home unlivable. Removing any standing water is job number one.
Once insulation gets wet, it can be at the root of many problems. We will remove any damaged or inappropriate insulation and replace it with something that will truly work for you and your home.
A drain tile system may need to be built to help redirect water away from the crawl space. This might mean redirecting the water out and away from the home or perhaps into a sump pit where it can be pumped out to the street.
Crawl Space Encapsulation
Once all of the repairs have taken place, we can move ahead with the actual encapsulation and waterproofing of the crawl space. This would include wrapping the walls and floor with a thick vapor barrier to protect the space and keep out unwanted pests.
As a final step, we can install a dehumidifier to keep the moisture from building up in the crawl space. It leaves you will a dry area that can even be used safely for storage.
Free Crawl space Inspection and Estimate in Yorktown, VA
If you need help with your crawl space, you are not alone. Contact AMC911 today for a free crawl space inspection and estimate. We want to do what is needed to help you and your home to last for many more years.