Homes over 100 years old usually have a brick foundation, including brick footers. While a brick foundation has some unique issues, which we'll talk about, it can often be repaired like any other foundation, using the same repair solutions.
In this article, we're going to cover what a brick foundation is, common problems with brick foundations, how brick foundations are repaired, and how to prevent problems with your brick foundation.
What is a
Brick Foundation?
A brick foundation is a foundation built from red brick and mortar. Brick foundations were the most common way of building houses over 100 years ago. Because nobody builds brick foundations anymore, the brick you see on newer homes is merely a veneer. The home's foundation under the brick veneer is not made from brick.
The bricks used to build brick foundations are made from clay and fired in a kiln to harden them. The bricks used in buildings constructed before 1900 are softer than those used in newer brick buildings because, over time, the kiln firing process improved.
If you own a house with a brick foundation and want to determine the hardness of the bricks, you can use a screwdriver to scratch one of the bricks. The bricks used to build your home are soft if the screwdriver can easily create a mark at least 1/16 inch deep. If the bricks seem impossible to scratch with a screwdriver, they're hard-fired bricks.
Common Problems
With a Brick

Foundation
Problems common to brick foundations include:
While some problems listed above are unique to brick foundations, others are found in non-brick foundations as well. If you see anything suspicious – even something not mentioned here – contact an experienced foundation repair contractor or structural engineer immediately for an inspection. Foundation problems get worse over time if they're not repaired. Catching foundation issues early before they become major problems should be every homeowner's goal because it will save you money on repair costs.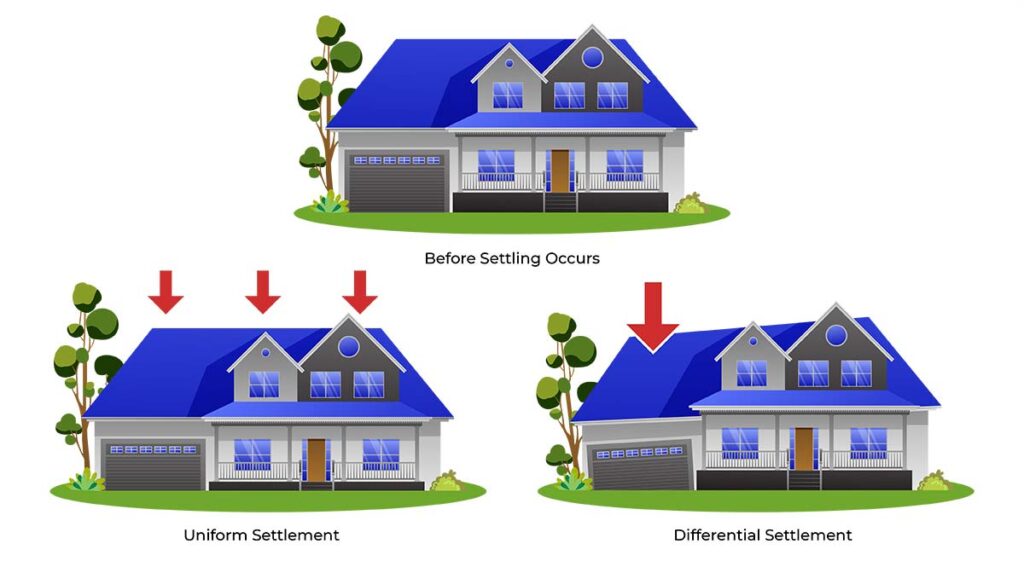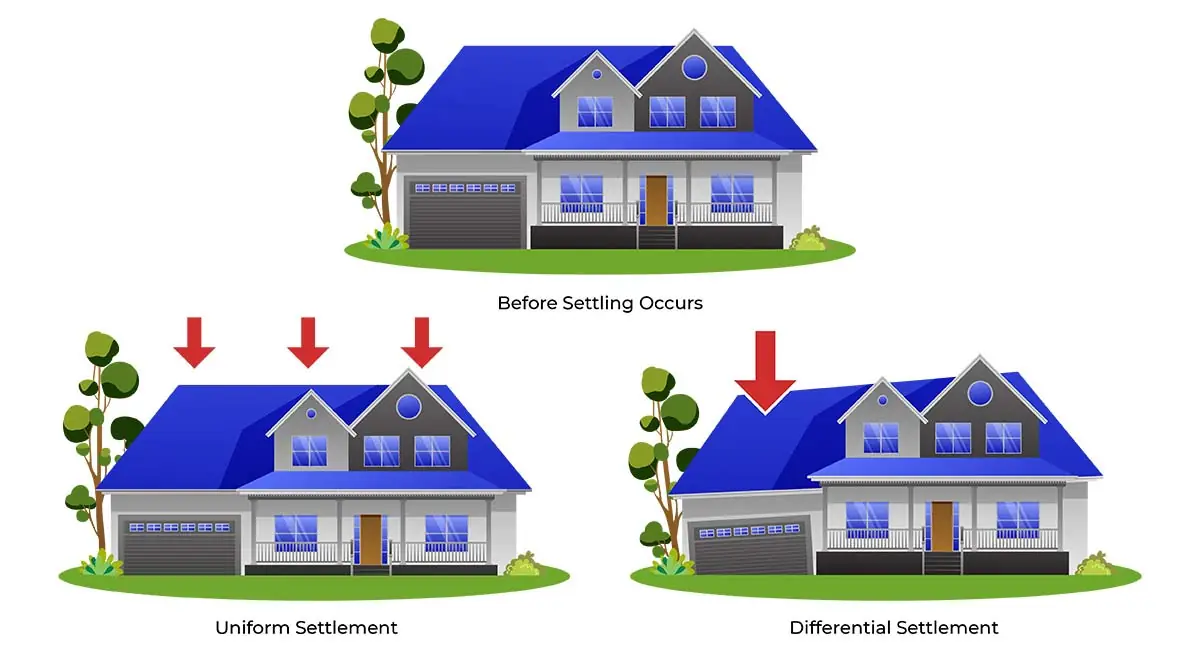 How Are Brick
Foundations Repaired?
Below are a few common repair solutions for brick foundations:
It's often the case that a brick foundation over 100 years old also has a brick footer that's in bad condition. It's possible to use the same push or helical piers on a settled brick foundation that are used on other types of settled foundations. However, it's sometimes necessary to either pour a supplemental footing or add more cement to the brick footer before underpinning. This doesn't mean an older home is unstable. It simply means that it needs a bit of reinforcement before underpinning to lift the foundation.
For more information see, Ceiling Cracks When To Worry.
Preventing
Problems With Your Brick

Foundation
Believe it or not, water causes most foundation problems. This is true no matter the foundation type: brick, cinderblock, poured concrete, or something else. Excess moisture in the soil around a foundation can cause a lot of trouble. That's why controlling groundwater around the home is essential to prevent foundation trouble. However, before we tell you how to control groundwater, we need to say a word about hydrostatic pressure.
What is

hydrostatic pressure?
A build-up of hydrostatic pressure happens when there's excess water in the soil around the foundation that can't drain off. In other words, there is a lot of water in the soil and poor drainage.
Hydrostatic pressure – if it's not relieved – pushes against foundation walls and can cause them to crack and even bow inward. Hydrostatic pressure can also push water through cracks in a brick foundation wall – even those that aren't visible to the naked eye – and into your basement or crawl space.
Controlling groundwater is the best way to ensure hydrostatic pressure can't build up in the soil around the foundation. The best way to do that is via a drain tile system.
Any excess moisture in the soil will flow into the drain pipe and get channeled into the sump pit. When the sump pit fills with water, a sump pump expels it away from the foundation.
Other ways to prevent water from
building up in the soil

around the foundation
When it comes to foundation waterproofing, a drain tile system is a gold standard. However, there are other things you can do to keep excess water out of the soil. These include:
If you're concerned about your home's brick foundation and you're in our service area – Hampton Roads and the surrounding areas in Virginia – contact us today, and we'll come out for an inspection.