Looking for information about repairing floor joists? If so, you've landed on the right page because that's what we're going to review in this article. We'll go over why floor joists might need to be repaired, signs you might have a problem with your floor joists, repair methods, and more.
What Is a Floor Joist?
In a residential crawl space foundation, the floor joists are horizontal, usually wooden structural members primarily responsible for supporting the subfloor. Floor joists sit on top of beams (also known as girders), which are larger structural members. Building codes and the requirements of the specific project determine the size and spacing of the joists.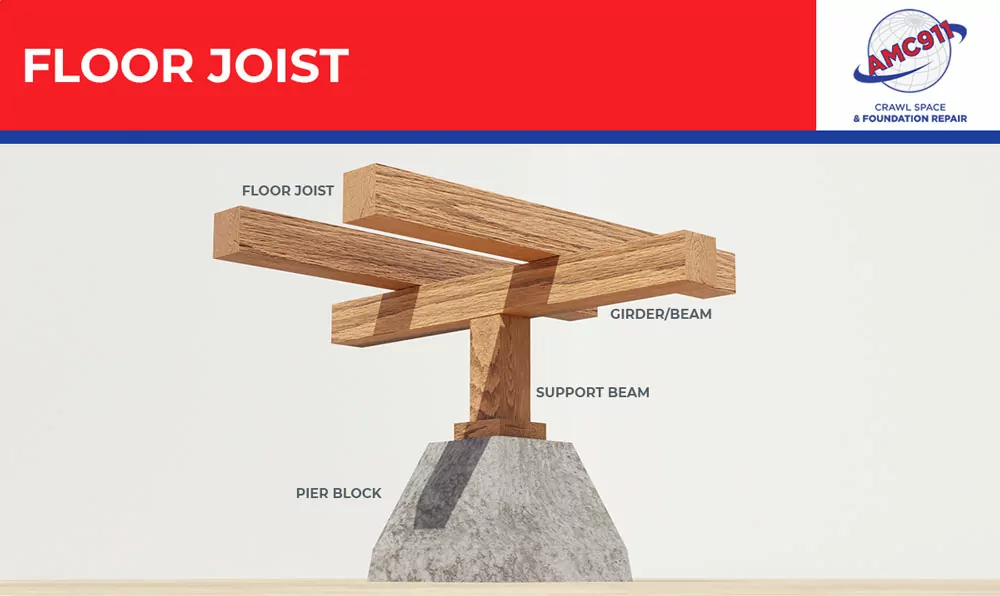 Properly installed and maintained floor joists help prevent sagging, bouncing, or other types of movement in the floor. They also help distribute the weight of objects on the floor, reducing the risk of localized stress and damage.
Floor joist systems can vary depending on the building's design and intended use. For example, a residential home may have a simple system of wooden joists, while commercial or industrial buildings may use steel or concrete joists for added strength and load-bearing capacity.
Why Would A Floor Joist Need To Be Repaired?
The most common causes of problems with floor joists include the following: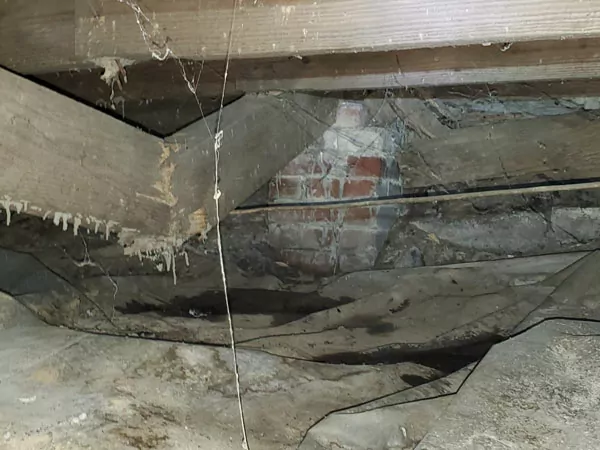 Moisture – One of the primary culprits behind floor joist deterioration is moisture. Excess moisture in a crawl space can lead to mold growth and wood rot. A joist weakened by wood rot won't be able to support your floor adequately.
Termites – Termites are another potential threat to floor joists. These tiny pests feed on wood and can weaken or destroy a joist to the point where it can no longer support the floor.
Soft, soggy soil – Another potential cause of damage to a floor joist is soft, saturated soil caused by poor drainage around the foundation. This can cause the crawl space support posts supporting the beams and joists to sink into the ground and become non-vertical. If this happens, the joists could shift and crack.
Inadequate support – This might be an insufficient number of floor joists, floor joists that are too small, or something else. Whatever the case, the floor joists can't support whatever's on the floor above them.
How Does Moisture Get Into A Crawl Space?
Moisture can get into a crawl space through various ways, including the following:
Open crawl space vents – One of the primary culprits behind crawl space moisture is open vents. While these vents were designed to supposedly promote ventilation, they actually enable warm, humid air to flow into the crawl space and condense on cooler surfaces.
High water table – An area with a high water table is one where the water level is close to the surface. Moisture enters the crawl space through the dirt floor.
Cracked foundation wall – A foundation wall can crack for various reasons. Water can easily penetrate the crawl space when this happens, leading to dampness and mold growth.
Poor drainage – Poor drainage around the foundation can allow groundwater to accumulate and seep into the crawl space. Poor drainage also allows hydrostatic pressure to build up and push water through invisible cracks in the foundation wall and into the crawl space. Hydrostatic pressure is even strong enough to cause a foundation wall to crack. (Clogged gutters and downspouts that are too short can cause excess moisture to build up on the ground around the foundation.)
Leaky plumbing – Plumbing leaks can occur in any part of the house, including the pipes that run through the crawl space. A leaky pipe can release significant water over time, saturating the ground beneath and leading to dampness in the crawl space.
Signs You Might Have Problems With Your Floor Joists
Signs you might have a problem with your floor joists include the following:
A sagging, uneven floor – A sagging or uneven floor indicates your floor joists can't bear the weight of your floor correctly.
A floor that feels bouncy when you walk on it – A bouncy floor is another telltale sign there may be an issue with the floor joists. Your furniture might even shake as you walk by.
Apart from these physical signs, a musty smell inside your home and the presence of condensation and mold growth on baseboards and a wood floor could indicate moisture in the crawl space. This moisture could have caused the wooden structures in the crawl space to deteriorate, including the floor joists.
Addressing any issues with floor joists as soon as possible is essential, as they can have severe implications for your home's structural integrity.
If you suspect problems with your floor joists, contact a foundation repair professional who can assess the damage and provide an appropriate solution. This may involve repairing or replacing damaged joists and addressing any moisture issues in the crawl space to prevent further damage.
How Are Floor Joists Repaired?
Two possible repair solutions to strengthen joists in a crawl space are sistering and replacing deteriorated support posts or screw jacks.
Sistering
One of the most common methods of repairing deteriorating floor joists is "sistering." This process involves attaching a new, stronger joist to the existing one, providing additional support and stability. The new joist is commonly made of the same material as the existing one.
To begin the sistering process, the damaged area of the floor joist must first be identified and marked. Then, the new joist can be cut to the appropriate length and placed next to the old one. The two joists are attached using screws. The original joist is now reinforced.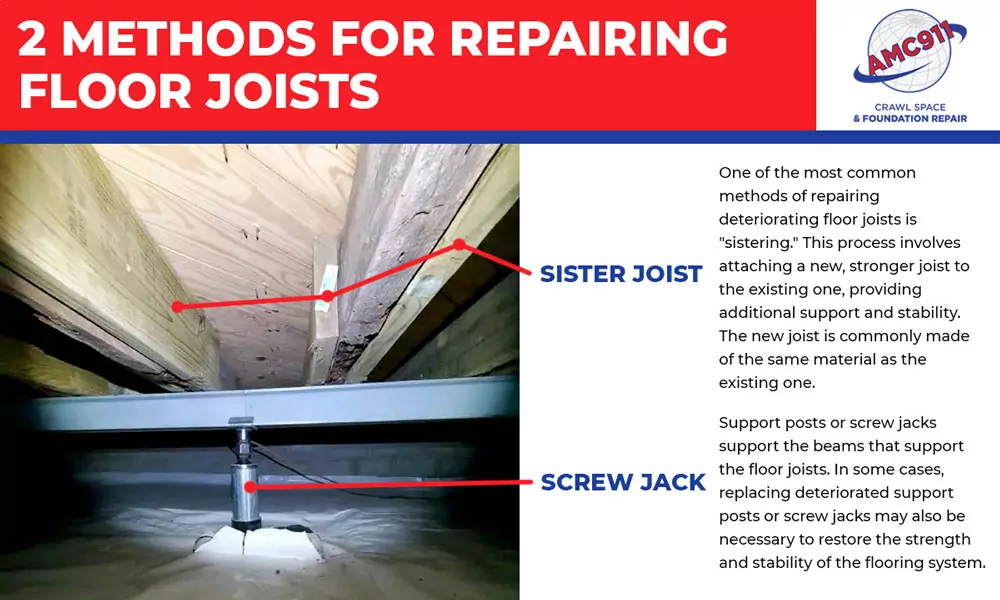 Replacing deteriorated support posts or screw jacks
Support posts or screw jacks support the beams that support the floor joists. In some cases, replacing deteriorated support posts or screw jacks may also be necessary to restore the strength and stability of the flooring system.
If you're concerned there might be a problem with the floor joists in your home's crawl space, contact AMC911 today to schedule an evaluation. If we find a problem, we'll give you a repair estimate.