Team AMC & The Dueling Chimneys
Project Background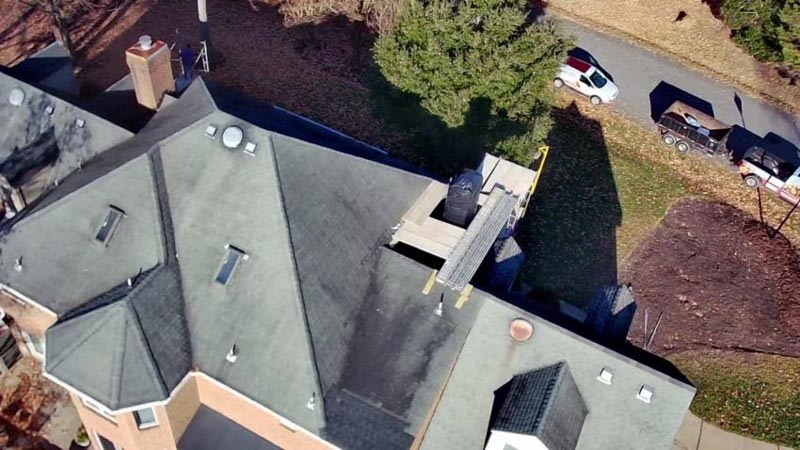 This time, Team AMC stepped out of their comfort zone to battle dueling chimneys on a two-story colonial-style home in the West Great Neck section of Virginia Beach. There was nothing conventional about this project, including our team's approach for repair.
Homeowner Mark Kelly's initial concern was the chimney on the left-hand side of the home, which was struck by a tree that fell during a major storm causing it to lean away from the main structure of the home. When Project Manager Dan Baxter first assessed the damaged chimney, he discovered the chimney was prefabricated vs masonry in structural makeup.
Prefabricated fireplaces, as compared to masonry fireplaces made of traditional brick and mortar, are made of a lightweight metal firebox and chimney. Above the roofline is a round metal chimney that's usually surrounded by a simulated brick housing.
Mr. Kelly's prefabricated chimneys, however, were surrounded by actual brick and mortar that stacked on top of the wooden roofline framing of the home with no ground level footing or support. Without being properly supported from the ground up, neither chimney stood 100% firm.
Team AMC Solution
Owner, Brian McClung, worked diligently alongside Professional Engineer, Glenn Otto, as well as Project Estimator, Dan Baxter to create plans to rebuild not one, but both chimneys with proper support. They designed the plan for production in mid-November with the intention of being finished in time for Christmas.
Once all precautionary measures were taken, and scaffolding was set-up, Team AMC went to work on the demolition of both chimneys. Footings were poured using high strength concrete to serve as the foundation for both chimneys. Once the concrete footers were set-up, cinder block was laid from the footing to the roof line of the home encasing the prefabricated metal chimneys. Finally, colonial-style brick was laid from the roof line to the top of each chimney and both were capped.
Before the final bricks were laid, Santa Clause himself (Owner Brian McClung) appeared on site to assist in laying the final bricks on the newly constructed chimneys. Homeowner Mark Kelly commended Team AMC for a job well done with attention to detail by masons who are "masters at their craft."
Just as foundation is important for structures, it is also important for ourselves. For more information about this masonry project, visit www.amc911.com.
Setup of scaffolding and demo of existing brick chimneys.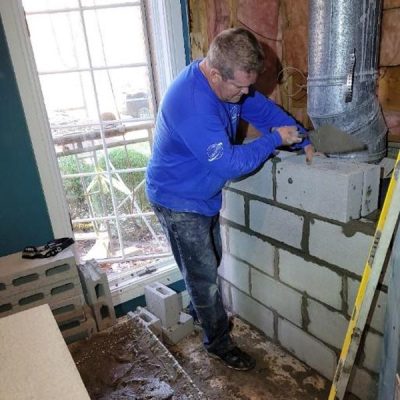 Owner Brian McClung laying cinderblock on top of concrete footing to enclose metal firebox