Signs That Your Foundation is About to Fail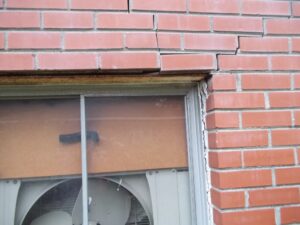 Some of the physical signs of foundation stress are things like floors that are suddenly uneven, pictures beginning to hang askew where they used to hang straight. The soil density under many houses is not uniform, and therefore settles differently in different places, causing the foundation to have more stress and potential damage in some areas.
Usually, if there is significant damage or potential for it, it will be visible in the frame and in the floors of the structure within the first 5 years if it is going to be caused by vertical stress (soil settling differently in different areas under the foundation). Damage after that is most often attributed to lateral or horizontal shifting.
Here are a couple ways to tell if a foundation is shifting vertically.
If your doors, windows, moldings, etc. no long longer meet properly, (both those inside and outside the house) you may have a problem. Another sign is cracks forming in the masonry (for instance the brickwork around the fireplace.)
Contact the foundation repair experts at AMC911 Crawl Space & Foundation Repair to learn more or to schedule your free estimate. We look forward to helping you restore your home's stability and beauty.